Congratulations are in order for Rymal, who recently took possession of a new apartment. Sending good wishes for you in your new home!
During our renovation vacation we managed one recreational day. We sort of blew it though. We started out with a picnic lunch, heading for a provincial park for a hike. However, I just wanted to peek at the fabric store as we passed by, as there are NO fabric stores close to our country house, and we would be driving right by one, an opportunity not to be missed. We took the scenic route, after making a wrong turn, and enjoyed passing farms and forest.
A farm with a long driveway, along our route to the fabric store.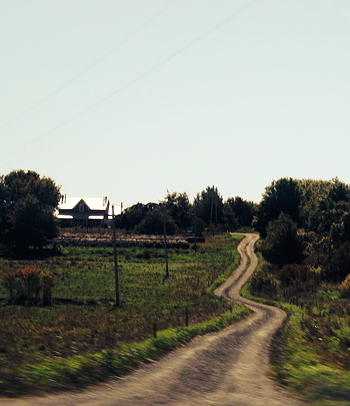 Well, while I was selecting the fabric for the curtains in the kitchen and dining room, Attila was out exploring the shopping plaza. When all was said and done at the fabric store, Attila hastened me over to a discount store he had found. Wow, we found a great Christmas gift for Terra and Lares, and a few items for ourselves too. By the time we left the discount store it was too late in the day to head to a provincial park.
We were hungry, so we found a park close to the shopping area and headed over there to eat our picnic lunch. It was lovely, we managed to walk for several hours on the paths, by the shore of Lake Ontario. We did not reach our original destination, but we had a lovely time at the park anyway.
We came across this lovely spot, the bench overlooks Lake Ontario.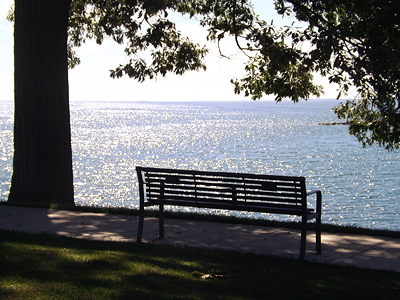 Last Saturday I worked, an hour away from home. When I got back after 1 p.m. Attila loaded the car with some wood for Terra and Lares dining room, and our luggage, and off we drove to the little house in the city.
When we arrived Lares was there, and had been there all day. He installed a heat pump for us, and finished the job around 4:30 p.m. on Sunday afternoon. Lares is fully qualified to install furnaces and air conditioners. What a whirlwind he is! We did not expect to have the unit in for weeks, working on it a bit at a time at each overnight visit. And there we have it, one overnight visit and the installation is complete!
We now have a dual heating system: an oil furnace and a heat pump. The heat pump will also provide air conditioning. It works like a charm AND we can monitor the interior temperature and humidity of the little house, from the country house! That will come in handy, keeping an eye on things during the times when we are not there.
Of course, we won't need to use the heat pump for a while yet. Without the aid of the heating system, the interior temperature of the little house is holding steady at 20C, which is perfect. The heat pump will operate when the temperature falls a bit, and heat is needed, but not a lot. In the dead of winter the oil furnace will be providing the heat, but it need not come on at all until it gets very cold outside. We will be monitoring our use of hydro carefully, to assess the hoped for savings. The price of electricity to run the heat pump compression chamber and fan is the only cost involved in heating the house with the heat pump. Electricity costs a lot, but then so does fuel oil, so it remains to be seen how much this will keep our bills down.
We arrived home last night, after 10 p.m., it was an awfully long drive in the dark, and the heavy rain. Attila called out to me from the country house, as he unlocked the door, that the power was out. We have no idea how long it had been out, and it was still out when I went to bed. Attila stayed up late to burn a small fire in the little wood stove, just to take the chill out of the air in the interior of the house. He said the power came back on around midnight.
While we were at the little house I did the usual stocking up on food supplies. This time I bought ten pound bags of vegetables. Three ten pound bags could be had for $5.00, a very reasonable price. I bought three bags of onions for $5.00, three bags of potatoes for $5.00, and two bags of carrots and one bag of beets for $5.00.
The vegetables from the store where I made this purchase are often near the end of their best shelf life, so they need to be dealt with quickly, so as not lose any to spoilage. So today I used my 21 1/2 quart pressure canner to cook ten pounds of beets, and ten pound of carrots. All of the cooked vegetables were flash frozen, and bagged, for winter meals.
This is a lot of work. The cost of the vegetables is about 37 cents a kilogram, and because we already own the freezer, and the pressure canner, and I have enough time to devote to processing the vegetables, we are saving a pretty penny. It doesn't cost much to process the vegetables, the beets took 15 minutes, the carrots took 4 minutes, and the cost of freezing is negligible, as the fuller the freezer, the more efficiently it runs.
I still have another ten pounds of carrots to process. After that I will be ready to can some more Chili Beans for Attila. The Chili Beans are a great success! Attila eats them with hot peppers, for a snack. He has already eaten two one litre jars of the canned beans, so I will be kept busy keeping up with his appetite!
Worldly Distractions
Weather
11°C
Date: 3:00 PM EDT Monday 22 September 2014
Condition: Mostly Cloudy
Pressure: 101.8 kPa
Visibility: 16 km
Temperature: 10.6°C
Dewpoint: 3.3°C
Humidity: 60%
Wind: WNW 18 gust 37 km/h
Quote
"The power of accurate observation is commonly called cynicism by those who have not got it."
George Bernard Shaw
1856 – 1950