The week has been eventful.
Our national media community has been rocked by revelations of violent behaviour towards women, by one of Canada's prominent talk show hosts, Jian Ghomeshi. Plenty of news about him everywhere in the Canadian media, so I do not want to discuss him here. Also, the Ebola virus continues to spread, and people in Africa continue to die, there is no way to tell if this issue will impact all humans on the planet, or if it will be contained, another issue well covered by the media, so that I do not want to discuss it here. I mention these two events only to mark them in my personal journal, this journal, as an acknowledgement of the larger context in which I live.
Closer to home, the real estate listing for our country house expired yesterday. The realtor called to inquire if we wanted to extend the listing, we did not. She came by later in the day to remove the signs and we had a brief and friendly chat. She said it was the quietest year for home sales she has ever experienced. She is retirement age, and has been selling real estate in this area for more than three decades. That puts our experiences, or lack of of it, into perspective.
We decided to let the listing expire for the winter at least. Heating with wood is hard work, and messy. Most of our lower floor windows and some of our main floor windows will be boarded up for the winter, so that we can afford to heat the place. Both of these things do not make for an appealing home for sale. Someone with a higher income would enjoy this house, using the electric heating system, the masonry heater for pleasure firings, and not having to worry about the extra heat loss from the beautiful windows.
Yesterday was cold and wet and blustery. I fear the weather was very unpleasant for little trick or treaters as they made their visits. There were no trick or treaters within miles of us, and I only remembered it was Hallowe'en because Terra sent me a picture of herself, in costume for her workplace.
This morning is much the same, cold and blustery, with one addition, our first snow. It fell during the night, leaving a light dusting on the ground and above, where it was underlined as far as the eye could see by tree branches.
The First Snow: Autumn 2014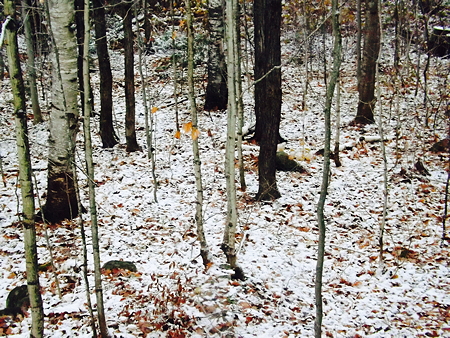 I spent the yesterday morning helping out at a local business for a few hours. It is quite a change in activity level, going from being sequestered in the living area of our house for weeks, then working at mild physical activity. I was exhausted! So much so that I went to bed early, and slept in until almost 6:00 a.m., well past the the time when I usually awaken.
As for our plans for today when Attila gets home from work, domestic tasks are at the forefront. Attila will board up the windows for the winter. We have thawed a turkey and will have a turkey dinner with dressing and all the trimmings for dinner.
Worldly Distractions
Weather
-1°C
Date: 10:00 AM EDT Saturday 1 November 2014
Condition: Mostly Cloudy
Pressure: 102.5 kPa
Visibility: 16 km
Temperature: -0.9°C
Dewpoint: -2.9°C
Humidity: 86%
Wind: NNW 17 gust 28 km/h
Wind Chill: -6
Quote
"The world is round; it has no point."
Adrienne E. Gusoff