The windows are boarded up, making the house as cozy as it is going to be this winter. In the main living area we leave lots of windows to look out of, despite the high cost of leaving them unboarded. Were I to design a house for this climate, I would have exterior rooms without plumbing, built to be boarded up and closed off during the winter, with a warm core open only on the south side of the house. That would be the only area heated during the winter.
It is unlikely I will ever design and build a house. I like to think about it though, when I am frustrated with the silly way most homes are built in Ontario.
Saturday's turkey dinner was a real treat, and we will enjoy leftover turkey dinners for most of the week. Then Attila will make another pot of turkey soup, which will take us into next week.
The highlight of my Sunday though, was baking a batch of biscuits. I love biscuits. My traditional recipe calls for 1/3 cup of shortening, which is 5.3 tablespoons. Yesterday I tried a new-to-me recipe that Kate posted in her blog, Karen's Cottage Cheese Biscuits. Attila and I both agreed, great biscuits! The advantage to the Cottage Cheese Biscuits is that the recipe calls for only two tablespoons of fat, and I used olive oil. I omitted the pepper and parsley flakes, as I like my biscuits with a dab of jelly.
Traditional Biscuit Recipe

1/3 cup of shortening
= 5.3 tablespoons
= 5.3 x 12.8gm per tablespoon OR 68 grams of fat
Total grams of fat in recipe: 68 grams

4 tsp baking powder
= 4 x 488mg = 1952mg sodium
1 tsp salt
= 2325mg sodium
Total mg of sodium in recipe: 4277mg

Cottage Cheese Biscuit Recipe

2 tablespoons of olive oil
= 6 x 4.5gm per teaspoon OR 27 grams of fat
1 cup of cottage cheese
= 5gm fat (2% cottage cheese)
Total grams of fat in recipe: 32 grams

4 tsp baking powder
= 4 x 488mg = 1952mg sodium
1/2 tsp salt
= .5 x 2325mg = 1163mg sodium
Total grams of sodium in recipe: 3115mg

Daily Intake Limit
So the cottage cheese biscuits have less than half the fat of the traditional biscuits, and less sodium. There are several other bonus factors to the cottage cheese biscuits. Olive oil has no cholesterol in it. Cottage cheese has complete protein in it.
Karen's Cottage Cheese Biscuits will be a staple food at our house!
Elf with Notepad: Elf and I worked together on his Notepad to connect to the Internet, download a free game, and read the instructions to play the game. Thankfully, he spends a lot of time building with lego, and planning building projects. The digital world is disembodied, and so I am glad he enjoys the physical world as well.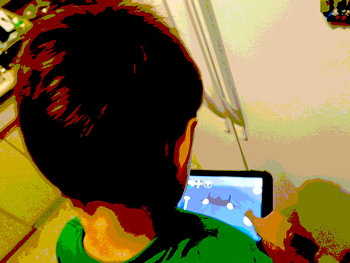 Worldly Distractions
Weather
6°C
Date: 10:00 AM EST Monday 3 November 2014
Condition: Cloudy
Pressure: 102.0 kPa
Visibility: 16 km
Temperature: 6.4°C
Dewpoint: 1.5°C
Humidity: 71%
Wind: SW 9 km/h
Quote
"One of the keys to happiness is a bad memory."
Rita Mae Brown
One of the perks of old age!