The summer cold continues to plague me, although the symptoms lessen slowly over time, I am still struggling to keep up my fluids, and go through boxes of tissues. I was only up twice last night coughing, an improvement. This is one miserable cold!
My energy levels are definitely down, but I am managing to remain a it active anyway.
On Saturday Attila and I took a run out to the Rideau Camp. All was well there, except for the hoards of army worms. They were there in much greater numbers than our last visit, even though I had destroyed hundreds and hundreds of them. The spray works really well for the swarms of them, but not so well on individual worms. Attila sprayed, while I used a stick to squish the low lying outliers. I also tended an all day camp fire, burning a lot of the brush that had been brought up from the swamp area near the road, it had dried out. I estimate that I was on my feet dealing with army worms for over seven hours on Saturday. By the time we headed home it was beginning to get dark, after 8:00 p.m., and I could hardly stand I was so tired. I really enjoyed being a passenger on the drive home!
Mice continue to enter Grace the Trailer, I haven't found the entry point yet. I spent an hour or so spraying their mess with hydrogen peroxide, then collecting and burning it all in the camp fire. Mice are horrid, destructive little beasts! While working on the army worms near Winnie the outhouse, I noticed debris hanging from the ceiling in there. Sure enough, a mouse was building a nest in the ceiling. I chased the mouse away, knocked the nest down, then used tongs to throw it into the camp fire. Critters!
Yesterday was restful by comparison. I spent my day preparing food, using the back porch as an outdoor kitchen. I used the Nesco oven to bake a rhubarb crisp, with fresh rhubarb from the garden. I used the bread machine to bake a loaf of bread. Using the dehydrator fresh oregano from the garden was dried and powdered. The dehydrated tomato seeds and skins, leftover when the tomatoes were processed with the food mill, were powdered as well. Having used appliances out of doors, in a covered area, the house was not heated up at all, and it remained a cool haven all day long.
One of my projects last week involved the sewing machine. While I had it out to stitch up the skirt curtain for the basement window, I also stitched up some cabana curtains, using my stash of old bed sheets. The sheets were all white, but all different sizes, which looks a little haphazard, but does the job nicely. One of the sheets was the one that was sent to summer camp with Terra, when she was in primary school. It still has her initials painted onto it with fingernail polish, and a fingernail polish footprint, where the project got a little out of hand. When these sheets wear out, I'll look for replacements of the same size, in bright colours. For now though, the white sheets are doing a fine job of keeping the afternoon sun off the deck. No longer does it heat up to unbearable temperatures in late afternoon.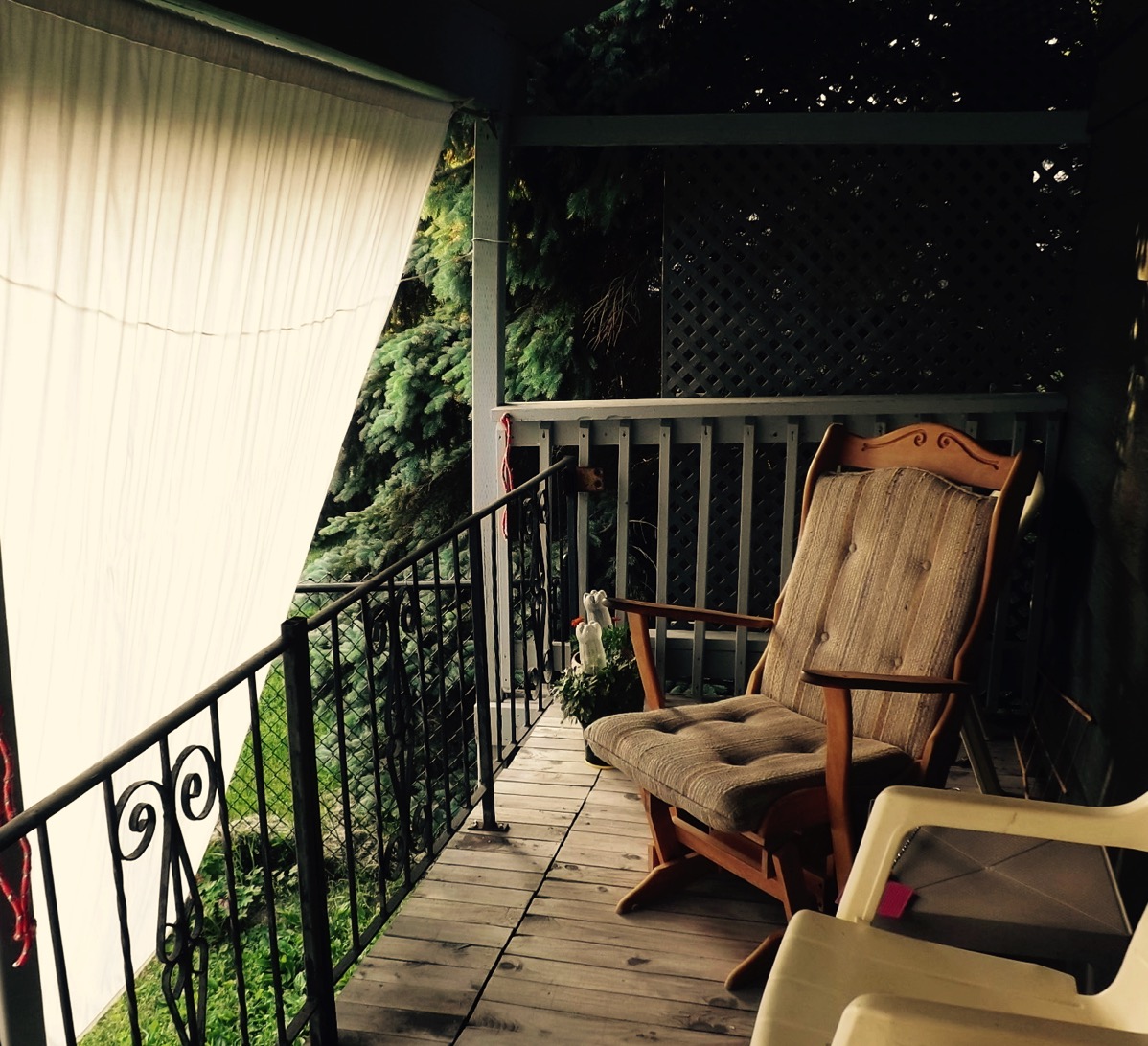 The back porch cabana curtain. The porch gets full sun from about 2 p.m. until sundown, and it gets very hot on the back porch when that happens. I hung old white flat sheets from long curtain rods, to make "cabana curtains" for the back porch. They work wonderfully well, so that I can now sit out on the porch comfortably all afternoon, and the house no longer gets hot in the afternoons. Note that the porch is a sorry affair. The decking is actually hardwood flooring, never meant to be installed without support. Attila added the outer row of short pieces, from scrap we found below the porch. There was no railing when we bought Mist Cottage. The cast iron railing that is there now, was the railing on the front porch, a huge concrete affair that had sunk towards the house and rotted out the sill plates. The railing was saved and installed on the back porch. The back porch is the next project on the list of renovations, another year.
Today I am resting, as I feel quite worn out!
For dinner tonight I need to come up with something using a single chicken breast. I want to use the mini Instantpot that we recently purchased on sale, couldn't resist it for the back porch summer kitchen! Most of the recipes I find online use ketchup, soy sauce, and other ingredients that are full of sugars and sodium. I am going to attempt to use the techniques, while using completely different ingredients.
Although I was aware of Instantpots, I didn't give them a second thought. I have a pressure cooker, and a pressure canner, what would I do with an Instantpot pressure cooker. Bex shared some recipes she tried in one, and I was intrigued. Then I found one on sale, and that was it, home it came. It is the smallest one, 3 quart, there are only two of us here. The first recipe tried was Rice Pudding, it was the best rice pudding I have ever made, hands down. The second recipe tried was Vegetarian Baked Beans, very yummy, very easy. The third recipe was spicy kidney beans for Attila, very nice. The Instantpot is perfect for a one-electrical-outlet based, outdoor kitchen on the back porch. It sautés, in addition to pressure cooking, so that it is the only pot needed to prepare a dish. Since I don't add any sodium to my dishes, and limit condiments like soy sauce, which are high in sodium, finding flavour requires sautéing. Caramelized onions are essential in sodium free savoury cooking.
I received a call this morning, a dumpster became available. Attila called them back later this morning, and the dumpster arrives today! The driveway is not ready for it. Iris the Trailer needs to be relocated, I cannot do it, so I have my fingers crossed that Attila arrives home early enough to move her out of the way before the dumpster arrives. Otherwise, he will have to carry debris around Iris, to deposit it in the dumpster small load by small load, a real waste of precious time, but it is his time, it is his project. I am a person who likes to think ahead and be prepared, I would have moved Iris on the weekend, but Attila does not move to the beat of the same drum. It will all work out somehow, it always does, and the only tension Attila experiences in these situations is due to my reactions, which I diligently try to keep to myself. [Note: Attila arrived home in time to move Iris onto the front lawn, before the dumpster was delivered. It is huge. I think the whole house might fit into it! This will be a good opportunity to do a all out purge.]
I am an ounce of prevention woman, living with a pound of cure man.
Sometimes I waste time on prevention, for circumstances that never materialize. Sometimes Attila wastes time ameliorating situations that might have been prevented. It probably balances itself out.
Attila seems very settled into his life here, which I am finding comfortable. The one true thing, that I live in a house with Attila, is still true. For now, it is enough, perhaps it always will be. I can only hope that future changes in my life are not so jarring as the terrible, terrible mistake. The knowledge that anything could happen is still very close.
Worldly Distractions
Weather
21°C
Date: 12:00 PM EDT Monday 11 June 2018
Condition: Sunny
Pressure: 102.0 kPa
Tendency: Rising
Temperature: 20.8°C
Dew point: 6.2°C
Humidity: 38%
Wind: NE 18 gust 34 km/h
Visibility: 24 km
Quote
"In preparing for battle I have always found that plans are useless, but planning is indispensable."
Dwight D. Eisenhower
1890 – 1969