I am cranky today! I don't think it comes across, in my writing, or even in my interactions with Attila. I just know that I am cranky, because nothing suits me, and some of the negative scripts I have stored in my dark corners are being played for me. Calling foul on those scripts.
The summer cold is still lodged in my throat and sinuses, lots of coughing and blowing going on. The rest of the symptoms have eased up, thank goodness.
What to do when nothing will please you? Well, since nothing suits, one might as well work on projects that have been put off for some time. The new curtain, fashioned from a wrap around skirt, was only temporarily hung with clothespins. Time to remedy that situation.
First, iron the skirt. The ironing board is a tiny one without legs, that has to be placed on a table or counter to be used. It was dragged out from behind a stack of boards and big items, stored behind a door, no closets here you see. Then the kitchen table had to be cleared so that there would be a place to put it, things like Attila's iPad, my pile of bills to be paid, things like that. The cord for the iron is a long one, and it needs to be, as the closest power outlet to the kitchen table is three feet away. The ironing was accomplished.
The skirt is one that I love, everything about it delights me. The colours, the pattern, the quality of the cotton, silky, smooth, with a beautiful drape. It is exquisite.
The next step was to put away the iron and ironing board, and climb up on the furniture to reach the tote containing the sewing equipment. It took some time to take each item out of the tote, one at a time, then climb down with it and take it to the kitchen. When all the equipment was assembled and setup, it was time to take measurements. The curtain was taken to the basement, with a measuring tape, and straight pins, to accomplish this. Back upstairs again, the skirt was spread out on the living room floor where I bent to pin the fold that would be sewn for the rod pocket. Then it was quick work to sew the fold, thread the new tension curtain rod through it, and place it in the window. I love it, it gives me joy.
I love beautiful fabrics, and yarns, and threads.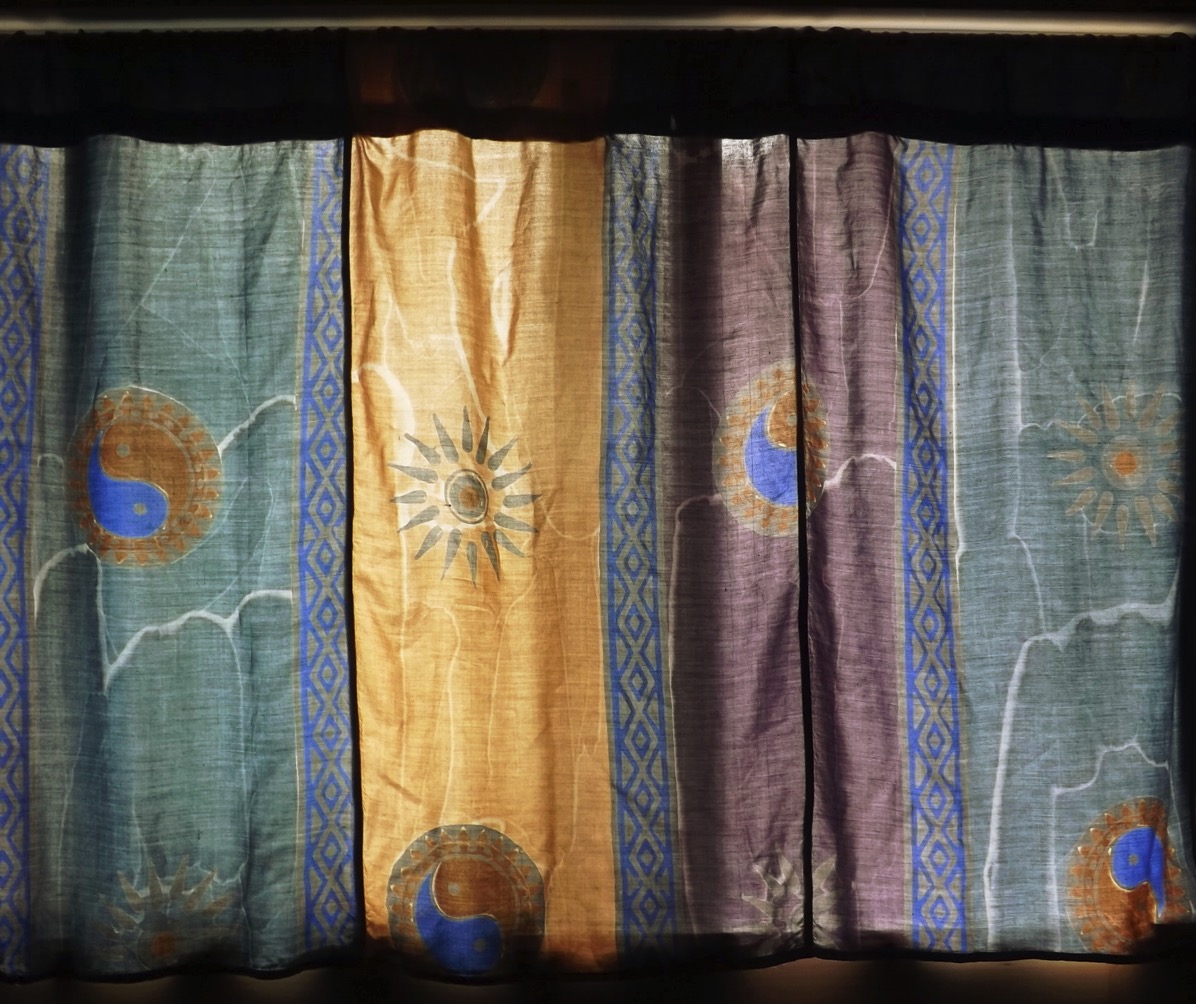 The new curtain in the biggest basement window. It was a skirt, that was gifted to me by my friend Joannie, decades ago. I couldn't part with it, and now I get to look at it almost every day!
A load of laundry was washed and hung out to dry on the back porch. Stewing beef came out of the freezer and into the microwave to be defrosted, for a stew, that will be cooked in stages over two days, using off-peak hydro. Filing, that was piled rather high on the kitchen table, was filed. In my case, crankiness is best combatted with activity and engagement with the physical world. In my distant past I found that going walkabout on busy city streets, or getting together with friends, would lift any clouds. However, in my current state of isolation, those coping mechanisms are not accessible, so domestic activity will do nicely.
Worldly Distractions
Weather
15°C
Date: 12:00 PM EDT Wednesday 6 June 2018
Condition: Mostly Cloudy
Pressure: 101.4 kPa
Tendency: Rising
Temperature: 14.9°C
Dew point: 12.3°C
Humidity: 84%
Wind: S 17 km/h
Visibility: 24 km
Quote
"Ever tried? Ever failed? No Matter, try again, fail again, Fail better."
Samuel Beckett
1906 – 1989