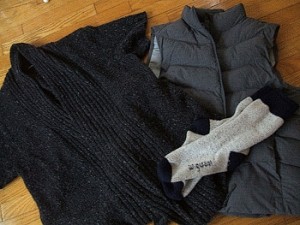 Things have settled a little at work, it is temporary of course, but best to appreciate my present good luck. Usually by this time of year I am beginning to show signs of cabin fever. Not this winter!
This morning, by the masonry heater, the temperature was 15 C. Not bad really, since we are only firing the masonry heater twice a day and it is keeping 1800 square feet above freezing through temperatures dropping as low as -27 with wind. Not bad at all. Logically speaking, without bringing human comfort into the mix, this is wonderful.
But here is the rub, human comfort does indeed come into the mix; not to mention feline comfort, which Mist will tell you is the highest priority on planet earth.
When it is 15 C next to the heater, it isn't anywhere near that further from the heater. That is the nature of thermal mass heat, move away from the heat source and the temperature drops.
Despite it being a cool 15 C where it is warmest this morning, I've been comfortable. I rely on a miracle to do this. I use my own body heat! Like I invented that!
So, what I do is work with layers of clothing. I start with warm underclothing and a light layer of "clothes" like trousers and a turtle neck shirt. The feet are important too, I start with a very light cotton sock on my feet. Then I add layers, as you can see in today's picture, these are the layers that keep me comfortable when the indoor temperature is below 15 C. I always add the socks, these are Wigwam socks made in Wisonsin, USA, I love them and they are WARM. The short sleeve sweater comes next, it has a rolled neck which really helps. I love the short sleeves, which allow me to do things like wash dishes without getting my clothing wet (COLD!) or removing long sleeved outerwear. If after donning the sweater I am still chilly, then I add the insulated vest. AND if that does not do the job, the Cowichan sweater goes over all and I pull on a pair of lined boot-like slippers. This has never failed me, and there have been times when the temperature in here has been as low as 5 C.
Harriet and Hogan dropped in today for a cup of tea and a chat. They were on their way to their cottage for an overnight stay, checking up on the place mid-winter. Hogan fell victim to our security system, he was locked outside in the cold for many minutes and we didn't hear him knocking. Harriet did wonder why he was outside for so long, and it was she who finally realized that he was locked out. I had unlocked the deadbolt, but not the door handle lock! This has happened before, notably to Terra and Lares who spent the rest of their night sleeping in their car because they didn't want to wake us up after an emergency trip to the hospital.
Hogan was not impressed, in his very own Hogan way!!
I am thinking a doorbell might be a good idea…
On the positive side, by the time Hogan did come into the house, it seemed warm to him! Everything is relative.
The weather and roads have been bad for the last week or so. Many of my trips to or from work have been across ice covered roads, through snow squalls and freezing rain. It is the rock cuts and the other vehicles on the road that are a worry, a sudden, unexpected move could be disastrous. I did pass a scene where a pickup truck had slid across the oncoming lane on a curve and tipped nose down into a steep, rocky ditch. I wasn't first on the scene, and since another vehicle had stopped to offer assistance, with lights flashing on their roof, I thought it just as well to keep out of the way and just keep going. Although beautiful, the drive to and from work has been downright treacherous.
My birthday is in January, an Aquarian. So what did I want for my birthday? Speakers for my computer. We do not have television reception and rely totally on Netflix for entertainment. In the winter this becomes more important, as we must stay home to keep the hearth fires burning and dare not wander about. The thing is, the built in speakers on my iMac have not been able to project the sounds from Netflix or DVD's. We have been straining to hear the dialogue in the programs. So I wanted speakers. I say wanted because what I did was order Harmon Kardon speakers from Apple, just this past week. And they arrived the same week.
Wow! Should have done this seven or eight years ago!
We decided to purchase some music we enjoy, so I logged onto iTunes and bought an album by the Vale of Atholl Pipe Band. We are listening to it right now and the sound is amazing. Attila and I both love bagpipes and drum.
The daily hamster walk is going well, most days it actually gets done. Not reaping any discernible benefits yet, but it is early days.
Worldly Distractions
Weather
-14 °C
Pressure: 102.7 kPa
Visibility: 16 km
Temperature: -13.6°C
Dewpoint: -14.4°C
Humidity: 94 %
Wind: calm
Quote
"Enjoy yourself, it's later than you think
Enjoy yourself, while you're still in the pink
The years go by, as quickly as a wink
Enjoy yourself, enjoy yourself, it's later than you think"
1949, with music written by Carl Sigman and lyrics by Herb Magidson
(anyone remember the Geritol commercial that featured this lyric?)