I had a wonderful Mother's day!
I did not get to see my Mother, but I did send her a card and we talked on the telephone. How lucky I am to have her! She lives near my two sisters, and their children, so she was kept quite busy with comings and goings, not to mention her own busy social life.
Mother's Day was sunny when I set out to pick up Terra at her apartment to bring her back to our little house in the city. Lares was visiting his mother, who Terra texted early in the morning, while chatting with Attila and I, to keep her mother-in-law company while Lares and his brothers and sisters slept in. Soon Lares and the gang there were awake and off they all went to spend their day together.
Terra wanted to do something special for me. First she thought, breakfast out! No, my allergy eliminates that option. Then she thought, I'll make something special for breakfast for Mom! No, Attila was already making pancakes. Then she thought plants for the garden. Our yard is soon to be dug up to put new drainage tile around the foundation, waterproof the walls and grade the slopes. I knew what I wanted though… rhubarb!! So Terra and I took ourselves off to shop, visiting a wonderful nursery in Selby, Ontario. Terra procured for me two wonderfully healthy rhubarb plants; she even planted them for me! The tag says not to harvest the first year after planting, so no fresh rhubarb from the yard this summer. I can't wait until next spring!
Luna called tonight, returning the call I made to her to thank her for the Mother's Day Card.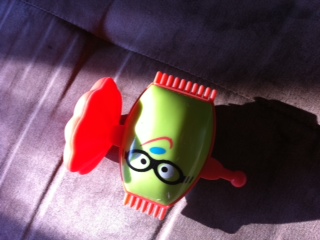 The grand babies were feeling very chatty tonight, Imp sang us a song she learned in school today, the Coin Song. Imp also told us about her puppet, who she allowed to speak with us and at my request got Luna to take a picture and send it to us. The puppets name, Rosetta. Not your conventional puppet, but anyone with an imagination can see Rosetta's charm. Elf talked a bit, but really prefers to spend time face-to-face, with lots of eye contact and hugs, the telephone is not his favourite thing. Tink, only two, told us about her doings, quite the little talker she is! When we were saying goodbye to Luna, we could hear Imp and Tink singing happily as they pretended to be crocodiles eating Elf, who was giggling.
And so ends the day today. Well done universe!
Worldly Distractions
On the Screen
Finding Neverland
I loved this movie, cried all the way through it. Peter Pan, the version starring Mary Martin, was magic when I was a child. My mother used to tell us, when she was putting us to bed at night, that Peter Pan would not come until we fell asleep! She was right of course, Peter came for us frequently as we slept. There were certain things my Mother just knew.
Weather
13 °C
Condition: Sunny
Pressure: 102.2 kPa
Visibility: 16 km
Temperature: 12.5°C
Dewpoint: -2.1°C
Humidity: 36 %
Wind: WNW 8 km/h
Quote 
"To invent, you need a good imagination and a pile of junk."
Thomas A. Edison
1847 – 1931