Saturday, September 13, 2014
We are still at the little house in the city.
Great fun in the kitchen over the last few days! I have blanched and frozen most of the celery given to us by Terra and Lares, and dried and powdered about 250 ml of dried celery leaves for flavouring in soups and stews. I have pressure cooked the beets, which we enjoyed the whole day, eating them as a mid-morning snack, and as a side dish with every meal of the day. I like them with hot sweet mustard. What a treat!
The next day I reread the manual for the All American pressure canner, and began the prep work for my very first foray into pressure canning. On this vacation I brought along three types of dried beans, kidney, navy, and pinto beans. I also brought along the video I found online, which outlines how to can chili beans in a pressure canner, using dry beans. All in all, by the time I was ready to put my hand to chopping vegetables, washing canning jars and setting up the pressure canner, it was already well past 2:00 p.m. in the afternoon.
Finally, at around 3:30 p.m. I was ready to lower my bean, vegetable, spice, and water filled jars into the canner, to begin the canning process.
I do not think I have tackled many projects with as much reading of manuals, watching of tutorials, and thinking, thinking, thinking about what I was going to do, and how I was going to do it.
And of course, as soon as I got the pressure canner going, I was sure I hadn't set it up properly, that it would run dry on me, that the jars would break, that the range couldn't handle the load…
Let me just say that it was a very, very tense 120 minutes, from the time I turned on the heat, until I turned it off again. I sat in the kitchen and watched that pressure canner like there was no tomorrow. I wondered that steam occasionally came from the rim rather than out the weighted release valve. I wondered if the roiling sounds inside the canner meant the jars were bursting. I wondered if it mattered that the weight did not rattle three times a minute if the canning process was compromised, even though the gage read a steady pressure. I wondered why the weight rattled almost constantly when I turned up the heat a smidgin. I just wondered about the whole thing, from beginning to end. I had a sore neck and a tension headache by the time I turned off the heat!
What I found out was that I had plenty of water left in the canner at the end of the process, and it would not have run dry, even if the weight had rattled a lot more than it did. The canner lost a surprisingly small amount of water! I found out that I really had needed to add vinegar to the water before closing up the canner, because the canning jars came out coated with minerals. I found out that the canning was successful, 100% successful, as every jar pinged as it sealed. I watched the contents of the jars "boil" for almost half an hour after I removed the jars from the canner.
And best of all… I found out that Attila LOVES the beans!
The next time I try pressure canning I won't be nearly so nervous about it.
We managed to get out to Terra and Lares house this past week, and had a wonderful time, sitting on the verandah chatting, watching and occasionally helping Lares with the last wall of siding on the house, sharing a wonderful meal of hamburgers, and corn and potatoes that Terra picked in the garden just before putting them into the pot to cook. We ended the evening by watching a movie, Bad Words, which I really enjoyed.
Yesterday evening Terra and Lares came to ours for dinner, which was "holiday food", french fries and chicken nuggets. Not really that bad considering we have been out of cooking mode for the entire holiday due to the window replacement project in the kitchen and dining room.
One of the things I love about our time at the little house in the city is being able to see Terra and Lares with some frequency.
It was Tink's birthday last week, her fifth, so we called her using Skype. She is such a character. She told us she was having "frozen cupcakes" for her birthday. Attila and I both thought, "whatever turns your crank!" Luna explained to us later that "frozen" was a movie, and the cupcakes were part of the movie themed birthday party. We all had a good laugh about the frozen cupcakes.
Yesterday Attila spent the entire day just puttering. He touched up the paint on the exterior of the house, where it had peeled, apparently not quite dry when the we painted the house a few years ago. He replaced bits of rotting siding on the garage, and painted them. He cut and painted trim.
Today I decided that this year I am making chili sauce. I like my homemade chili sauce, and have found no affordable substitutes. We do buy a commercial chili sauce, but it is almost $5 a jar, and is thickened with a thickener, it tastes and feels like cornstarch to me, which isn't real chili sauce as far as I am concerned.
I talked to Terra about a possible source for a half bushel of tomatoes, she did not know of one. Then I poked around the internet, searching, searching, searching. I found a farm just 5 km out of town, that sells all kinds of fall vegetables, including tomatoes. So I called ahead, then headed out to the farm for tomatoes. Goodness I had a good time. There were many kinds of squash, I bought three different varieties. There were freshly dug potatoes, I bought two baskets. There were hot peppers, I bought them all. There were green peppers, I bought three. I came home with a trunk full of vegetables!
Then I headed off to the hardware store and purchased another dozen 1L canning jars. I always buy North American made canning jars. In Canada that means BERNARDIN, a company I trust. Canadian Tire had another brand of canning jars, that I don't think are made in North America. I won't buy them. I will not buy products made outside of North America unless I have no other options. Today I had options, I bought Bernardin.
Another project I tackled after the kitchen chaos cleared, were curtains for the kitchen window. I spent an entire day sewing a set of simple kitchen curtains for the new kitchen window, installing the curtain hardware, and hanging the curtains. Again, I love them!
I have the same material to make new curtains for the dining room windows, but will tackle that project when I am visiting the little house in the city by myself. Then I will be able to pace myself, sewing over the course of a few days, instead of soldiering on and pushing the project through in one day, as I did with the kitchen window curtain.
Our evening began when Terra and Lares dropped by with another bunch of home grown celery. I had asked her earlier in the day if they had any more that they were wanting to give away. I need this bunch of celery for my chili sauce! After they left Attila and I got down to removing all the leaves, washing them, spreading them on cookie sheets, and drying them for future use as flavouring.
It was cold and raining today, not at all pleasant out there! We were warm enough in the house though, our little bit of cooking for lunch and dinner kept the house pleasantly warm.
Attila had his meltdown today, the last full day of our renovation vacation. He was determined to install the bathroom baseboard, but ran into a few issues caused by the uneven walls and floor in this old house. He felt very frustrated. Time to end the projects for this visit!!! I pointed out that he had accomplished an incredible number of projects with great success. An evening of fun was in order. So we got out the popcorn maker, found a BBC drama to watch on youtube, and sat ourselves down for a few hours of mindless entertainment.
Here is the dining room, new windows and table in place. The curtains are shower curtains, which are not ideal, but they work. Actually they work very, very well, with shower curtain hooks on the curtain rod the opening and closing of the curtains is easy indeed. The material for the new curtains is sitting in the living room beside the sewing machine, just waiting for my attention!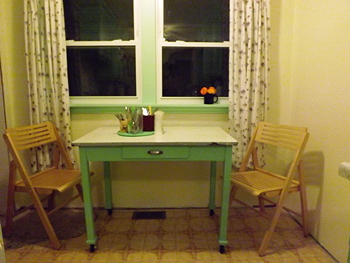 And there ends our two weeks of renovation vacation, our fifth year of spending our entire vacation time renovating our little house in the city. I guess that would be a total of about ten weeks of renovating, not a lot of time, as renovations go. We usually have a good time and are happy in our work, just not every day, ahem, and the results are so very satisfying!
Worldly Distractions
Weather
10°C
Date: 8:00 PM EDT Saturday 13 September 2014
Condition: Partly Cloudy
Pressure: 102.2 kPa
Tendency: rising
Visibility: 24 km
Temperature: 9.6°C
Dewpoint: 7.1°C
Humidity: 84%
Wind: WNW 13 km/h
Quote
"Before I got married I had six theories about bringing up children; now I have six children and no theories."
John Wilmot
I found this quote very amusing! I raised my girls as a single mother, and had to deal with childless authority figures in the academy while studying for my Honours BA, MA and PhD. I have to say, those childless, intellectual "experts" on childrearing were a baneful bunch! It is little wonder that I have theories about theories!