Attila and I had a lovely Thanksgiving weekend. Attila worked Saturday, as usual. After he arrived home we packed a few belongings into the car and headed for the little house in the city. The drive was wonderful! The leaves on the Canadian Shield are at their peak of colour, and it was quite a show, what with white clouds floating in the blue sky above and brilliant greens, oranges, yellows and reds below. We enjoyed the trip immensely.
We made a few stops along the way. One at a frozen food discount store, where we purchased some frozen Jamaican patties as a treat (we had them for dinner Saturday night and they were dreadful!). We also made a quick stop at an apple store along the way. The apples were local and fresh, also a reasonable price. We purchased a half bushel of Spy (my favorite for eating and cooking) and of Mutsu (Attila's choice), as well as locally grown garlic. All the garlic available in our grocery stores here is from China, we prefer to buy locally grown garlic but it is very difficult to find. I was thrilled to find a stainless steel wide mouthed funnel for canning. I have been looking for more than a decade for one of these funnels. I have several plastic wide mouthed funnels, but will not use them for hot food, as I don't trust plastic at all in terms of chemical exposure. Now that I have the stainless steel funnel I will discard the plastic funnels. In my dreams I am buying a pressure canner, metal on metal seal. I checked the price on them, and right now getting this particular pressure canner is only a dream.
Sunday morning I awoke at 2:30 a.m. and could not get back to sleep. I waited until 5:30 to awake Attila. I had a surprise for him, giant oven pancake and freshly homemade applesauce, made from the Spy apples. We had a leisurely breakfast, a cozy chat over coffee and then set about getting ready to perform the tasks we had allocated for ourselves that day.
Attila replaced the bathroom "window" with a new, energy efficient window.
For some reason a previous renovator had installed a storm window as an inside window, opening from the inside, and a second storm window on the outside, opening from the inside. Neither of these windows were particularly well sealed, and they certainly were not energy efficient. To boot, they were coated with mildew, inside and out. Attila stripped the trim and removed the inner storm window during our wait for 9 a.m., when we could reasonably begin using power tools that could be heard in the outdoors.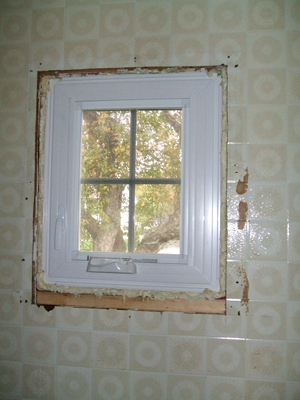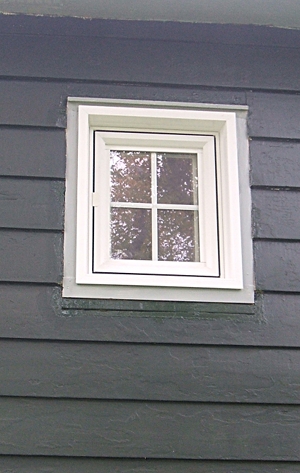 I was waiting for the stores to open. Attila had forgotten to bring Vycor for the window job, so I needed to search for and purchase either Vycor or a suitable substitution. I also had a few things on our grocery list to pick up, as Terra and Lares were coming for brunch on Monday morning. While waiting for the rest of the world to wake up and get going, I tidied the kitchen and did some organizing of materials.
By Sunday night Attila had the new window in and ready for interior trim. I had the construction debris under control.
Monday morning we had a lovely brunch with Terra and Lares, consisting of sausages, French Toast, pancakes, real maple syrup and freshly homemade applesauce. We had a lovely visit, although Terra was increasingly tired, since she had worked the night shift and had not yet had any sleep. After Terra and Lares headed home, Attila and I packed up our things and headed home ourselves. This trip we left the furnace running, at 7C, just in case it gets really cold before we can get back for another visit. It was nice to have the new energy efficient window installed in the bathroom before heating season began.
The country house was 12C when we got home. Mist was not impressed, and did not mind letting us know how she felt. Attila built a fire downstair immediately, which mollified Mist somewhat.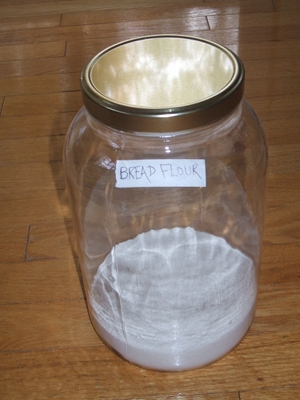 This morning I've been tending a downstairs fire started by Attila before he left for work this morning. The temperature upstairs is now 22C and I am quite comfortable in my old t-shirt, work pants and bare feet. Mist is luxuriously stretched out near the wood stove downstairs, dreaming cat dreams in her now perfect world.
I've had a few things I wanted to accomplish this morning. One was to finish filling the last of the 4 litre jars that I had purchased last week, for food storage. The last two jars received their contents of chick peas and dried basil respectively. Now all of the dozen jars are filled, with flours and beans and other dried goods. Now I have sufficient supplies in the kitchen to cook properly, without having to rummage through bags in the cupboard. Also, these jars are mouse proof, and insect proof and safe from a chemical/hormone leaching point of view. Perfect for us.
Heating season is upon us and it is time to cure the masonry heater. BUT it hadn't been cleaned after the last heating season. We brought home our shop vac to accomplish the task of cleaning the wood heater. I removed several small garbage bags of ash by hand, with a small scoop. Dirty, dirty work is chimney cleaning. I was black to the shoulder on one arm from reaching in to dislodge small bits of creosote and oodles of grey ash from the deep interior of the heater. The shop vac helped, but could not reach the nooks and crannies the way I could with my scoop. It took a few hours, but the job is done! Tomorrow I begin to cure the masonry heater for the heating season.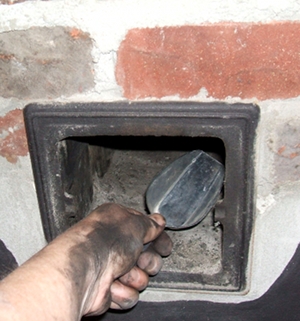 Worldly Distractions
Weather
11 °C
Condition: Cloudy
Pressure: 101.9 kPa
Visibility: 16 km
Temperature: 11.0°C
Dewpoint: 4.7°C
Humidity: 65 %
Wind: S 28 gust 42 km/h
Quote
"I do not take a single newspaper, nor read one a month, and I feel myself infinitely the happier for it."
Thomas Jefferson
1743 – 1826