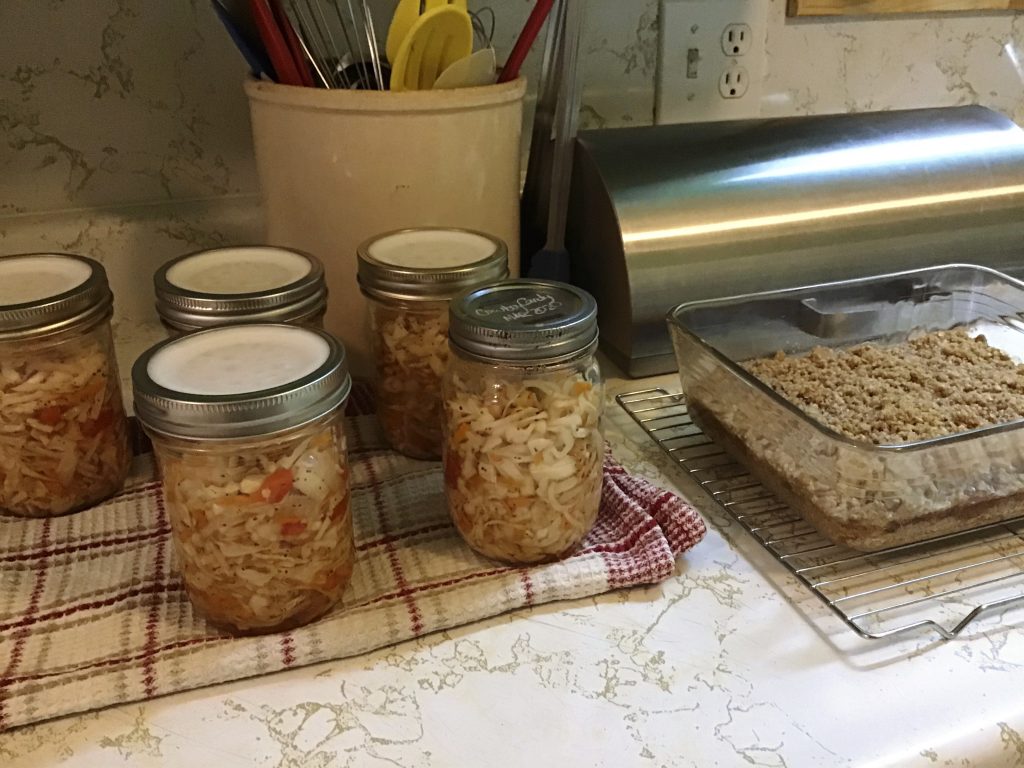 At our house, the lastest thing since sliced bread is canned coleslaw. Wow!

Attila chopped the vegetables, and I took care of everything else from there. Canning projects are so easy with two people, not only does the job go quicker and easier, but there is also a sense of connection in sharing the tasks, connection to each other, and connection to our food, for both of us. If I were to give away some of the canned products, I think I would also feel a connection to those people who would be eating my creations. Of course, we struggle, and will have to struggle harder from here on, to ensure we have enough to eat, so we aren't giving away any food, that would mean we would go without.

Coleslaw is something I have not tried to can before, so the whole concept was new to me, the recipe, and the techniques used. Since the coleslaw would be consumed within a week or so, and the jars would not be going into longer term storage, I decided it was the perfect time to experiment with the Tattler lids I purchased a few years ago. The Tattler lids were a big disappointment, the learning curve is very, very steep. I was confident I could master the skill, but alas, after many failed jars, I realized I had met my match. I gave up and went back to the the 100% reliable one-use, tried-and-true metal canning lids. In four decades of canning , not one metal lid has failed on a canning jar, no food has been lost, not even once. The Tattlers were 80% failure. Experimenting with them was put off until a suitable project presented itself, a project like Canned Coleslaw.

As I sit here writing the jars of coleslaw are waiting on the counter, as they must for at least 12 hours after being removed from the canner. Of course, one was consumed for dinner last night, and it was delicious. Also, the Tattler lid on that jar had sealed, yes! But it must be remembered that many of the Tattler lids in the past sealed, only to loose the seal after a week, two weeks, a month, meaning the jars on which they were used had to be constantly checked every few days. Checking lids every few days is far too labour intensive. But since this coleslaw will be sitting in the cupboard in the kitchen, the task will be easily performed, and is a part of the experiment.

The other experiment in the project was the reuse of a previously used metal canning lid. It sealed! So reusing metal canning lids for products that will be eaten within a few weeks is something that is viable at our house. Of course this is NOT RECOMMENDED practise, I am saying that up front, because it is definitely not considered a safe practise. Still, when needs must, metal one-use lids are expensive, and right now are not even available. I will be keeping a very close eye on that one jar with the used lid!

The really, really important aspect of the project is that we LOVE the canned coleslaw. It tastes great, so we will eat it. Other considerations are: cabbage is cheap, the vegetables are all good for us, we leave out the salt so it is sodium-free, it is an instant vegetable side dish or entre, it is easy to preserve, we can grow all of the vegetables required in our small yard, and all of the vegetables are grown in Ontario, so they might be readily available going forward in the new economy.

I will tweak this recipe in several ways. The salt is omitted. The syrup in the recipe was doubled. It was too sweet for us, so the sugar will be reduced, not drastically, but reduced. The important preservative in this canning recipe is the vinegar, so that ingredient stays the same no matter what.

Taking a break from writing, I am just now back from the kitchen. The rings on the Coleslaw jars were removed, and all of the jars sealed. That was good news! The jars were washed to remove any sticky remnants of syrup around the lids or on the jars, and all of the jars are still sealed. That was good news! The jars are lined up at the back of the counter, where I can check the seals on them every day. If a seal fails the jar will go into the refrigerator and if it smells and tastes fine, will be eaten within 24 hours. It is hoped none of the seals will fail. Time will tell.

If I were to give advice to people who are new to canning, this is what I would relate.

First, learn the difference between high acid and low acid foods, this is fundamental to safe canning. The method of canning is different, depending on the acidity of the food you want to can.

High acid foods are most fruits, and canned items like jams, jellies, pickles, and relishes, and can be steam or water bath canned.

Low acid foods are most vegetables, meats, beans and legumes, fish, and many other foods and MUST be pressure canned.

Reliable canning books and online resources have information on what foods are high acid and what foods are low acid, and how to can them safely.

For people canning for families of three or more, intending to can a substantial amount of high acid foods, this larger, stainless steel Victorio Steam Canner is what I would recommend. It Handles 8 pint or 7 quart jars, for canning, AND can also handle 20 quarts of liquid if you use it as a stock pot. It is easy and simple to use, and does not use a lot of water.

For people canning for one, or two, intending to can small to medium amounts of high acid foods, this smaller, lighter and easy to handle aluminium Victorio Steam Canner is what I would recommend. It handles and processes up to 7 quart or 8 pint jars of high-acid foods at one time, does not work as a stock pot, but does allow people with most mobility issues to can with ease. It uses very little water, and does not require lifting jars out of the top of a large pot. I love mine, because I can use it for small batches of the foods I forage, like dandelion blooms, and small batches of jams, jellies, pickles, and relishes.

For people on an extreme budget, or who just want to try out high acid food canning to see if it is for you, low-budget water bath canning may be the way to go. You may already have a pot in your kitchen that will work for water bath canning, as long as it is deep enough to cover the jar lids on a rack with 2 inches of water, and there is a rack or means of keeping the jars from sitting on the bottom of the pan, e.g. use canning rings.

Low acid foods require a Pressure Canner (not a pressure cooker). There are two pressure canners that I would suggest. The first I have not used, but have interacted with dozens and dozens of seasoned canners who rely on it, the Presto 23 Quart Pressure Canner. It is apparently easy to use, and very reliable, and has a relatively reasonable price point, it does require a gasket that needs to be replaced occasionally, and has a gauge that needs to be tested annually. The other is the All American Pressure Canner, which is relatively expensive, will last for generations if it is used as recommended, has a metal on metal seal with no gasket required, and can operate with the weight and/or the gauge. Gauges need to be tested regularly to rely on them, but the weight is a piece of metal that does not require upkeep to be deemed reliable. There are NO ELECTRIC PRESSURE CANNING appiances that have been deemed safe for pressure canning by the USDA, in particular no model of Instant Pot should be used for low acid pressure canning, they have been tested and deemed unsafe, despite statements by the manufacturer.

Now, to talk about knowledge. To learn how to can safely, the books by Ball, Bernardin, or Kerr are the way to go, or the free online resources The National Centre for Home Food Preservation, the University Extension Service sites, or the Ball, Bernardin or Kerr web sites, are up to date and reliable sources of information on recommended techniques, and tested recipes.
Always use tested recipes until you evolve into an expert canner, which takes years of experience and study. Botulism can permanently maim or kill, carelessness in canning can be unforgiving, but there is little risk (I feel no risk) unless you fail to follow reliable techniques and recipes. Do not rely on Pinterest, Youtube, or personal blogs for canning techniques or recipes (that includes my blog by the way).
Note that this entry is based on a recipe that is not tested by reliable sources, so use the recipe at your own risk. I am a seasoned canner, and consider myself an expert canner. This is my personal reasoning in using the recipe. It is a pickled product, so if it spoils I will immediately smell it is off. Pickled products will not harbour botulism, the only undetectable danger in the world of canning food. I will trust it is safe unless I detect an off smell or taste, and even then it would probably not hurt me if I ate it, there is no danger of botulism in pickled products, but I wouldn't eat it.

Well there you have it, brief, unasked for advice. I love canning, just as I love all aspect of food preparation and food preservation, so writing about it delights me.

Stay safe dear friends!
Worldly
Weather
6°C
Date: 11:00 AM EDT Tuesday 21 April 2020
Condition: Mostly Cloudy
Pressure: 99.5 kPa
Tendency: Rising
Temperature: 5.5°C
Dew point: -1.8°C
Humidity: 60%
Wind: W 31 gust 55 km/h
Visibility: 24 km
Quote
"I have found that everything wants to kill you. For some things, like fast food, or riding a bike, it just takes longer."
Devin J. Monroe
1983 –

Eat your vegetables!!