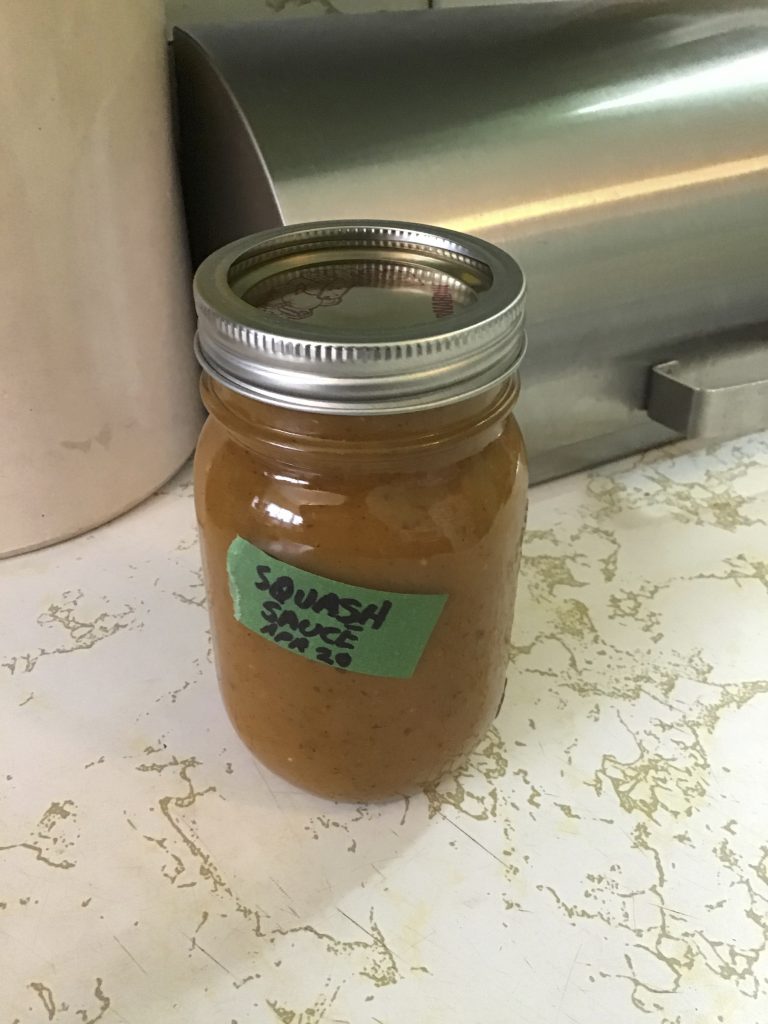 We can produce vegetables here at Mist Cottage, so going forward the focus for our diet will be on what we have access to, vegetables.

Today's project consisted of tweaking my very own recipe for Squash Sauce Maggie's Own.

The day before yesterday I canned Coleslaw, which uses cabbage, carrots, onions, and red pepper. All of these things are grown in Ontario, and hopefully will be accessible going forward. Our garden cabbage last year was amazing, so delicious, so we hope to get an even bigger crop this fall, and Canned Coleslaw will be high on my autumn canning list.

The Canned Coleslaw was a big success, we have already eaten three jars of it, and there are three left. The wonderful thing about this recipe is that it could be made and canned, made and frozen in serving sizes, or made and refrigerated for immediate consumption. You wouldn't have to can it, you could freeze it, or refrigerate it to eat it all up within a few days. I don't know what the texture would be like if it was frozen, or refrigerated, if you try it let me know. We loved the canned product, which has a long shelf life, and can be stored at room temperature, so no freezer space is needed. Our freezer space is at a premium, so anything that can be stored at room temperature is a boon.

My next vegetable experiment will be to dehydrate carrots, just to see how it goes. Dehydrated vegetables can be stored in sealed jars indefinitely, so I will be testing different vegetables to determine which work best preserved that way. I am very keen to dehydrate onions and garlic, but that will have to wait until they are either inexpensive, or we learn how to grow them in quantity here on our small urban plot. Our garden plans are bigger than our yard, so we will have to be judicious in our choices.
Worldly
Weather
2°C
Date: 12:00 PM EDT Wednesday 22 April 2020
Condition: Mainly Sunny
Pressure: 101.2 kPa
Tendency: Rising
Temperature: 2.4°C
Dew point: -12.9°C
Humidity: 32%
Wind: W 31 gust 47 km/h
Visibility: 24 km
Quote
"Remember not only to say the right thing in the right place, but far more difficult still, to leave unsaid the wrong thing at the tempting moment."
Benjamin Franklin
1706 – 1790

These days it seems that no one is leaving things unsaid in those tempting moments.