I wrote a whole six paragraphs about local shopping. Then I deleted it, although unsure why. Just wanted to start fresh I guess.
Choosing gifts for the Grandbabies had me thinking about the delights of my own childhood, and what Christmas was like back then. Here are some images of things that were a part of my childhood.
The late 1940s and the 1950s ushered in an era of toys that were mass produced and advertised on radio and television. It was the dawn of corporate toy manufacturing in North America, which at that time was still tethered to the innocence of free enterprise. That tether has worn thin and broken.
Toys in the 1950s and 1960s
Coca Cola Santa:
These are the ads that flourished on television when I was a child. They still evoke strong feelings of wonder, even though my logical brain understands that they represent the rise of corporate greed. I still see them through the eyes of innocence, in memory of my former self.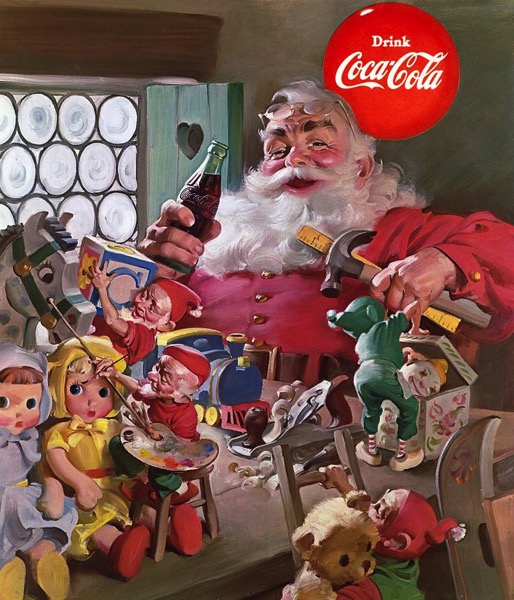 5 Things You Never Knew About Santa Claus and Coca-Cola
The Santa Claus we all know and love — that big, jolly man in the red suit with a white beard — didn't always look that way. In fact, many people are surprised to learn that prior to 1931, Santa was depicted as everything from a tall gaunt man to a spooky-looking elf. He has donned a bishop's robe and a Norse huntsman's animal skin.
In fact, when Civil War cartoonist Thomas Nast drew Santa Claus for Harper's Weekly in 1862, Santa was a small elflike figure who supported the Union. Nast continued to draw Santa for 30 years, changing the color of his coat from tan to the red he's known for today.
Here, a few other things you may not have realized about the cheerful guy in the red suit.
1. Santa Has Been Featured in Coke Ads Since the 1920s
The Coca-Cola Company began its Christmas advertising in the 1920s with shopping-related ads in magazines like The Saturday Evening Post. The first Santa ads used a strict-looking Claus, in the vein of Thomas Nast.
In 1930, artist Fred Mizen painted a department-store Santa in a crowd drinking a bottle of Coke. The ad featured the world's largest soda fountain, which was located in the department store Famous Barr Co. in St. Louis, Mo. Mizen's painting was used in print ads that Christmas season, appearing in The Saturday Evening Post in December 1930.
2. Coca-Cola Helped Shape the Image of Santa
In 1931 the company began placing Coca-Cola ads in popular magazines. Archie Lee, the D'Arcy Advertising Agency executive working with The Coca-Cola Company, wanted the campaign to show a wholesome Santa who was both realistic and symbolic. So Coca-Cola commissioned Michigan-born illustrator Haddon Sundblom to develop advertising images using Santa Claus — showing Santa himself, not a man dressed as Santa.
For inspiration, Sundblom turned to Clement Clark Moore's 1822 poem " A Visit From St. Nicholas" (commonly called "'Twas the Night Before Christmas"). Moore's description of St. Nick led to an image of a warm, friendly, pleasantly plump and human Santa. (And even though it's often said that Santa wears a red coat because red is the color of Coca-Cola, Santa appeared in a red coat before Sundblom painted him.)
Sundblom's Santa debuted in 1931 in Coke ads in The Saturday Evening Post and appeared regularly in that magazine, as well as in Ladies Home Journal, National Geographic, The New Yorker and others.
From 1931 to 1964, Coca-Cola advertising showed Santa delivering toys (and playing with them!), pausing to read a letter and enjoy a Coke, visiting with the children who stayed up to greet him, and raiding the refrigerators at a number of homes. The original oil paintings Sundblom created were adapted for Coca-Cola advertising in magazines and on store displays, billboards, posters, calendars and plush dolls. Many of those items today are popular collectibles.
Sundblom created his final version of Santa Claus in 1964, but for several decades to follow, Coca-Cola advertising featured images of Santa based on Sundblom's original works. These paintings are some of the most prized pieces in the art collection in the company's archives department and have been on exhibit around the world, in famous locales including the Louvre in Paris, the Royal Ontario Museum in Toronto, the Museum of Science and Industry in Chicago, the Isetan Department Store in Tokyo, and the NK Department Store in Stockholm. Many of the original paintings can be seen on display at World of Coca-Cola in Atlanta, Ga."
Source: http://www.coca-colacompany.com/holidays/the-true-history-of-the-modern-day-santa-claus
Toy Boats and Submarines:
These little gems came with some kind of snack item, maybe it was popcorn? Mostly they were found in cereal boxes. You put baking soda in them and they propelled themselves around the bowl of water. The submarines were also very amusing, but never did perform as well as they did on TV! We thought it was very high tech!



"A Baking powder submarine is a plastic toy submarine that dives and surfaces with the addition of baking powder. Baking powder submarines are sometimes misidentified as baking soda submarines, however baking soda alone does not react when placed in water.
In 1953 Benjamin and Harry Hirsch, two brothers in a cosmetics company discovered that the gas bubbles from baking powder could make a toy submarine dive up and down in fresh water. They sold their idea to the Kellogg's breakfast cereal company in 1954. Buoyed by the popularity of the first American atomic submarine USS Nautilus commissioned in that year, the 25 cent and one cereal boxtop four and one half inch plastic ship model prize had one million produced by May. A two and one half inch version was also produced to be used as a cereal box prize.
The same principle was later used for toy frogmen using baking powder in a container on the figure. However some cereal prizes were cartesian divers which did not require baking powder."
Source: http://en.wikipedia.org/wiki/Baking_powder_submarine
Further Information: http://torgo.org/bpsubs/
Dinky Toys:
I have three brothers and they loved Dinky Toys. They seemed to be everywhere when I was a kid and I was always stepping on them (the Dinky Toys, not my brothers).

"Dinky Toys is the brand name of a range of diecast and other toys manufactured by the Meccano Company and its overseas subsidiaries. The Dinky Toys brand was first introduced in April 1934. However, the story of the Meccano Company goes back much further.
Meccano Limited was founded in 1908 by Frank Hornby. Meccano was an engineering-oriented construction kit and he had originally developed it for his sons and patented Meccano in 1901. Over time, see timeline, various subsidiaries were opened; initially France. The company published a magazine for Boys, Meccano Magazine, this started in 1916. Also over the years the Company diversified into quite a few products, the most significant being Hornby Trains (and later Hornby Dublo, 1938) and then Dinky Toys.
There are links here to an overall timeline of the history of Meccano Limited and then three links to more detail concerning the development of Dinky Toys from origins back as Hornby Series Modelled Miniatures in 1931 through to the demise of Meccano as a going concern in 1979.
Trace the history of Dinky Toys following the Hornby Railway Accessories from 1924 to Modelled Miniatures that were to become Dinky Toys to the Early post war years to the takeover of Meccano by Tri-ang/Lines Brothers and the final years to 1979."
Source: http://www.dtcawebsite.org/dinky-toys-and-meccano-ltd
Toy Doll Cradle:
The plastic doll cradle was brightly coloured and my sister and I really enjoyed them. All too soon they broke apart, but we had a lot of fun before they did.
Doll House:
I had a doll house just like this, loved it!

"Steel dollhouses, first introduced about 1948, dominated the 1950s decade. Again depending upon one's point of view, the disadvantage was that the printed interior decorations and architectural components left little to the imagination. One also had to accept the rendition of three-dimensional forms on what what obviously a flat shiny surface. But one can argue that they are the descendants of a long tradition of lithographed interiors, for example, this dollhouse history began with the American McLoughlin rooms of 1894 with their very fine interior renderings 1890s . The enemy of the earlier rooms and houses was rough handling resulting in bent or marked surfaces of the cardboard or fibreboard, whereas the enemies of the metal houses were dinging and rust. Because most of the latter houses are printed with the maker's name and place, identification problems are less prevalent."
Source: http://www.mckendry.net/DOLLHOUSES/1950s.htm
Doll Tiny Tears:
These dolls wept tears, which was the height of wonder for us.

The very first, 1965, Tiny Tears doll was 16″ high with fine pale blonde hair and blue sleeping eyes. The back of her neck was marked 'Made in England 16D'. She had delicate features, a small, pursed mouth, wore a turquoise or pink gingham romper and came with a bib, bottle and a dummy. This doll proved so popular that a year later Palitoy produced a smaller version, Teeny Tiny Tears, just 12″ high. Shortly after, Palitoy became part of the American company, General Mills Inc., who decided to keep the Palitoy name. Sometimes today collectors come across a baby doll similar to Tiny Tears but with a smiling face. This is Baby Flopsy, issued around the same time and advertised as being able to wear Teeny Tiny Tears outfits. She was sold wearing just a nappy.
Original Tiny TearsFive years after the initial launch, Tiny Tears was given a complete revamp which made her appear older; her delicate face was more rounded, her eyes were larger, her mouth wider and her hair was thicker. This is the face which most people remember, and it was to stay the same for the next fifteen years. She was marked 'Palitoy' on the back of the neck. One of her most popular outfits was a white nylon dress with blue and pink smocking on the yoke, and she was sold in this from 1973 to 1980, at a recommended retail price of œ7.99.
Tiny Tears dolls came with guarantees and gift certificates, as well as instructions on how to feed the doll and make her cry. The tear mechanism was activated by 'feeding' the doll with water, quickly inserting a dummy to prevent the water trickling out of the mouth, and then squeezing her tummy hard. She would wet her nappy at the same time, probably due to shock! To mark the next decade, Tiny Tears was given a pretty cotton dress with a floral design in either pink or blue, and, at first, matching pants and bonnet, though soon a nappy was substituted for the pants while the bonnet was discarded.Tiny TearsThe eye-catching box read 'She's as cute and cuddly as a real baby. Just like a real baby she cries real tiny tears.' The decade also heralded a new addition, the little Teeny Weeny Tiny Tears, just 9″ tall, who is now extremely popular with collectors and quite hard to find."
Source: http://www.worldcollectorsnet.com/features/tinytears/
Paper Dolls:
My sister and I loved paper dolls, and played with them for hours and hours and hours.

"Paper dolls have existed as long as there have been paper and creative people to apply images to it. Paper figures have been used in ritual ceremonies in Asian cultures for many centuries. An ancient Japanese purification ceremony dating back to at least A.D. 900 included a paper figure and a folded paper object resembling a kimono which were put to sea in a boat. The Balinese have made shadow puppets of leather and of paper since before Christ, although we are aware of no evidence that they made separate costumes for these figures. Many dolls have been made of paper in the Orient, whether folded or otherwise constructed, but these are three-dimensional and not flat….
Saalfield Publishing Company
The 1940s and 1950s saw great popularity of manufactured paper dolls by many fine artists. The Saalfield Publishing Company had Maybell Mercer, Betty Bell, Ann Kovach and Jean Morse in the 1930s and 1940s, Mary Knight in the 1950s, and Irene Geiger in the 1970s. Fern Bisel Peat created many charming books from 1931 to 1937. Ruth Newton's animals in Costumes are memorable. Rose O'Neill's dear Scootles and Kewpie made a delightful book in 1936. George and Nan Pollard painted celebrity dolls in the 1950s and 1960s for Saalfield as well as for Samuel Lowe. Their lifelike art extended to other subjects as well. Louise Rumely is remembered for her precious baby paper dolls in the early 1960s, as well for her cherub-filled Swan Soap ads of the 1940s and 1950s. Ethel Hays Simms is known for her Raggedy Ann and Andy series from the 1940s to the 1960s. Other artists can be studied in Mary Young's Paper Dolls and Their Artists, books I and II.
Samuel Lowe Publishing Company
A few of the popular artists of the Samuel Lowe Company are Merily Sharpe, who has been compared to Queen Holden in style; Pelagie Doane, who was also admired as a children's book illustrator; and the Henderson sisters, Doris and Marion, who did large groups of children in play settings. Fern Bisel Peat also painted several books for this company in the 1940s, as did Queen Holden in the 1960s. Jeanne Voelz did celebrity dolls for Lowe and for Saalfield, as well as the irresistible Cuddles and Rags and other cute characters.
Whitman Publishing Companies
Besides the famed Queen Holden, in the 1940s and 1950s Whitman also published the works of Hilda Miloche, whose style is immediately recognized by collectors. (Some of her paper dolls appeared in paper doll story books of the popular Little Golden Books). Avis Mac (1930s) and Judy Stang (early 1970s) did sweet children dolls. Ruth Newton also did her cute animals for Whitman, and Neva Shultz was prolific in the 1960s, doing twenty-eight books. See Mary Young's books for more information on the Whitman artists.
Merrill Publishing Company
Miriam Pendleton Kimbal created books filled with children, as well as the highly-sought-after Gone With the Wind (1940), which can sell for more than $400 today. Merrill enjoyed the popularity of Louise Rumely's sweet babes, including her Angel Babies. Florence Salter's animals are often confused with Ruth Newton's, as both artists dressed puppies and kittens in paper-doll style. E.A. Voss, noted for her children's book illustrations, did a few paper dolls for Merrill, as did the popular magazine illustrator Maud Tousy Fangel.
Western Publishing, Racine, Wisconsin
Thanks to Western Publishing of Racine, Wisconsin, many of Disney's characters became paper dolls. In addition, Doris Lane Butler did young lady dolls (1940s), and Rachel Taft Dixon was loved for her storybook, historical, and folk dolls (1930s). Ethel Bonney Taylor gave us Blondie (1941) as a paper doll. During the 1990s Western Publishing brought us our favorite Disney characters as paper dolls, including Snow White, Pocahontas, The Little Mermaid, Beauty and the Beast and others. These books are still fairly easy to find on eBay and via secondary market sellers."
Source: http://www.opdag.com/History.html
Hula Hoops:
I remember when these hit the market. At first they could not be had for love nor money, so popular that every store was sold out. I remember being in the car with my Mom, who drove by a hardware store with a few on display. She turned the car around and went right back and bought one. Five children, one hula hoop, there were lineups, lol.

"A hula hoop is a toy hoop that is twirled around the waist, limbs or neck. The modern hula hoop was invented in 1958 by Arthur K. Melin and Richard Knerr, but children and adults around the world have played with hoops, twirling, rolling and throwing them throughout history. Hula hoops for children generally measure approximately 71 centimetres (28 in) in diameter, and those for adults around 1.02 metres (40 in). Traditional materials for hoops include willow, rattan (a flexible and strong vine), grapevines and stiff grasses. Today, they are usually made of plastic tubing.[1]"
Source: http://en.wikipedia.org/wiki/Hula_hoop
Wooly Willy:
This toy was based on metal filings and a magnet tipped "pencil". Captivating.

"Wooly Willy is a toy in which metal filings are moved about with a magnetic wand to add features to a cartoon face.[1] The toy was originally manufactured in Smethport, Pennsylvania and was launched on the toy market in 1955. It remains in production as of 2010…
Wooly Willy is "a face printed on cardboard under a bubble of plastic filled with metal filings that could be moved with a magnetic wand to create features like beards, mustaches, and shaggy eyebrows on the face."
Creation
The brothers Donald and James Herzog developed Wooly Willy while working in the Smethport Specialty Company, their father's toy production company, in Smethport, Pennsylvania, United States. The company produced tops, horseshoe-shaped magnets, and other toys until the vacuum forming devices of the 1940s and 1950s allowed the company to manufacture air-tight containers of transparent plastic. Such containers kept Wooly Willy's metal filings from leaking out and moisture that would rust the metal from leaking in. The artwork for the first Wooly Willy was created by artist Leonard Mackowski of nearby Bradford, Pa. His signature is found hidden in the grass on the reverse side. The Broadfield Toy Co., Inc., of Hempstead, New York, United States created a similar toy called Whiskers in 1925.[3]
Launch
Priced at US$0.29, Wooly Willy was successfully launched on the market in 1955.[1] A buyer for G. C. Murphy dime store chain initially purchased six dozen of the toy and expected not to sell them for a year. The buyer called Herzog just two days later and ordered a dozen thousand for nationwide distribution.[4] F. W. Woolworth Company also distributed the toy. More than 75 million Wooly Willies have been sold"
Source: http://en.wikipedia.org/wiki/Wooly_Willy
Play-Doh:
Play-Doh has been around for a very long time!

"Play-Doh modeling compound started out as wallpaper cleaner. Joe McVicker learned from a teacher that kids usually found modeling clay too hard to manipulate. Discovering that the squishy cleaning product he manufactured could substitute, McVicker shipped some to the school. After teachers and kids raved, he offered to supply the product to all Cincinnati schools. More rave reviews followed. McVicker showcased the modeling clay at a national education convention in 1955, and word spread to Macy's and Marshall Field's. By 1956, the wallpaper cleaner had become Play-Doh. A year later, the manufacturer offered a softer Play-Doh in primary colors. Kids mixed these to make other colors, ending inevitably in brown. Captain Kangaroo endorsed Play-Doh, and so did Miss Frances from Ding Dong School. Play-Doh Pete appeared on product cans in 1960. The Fun Factory let kids extrude the material into interesting shapes, making mock hair, colorful spaghetti, and pretend ice cream that wouldn't melt. In the 1980s, Play-Doh expanded its palette to eight colors. Later versions sparkled with glitter, glowed in the dark, or smelled like shaving cream. Recent estimates say that kids have played with 700 million pounds of Play-Doh."
Source: http://www.toyhalloffame.org/toys/play-doh
Roller Skates:
I remember these so well. They seemed impossible to keep attached securely to shoes, always loosening and coming off at very inconvenient moments.
Slinky:
From the moment we saw one of these in the Simpson Sears Catalogue, we wanted one!

"Mechanical engineer Richard James invented the Slinky by accident. In 1943, he was working to devise springs that could keep sensitive ship equipment steady at sea. After accidentally knocking some samples off a shelf, he watched in amazement as they gracefully "walked" down instead of falling. Along with his wife Betty, James developed a plan to turn his invention into the next big novelty toy. Betty combed the dictionary for an appropriate name and came up with "Slinky." James designed a machine to coil 80-feet of wire into a two-inch spiral. The couple borrowed $500 to manufacture the first Slinkys. Initial sales proved sluggish but soared after Gimbels Department Store in Philadelphia allowed demonstrations for Christmas 1945. The first 400 Slinkys sold within minutes. An advertisement with a memorable jingle familiarized a national customer base. "What walks down stairs alone or in pairs and makes a slinkety sound? A spring a spring, a marvelous thing. Everyone knows it's Slinky!" Slinkys glided effortlessly down stairs on television, but alas most household steps proved too tall and wide for long descents. Still, at the end of the 20th century and 250 million Slinkys later, people continued to buy them."
Source: http://www.toyhalloffame.org/toys/slinky
Tinker Toys:
Another building toy that was all kinds of fun, brothers and sisters enjoyed this one.

"Tinkertoy
Stonemason Charles Pajeau and partner Robert Petit dreamed up the "Thousand Wonder Toy" in the early 1910s after watching children create endless abstract shapes with sticks, pencils, and old spools of thread. Adding holes on all sides of a round wooden wheel sized for sticks included in the set, they named their creation Tinkertoy. Shop owners successfully promoted the toy with elaborate store displays. Tinkertoy joined a host of other construction toys in the early 20th century, including Lincoln Logs and Erector Sets, helping kids to learn by exercising what we now think of as "spatial intelligence." Originally intended for younger boys, after 1919 Tinkertoys attracted budding engineers through the addition of an electric motor. The toys even came with instruction for creating elaborate mechanical "tool," such as printing presses, lathes, airplanes, and power saws. The postwar boom years of the 1950s finally brought color to the classic wooden toy. Playskool acquired Tinkertoy in 1985 and redesigned the toy in 1992 in honor of its 80th anniversary. No longer the wooden rods and spools of old, the new version featured brightly colored plastic parts, with each set designed to create particular objects."
Source: http://www.toyhalloffame.org/toys/tinkertoy
Building Bricks:
My Granny had a set of these bricks, little windows, bricks, flexible plastic roofs. The round container was battered and worn, but held strong through the years.

"Minibrix were made by the Premo Rubber Company, Petersfield, Hampshire. The bricks locked together with moulded press-in studs and were a forerunner to Lego. Bayko Bricks were made of thermoset Bakelite and held together with rods and ties, patented in 1933 by the Plimpton Engineering Company, Liverpool. There were six sets to buy each of which included a number of architectural features and children could buy conversion sets to upgrade which ever set they had."
Source: http://www3.hants.gov.uk/childhood-collections/toys/history-toys/models-and-miniature-toys.htm
View-Master:
One of these resided at my Granny's house. We loved it, but had to take turns. So much to do, so little childhood to do it in!

"SAWYERS
The View-Master has a long history, dating back to the late 1930's in Portland, Oregon, USA. It was initially conceived by William Gruber and Harold Graves. Graves, who was president of Sawyers Photographic Services saw the potential of Gruber's camera rig he has developed for taking stereo photographs. The pair formed apartnership and the View-Master was born in 1938.
Initially it was intended that the View-Master be an educational tool, primarily aimed at adults, but as time developed the appeal of the View-Master soon spread to other areas, one of the more notable being children's entertainment.
The US Military were keen advocates of the View-Master and had specially commissioned sets of reels produced to aid with artillery spotting and aircraft identification during World War II. They purchased many millions of reels for this purpose, together with 10's of thousands of Model B viewers.
Sawyers didn't have the market to themselves and the Tru-Vue Company was a serious rival. In 1951 Sawyers purchases the Tru-Vue Company and importantly also obtained the rights to present Disney characters on their reels.
GAF
In late 1966 View-Master was purchased by GAF (General Aniline & Film Corporation), a company mainly concerned with film processing and cameras. By the 1970's the Photo Consumer Division was having a great deal of success with the View-Master product, so much so that the other operations were discontinued. Gaf(uk)ltd introduced blister packs, referred to internally as 'tricards". The tricard concept was initially conceived in Europe and only later adopted in the USA."
Source: http://www.viewmaster.co.uk/htm/history.asp
Toy Tractor:
My brother had one of these, it was metal and heavy. Throwing your toys was a very serious thing back then, not that he threw his tractor of course.
Army Men:
All three of my brothers loved these little figures. They, like Dinky Toys, were everywhere, in the laundry basket, in the house plants, on the floor… who could forget them.

"In 1938, the Bergen Toy and Novelty Co. began selling an inexpensive line of minuscule, monochrome plastic soldiers. The 2-in. American figures were produced in U.S. Army green and molded in a variety of action poses — a little boy's war fantasy come true. Sold in large plastic bags, demand for the little green men rose in the 1950s thanks to a boom in plastics manufacturing and a lead-poisoning scare that made the metal versions less appealing. Soon the company was manufacturing enemy forces too: German troops were molded in grey, Japanese forces in yellow. Though the little warriors have undergone several changes over the years, their most famous identity is as World War II–era soldiers with "pod feet" attached to keep them standing during battle."
Source: http://content.time.com/time/specials/packages/article/0,28804,2049243_2048649_2049009,00.html
Roy Rogers:
One of the media heroes of my childhood. He and Dale Evans were fixtures.

"Roy Rogers (born Leonard Franklin Slye November 5, 1911 – July 6, 1998) was an American singer and cowboy actor who was one of the most popular Western stars of his era. Known as the "King of the Cowboys", he appeared in over 100 films and numerous radio and television episodes of The Roy Rogers Show. In many of his films and television episodes, he appeared with his wife Dale Evans, his golden palomino Trigger, and his German Shepherd dog Bullet. His show ran on radio for nine years before moving to television from 1951 through 1957. His productions usually featured a sidekick, often Pat Brady, Andy Devine, or George "Gabby" Hayes. In his later years, Rogers lent his name to the Roy Rogers Restaurants franchised chain."
Source: http://en.wikipedia.org/wiki/Roy_Rogers
Toy Guns:
My younger brother had a gun similar to these, all metal, heavy, and a perfect match for his cowboy hat.
Colorforms:
We had a few of these and loved them! They also came with figure, like paper dolls, and you could dress them up, change their hair, etc.

"Remember your favorite Colorforms® play set from childhood? Believe it or not, 2011 marks the 60th anniversary of Colorforms – making it a classic in its own time!
But, don't let the term "classic" fool you; even at 60, we're full of surprises. This year's product line reflects a transition to new products and formats that embrace the core values of creativity, imagination and storytelling Colorforms has stood for since The Original Colorforms Set first launched the company 1951… while taking our line in several exciting new directions that ensure its success at retail.
Thanks for your support of Colorforms over the years, and remember, "No Other Brand Says 'Imagination' Like Colorforms!™
History
ColorformsFounded in 1951, Colorforms is one of the oldest and best-known brands in the toy industry. It was the very first plastic-based creative toy, and one of the first toys ever advertised on television.
The defining feature of most Colorforms play sets is their signature plastic 'Stick-Ons™' that can be placed and repositioned on top of graphic backgrounds to create endless scenes at a child's whim. Over time, the Colorforms line has included imaginative play sets, games and puzzles, interactive books and other creative activities for young children.
Since its inception, more than 1 billion Colorforms play sets have been sold – a number that keeps growing every year. With more than 75 toy products in current distribution, Colorforms continues to build on time-honored creative play patterns that generations of children have experienced and remember fondly.
Product timeline
1951 – Harry and Patricia Kislevitz experiment with new flexible vinyl material in semi-gloss painted bathroom. The Colorforms concept is born!
1957 – Popeye becomes Colorforms' first licensed character applied to its products.
1959 – Paul Rand creates the Colorforms logo, still one of the most recognizable product symbols in the toy industry today
1962 – Miss Weather, a Colorforms character featuring a wardrobe that changed with the weather, makes her debut.
1997 – Toy Biz acquires Colorforms
1998 – University Games acquires Colorforms from Toy Biz
2000 – Colorforms listed among the Top 10 Toys of the Century by the Toy Industry of America (TIA)
2011 – Colorforms named on of the Top 100 Toys of All Time by TIME Magazine.
Design
Harry and Patricia Kislevitz discovered the elegant and simple concepts behind Colorforms' success – adhesion and repositionability – when a friend who manufactured pocketbooks gave these two art students a roll of flexible paper-thin vinyl. The Kislevitzes discovered that the vinyl stuck to the semi-gloss paint in their bathroom, and began cutting shapes out of the material and placing them on the wall. Having fun with the process, they left extra material and a pair of scissors out for guests to add to their creation. Based on the concept's success, the Kislevitzes decided to market their idea as a consumer product. Originally targeting other artists and adults, the product quickly became popular with children and the Colorforms brand took hold."
Source: http://www.colorforms.com/story.htm
It rained all day yesterday, it rained all night, it is raining this morning, and rain is predicted as far as the weather people can see. Soon Noah's Ark might be needed here! At least it is rain! If this were snow we would be truly miserable!
Worldly Distractions
Weather
7°C
Date: 11:00 AM EST Wednesday 5 November 2014
Condition: Cloudy
Pressure: 101.6 kPa
Visibility: 16 km
Temperature: 6.6°C
Dewpoint: 1.0°C
Humidity: 67%
Wind: W 17 gust 37 km/h
Quote
"In the life of everyone there is a limited number of experiences which are not written upon the memory, but stamped there with a die; and in the long years after, they can be called up in detail, and every emotion that was stirred by them can be lived through anew; these are the tragedies of life."
James Weldon Johnson
Ah, but don't forget the joys that were stamped just as deeply amongst them!
Note: These images are not mine, they were found on Pinterest and there didn't seem any way to track down the original owners of the images. Thank you anonymous donors!