All of the Christmas gifts we purchased from Amazon.ca, for the Grandbabies, arrived yesterday. The shipping boxes were unpacked, so that we could see the results of our shopping adventure. And we were pleased.
The gifts are low-key, interactive, reasonably priced items, and to our relief, are of reasonable quality. The gifts live up the the promise of the pictures online.
This morning I looked at the pile of shipping materials in the corner, and noticed for the first time that there was something different about it.
No plastic!
The boxes were cardboard, the loose fill was… crumpled brown paper!
The boxes were broken down and stored, for future use, behind the hutch on the north wall of the house, where they will add extra insulation. The paper was folded neatly for future use. The paper can be used for drawing, making notes, future loose fill in packaging, the list goes on. It takes up very little room and can be easily stored under the hutch.
Paper used as a loose fill packing material.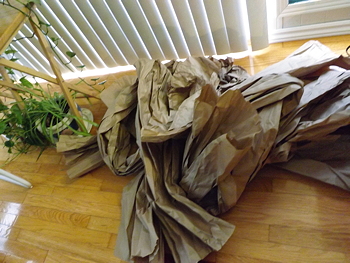 Paper folded, compact, and ready to store away.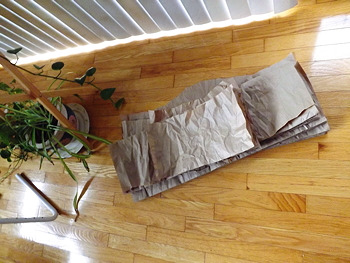 Worldly Distractions
Weather
5°C
Date: 4:42 PM EST Thursday 6 November 2014
Condition: Light Rain
Pressure: 101.0 kPa
Visibility: 4 km
Temperature: 4.8°C
Dewpoint: 4.1°C
Humidity: 95%
Wind: calm
Quote
"Any ordinary favor we do for someone or any compassionate reaching out may seem to be going nowhere at first, but may be planting a seed we can't see right now. Sometimes we need to just do the best we can and then trust in an unfolding we can't design or ordain."
Sharon Salzberg