Occasionally, just occasionally, I become aware of how restricted my life has really become. Sure, intellectually I know it is restricted, and as a rule I just get on with things. But I seldom feel it. I seldom know it in my bones, in my cells.
My allergy is a game changer. It reaches into every single aspect of my existence. Every bite that I eat, every sip that I take, every pill that I pop, or injection that I allow, may put my life at risk, or even worse, cause brain damage.
This morning Attila and I discussed preparing a dish that we both love, on the weekend (which is one day, Sunday, at our house). One of the ingredients we will need is baker's yeast. Luckily we have enough to prepare the dish, but it is the last of our supply.
I use either Fermipan or SAF baker's yeast. These yeasts are not easy to find. The last time I drove eight hours to and from the flour mill, I bought four, one pound packages, and kept them in the freezer. They lasted for years! But now we are running out. The drive to the flour mill is daunting, and expensive. Shipping might be cheaper than travelling to shop in person. I looked at their web site, and they do not ship yeast.
I spent the whole of the afternoon searching for a place to buy that yeast. I found retailers in Canada who wanted more for shipping that the yeast was worth. I found retailers who would ship it from the USA for more than the yeast was worth. I did not find a retail outlet near the country house, or the little house in the city, where I might easily drive to pick up the yeast myself.
At last though, in one of the food forums I scoured, someone suggested an online retailer in Toronto who sells this baker's yeast.
I called the retailer, and found that their shipping charges were quite reasonable. They have a flat rate shipping charge, so it was in my best interest to purchase all of the items I thought I might need from them at one go.
The retailer was keen to check with their manufacturers, to ensure that the items on my list were allergen free. We corresponded by email through the afternoon, until we had determined which items on my list were safe, and which items were not. I was just sending off my order, and payment, when Attila arrived home from work. The items should arrive in the next week or so. I was exhausted; this type of activity requires great care.
All of that effort, to purchase baker's yeast, and one other baking ingredient, the rest were unsafe. A great deal of my time is spent trying to find food that will not harm me. It is getting harder and harder, as more and more manufacturers use preservatives to extend the shelf life of food, to increase profits.
Honestly, I think people with anaphylaxis should be eligible for disability pensions with a food/medication allowance, to allow them adequate time and resources to find safe, affordable food to eat, beverages to drink, and medications to take. So many day-to-day decisions are of life-or-death gravity for a person with anaphylaxis. That could only happen in a kinder, gentler society than the one I live in.
Luckily Attila is on my side. He is respectful of the danger I face, and diligent in screening every bit of food/beverage/medication that comes in the door, to ensure that it is safe. I am not easy to live with, but Attila thinks I am worth it.
One year ago today at Luna's house. Uncle Lares with his niece Tink, and nephew Elf, at the dining room table, working together on a Lego construction kit. Elf is fascinated with building things!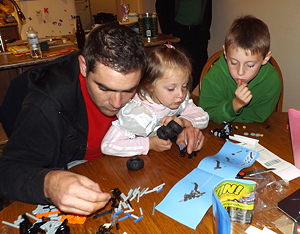 Worldly Distractions
Weather
6°C
Date: 9:00 PM EDT Thursday 23 October 2014
Condition: Clear
Pressure: 101.9 kPa
Visibility: 16 km
Temperature: 6.1°C
Dewpoint: 4.5°C
Humidity: 90%
Wind: NW 8 km/h
Quote
"Life is like a game of cards. The hand that is dealt you is determinism; the way you play it is free will."
Jawaharlal Nehru
1889 – 1964