A new day has dawned, sunshine prevails. It was cold last night, and the morning fire is a welcome ritual. Mist supervises, sitting beside me as I place the firewood in the fireplace, watching me carefully until the fire is lit, the door is closed, and the flames begin to blaze. Then she wanders off to find a place to sleep, to return when the heat begins to slowly emanate from the charged masonry.
Mist is happiest when Attila and I are together. She prefers to lie or sit between us, watching us interact, soaking up the atmosphere, purring loudly. She has been with us since 2001, and continues to be a source of company and joy.
My knee has healed completely, no more pain, or impacted movement. It took its sweet time getting better, since I hurt it back in July! Better late than never though. I am also completely recovered from my recent infection, which is a real relief. The antibiotics that I was given worked wonders. I am thinking it is far better to avoid these injuries and infections if at all possible, and so will pay more attention to my physicality in future. I am a person who is often "lost in thought", quite literally. Physical pain can become invisible to me, until it reaches a danger level.
Both Attila and I are fighting mild colds, which goes hand in hand with having the time of our lives with the Grandbabies. They all had the sniffles, but we paid no attention, and took every opportunity to hug, cuddle, kiss, and just plain adore them.
The much bigger than me world.

Two disturbing things evolving in the world at this point in time, that I want to acknowledge as real. One, the Ebola Virus. Two, the soldier shot and killed at the War Memorial in Ottawa. Very sad.
Back at the country house, I was surprised to see Attila at lunch time! Since no one where he works can take any vacation time from the first of April until the first of September, the busy season. As a result the staff try to take their vacations during the early autumn, while the weather is still nice. That means that they are a bit short staffed during the autumn, usually until the snow flies. That means that Attila works a lot of overtime and seldom is able to come home for lunch. Mist and I were very glad of his company.
Today my family history book captured a lot of my time. I have a first draft! It needs some additional tweaking, but the major decisions have been made. I have included one generation more than I had intended, and worked around the fact that some members of that generation are still alive by replacing their name and other personal information with one word: living. More proofreading is needed, and a selection of images to include, then editing the images for publication. Still, progress is being made!
One year ago today, this was what greeted us as we arose. So far, in October 2014, the weather has been mild.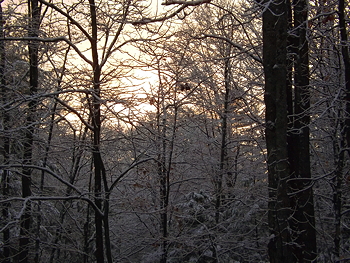 Worldly Distractions
Weather
-1°C
Date: 9:00 AM EDT Friday 24 October 2014
Condition: Sunny
Pressure: 101.7 kPa
Visibility: 16 km
Temperature: -0.6°C
Dewpoint: -0.6°C
Humidity: 100%
Wind: NE 5 km/h
Wind Chill: -2
Quote
"Compassion is the basis of all morality."
Arthur Schopenhauer
1788 – 1860