After Attila arrived home from work on Saturday, we decided to make a trip into town to deposit a cheque, purchase fuel, and pick up some supplies.
At the grocery store we noticed that the Pharmacy had someone available to give flu shots. It would save a trip to have our shots then and there! Attila had his shot, which is the most important, because if he becomes ill and misses work our income disappears. I, on the other hand, did not get a flu shot. The Druggist was reticent. He knows me, and that I have anaphylaxis, and urged me to have the shot at the doctor's office, where they would be prepared to deal with an allergic reaction. He made an excellent point I thought. So my flu shot will have to wait until I can make an appointment with the doctor.
We are all tucked in for winter! Well almost. We board up most of the windows to prevent heat loss during the winter, and are waiting until our house comes off the market next week to do that, it isn't pretty, but it works. Today Attila worked at all the other tasks to ready for winter. He took down the eves trough (the snow would tear it off); he stapled plastic sheeting over the screens in the screened in porch to keep the snow and wind out; he removed all the leaves from the lawn, and there were oodles of them. About four years ago we purchased a leaf blower, so that the job only takes Attila half a day to accomplish, whereas with a rake it takes several days. We live in the bush.
Since Attila was removing leaves, I took the opportunity to sweep the big pile of fallen leaves from the deck, onto the ground, where Attila blew them away.
Most of my activity for the day was indoors though. Today I went through the filing cabinets and culled all the redundant paper work. Yikes, I took out a pile about three feet high! Since so much of it has our name written on it, we burned it outside with the brush from a felled tree.
The filing cabinets are still full. The difference is that now there is now enough room to file more papers. Out with the old, in with the new.
These are my favourite days, when Attila and I are home together. We get four of them every month! Unless of course I am away at the little house in the city on a Sunday, then there are fewer days together.
Painting by Dianne Dengel: Elderly couple with coffee… my favourite kind of day!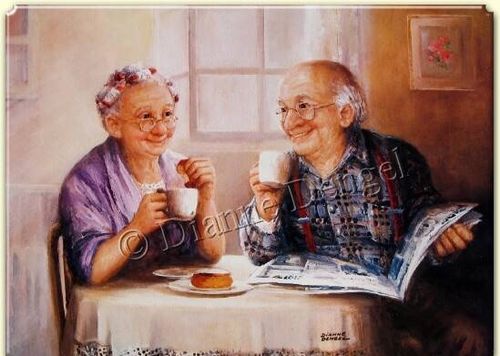 Worldly Distractions
Weather
8°C
Date: 6:00 PM EDT Sunday 26 October 2014
Condition: Cloudy
Pressure: 100.9 kPa
Visibility: 16 km
Temperature: 8.1°C
Dewpoint: 3.0°C
Humidity: 70%
Wind: W 18 gust 34 km/h
Quote
"What lies behind us and what lies before us are tiny matters compared to what lies within us."
Ralph Waldo Emerson
1803 – 1882