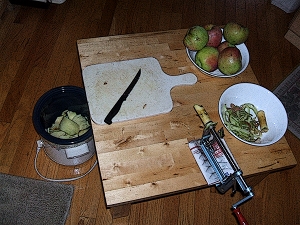 Attila and I visited our little house in the city over the last weekend. Attila built a planter for the front corner of the house. It is decorative, and will look wonderful with blooming flowers next spring/summer/autumn. But the real reason it has been constructed is to provide insulation for the foundation at the corner of the house. The contractor who put in our foundation drainage tiles expressed concern that the corner might now be vulnerable to freezing, which would heave the foundation. The planter will prevent that from happening.
On our travels we stopped at an apple store, and bought apples grown in southern Ontario. We cannot buy local apples, as they are not grown anywhere near our country house. My favourite apple is the Northern Spy. We bought a bushel of seconds at a reasonable price, and felt lucky to do so as the crop is meagre this year due to early warm weather and blossoms, followed by a hard killing frost. I've been peeling, coring, slicing and cooking. We now have a supply of apple sauce and an apple/cranberry crisp sitting on the counter cooling. The cranberries were left over from our turkey dinner a few weeks ago. I couldn't resist the crisp and have had a sample for my morning snack, delicious.
I have been working diligently on my genealogy book. My focus is on my direct line down from my paternal GGG Grandfather Andrew who arrived in Canada in 1820 from Lanark, Scotland. One branch of the family moved to the USA, Minnesota and Oregon, and I've been using my ancestry.com account to good purpose locating these relations. It is slow going, as the references are all being entered as I go along.
I have relatives who are linking the whole thing up through ancestry.com family trees, but that doesn't suit me for several reasons. First and foremost, ancestry.com sells information. This is my family's information and I don't intend that the family should pay a large corporation for information about their own personal history. Then there is the issue of copyright, and I don't believe the work of thousands of researchers should be owned by and eventually sold by a large foreign corporation. Also, some of the research I view in ancestry family trees is inaccurate, much of it is not referenced and rather than enter into any kind of fruitless debate over discrpancies, I have opted to rely on my own research skills and record what I believe to be sound and verifiable information, well referenced from primary sources. And so I plod happily along. It might be a tortoise-and-the-hare situation, and it might not.
I've been downloading books for my Kobo from the library. I am finding it harder and harder to find anything I want to read. The last few books were disappointing. For instance, Flatland: A Romance of Many Dimensions by Edwin Abbott, published in 1884 could not win my devotion. I found the concept interesting and experienced a few deep belly laughs at the satirical implications, but after reading through most of the book I simply stopped. There was no storyline to speak of in the first three quarters of the book, no personalities; there was only a detailed description of a conceptually alternate reality and its political issues. Fascinating ideas, but not fleshed out in a very interesting way. I didn't even enjoy the Flatland movie, as it is visually presented as one would see it from the third dimension, which was disappointing, as I had hoped to see how they would visually handle the two dimensional world so richly described. Frankly, I'd rather read a mathematics text book. I like mathematics text books, when I want a characterless bit of logic.
In a previous entry I expressed a desire for unsulphured, desiccated coconut, and provided a link to a source in California, Swanson Vitamins. To my great surprise a fellow from the company contacted me and offered a free sample. YES!!! I received it last week and I have to admit it is making my mouth water. I am going to make myself a special desert for Christmas with this coconut, the first I will have tasted in decades!
Since I've had a bit more time at home, cleaning and organizing the living area has been the main focus. When that is finally caught up, which will be weeks from now, the focus will shift to the clothes closets. Some of the clothes have been in my closet since before 1987, some of these still fit! Purging would be a good idea.
Worldly Distractions
Weather
11 °C
Condition: Cloudy
Pressure: 102.0 kPa
Visibility: 16 km
Temperature: 11.1°C
Dewpoint: 4.0°C
Humidity: 62 %
Wind: SSE 17 km/h
Quote 
"Whenever you are asked if you can do a job, tell 'em, 'Certainly I can!' Then get busy and find out how to do it."
Theodore Roosevelt
1858 – 1919