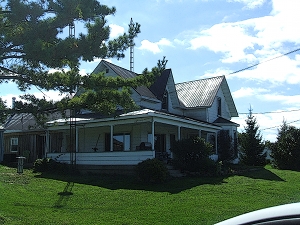 Terra and Lares are experiencing a turning point in their lives.
During our two weeks of kitchen renovation Terra and Lares were very busy with changes in their lives. They bought their first house. It was quite an emotional roller coaster ride, with so many variables that might bring the process to a halt, but ultimately did not. By the time we returned to our country home, they were exhausted and smiling from ear to ear.
Their new home is rural, a farm house built in the early 1900s. A real asset to this property is the magnificent view of the water, to be enjoyed from the vantage point of the huge veranda. There are a lot of outbuildings, that are in salvageable condition. It needs a lot of work, but will be worth the effort. I like that they will be a mere twenty minute drive from our little house in the city. They are moving in November. Terra has already started to pack. Attila is trying to get the weekend that they take possession of the house off work, so we can assist them with the clean up before their belongings are moved.
Yesterday the Grandbabies, the twins Imp and Elf, turned six years old! The little one, Tink, turned three earlier in September. We didn't get a chance to contact Tink on her birthday, so yesterday I called on Skype to wish her a happy birthday while her big brother and sister were in school. We had a lovely chat, so much fun! In the evening Attila and I talked with the birthday boy and girl, at the end of their big day. They showed us their presents and blew us kisses goodnight via Skype. Luna has Skype working right now on the laptop, so she carried us around with her as she put the Grandbabies to bed. So wonderful to see them, and to interact with them.
I think they would be appalled to know that Gramma is calling them the Grandbabies. I won't be telling them! Someday they may read this journal themselves, and by that time they probably won't care that I am calling them Grandbabies!
Today, as it was yesterday, it is raining and cold. I had to go to the village to pick up some things and was reminded how much I dislike the local atmosphere in this community. It is lovely to visit during vacation season. Seasonal visitors are perceived as bringing in lots of money, they buy things and people here are all smiles and tolerance when money is being spent. However, living here is not like vacationing here. It seems that many times when I interact with "locals" I come away with an "unclean" feeling. Who knows why; but I suspect it comes of economic survival dependent upon adaptation to the mores of the very affluent seasonal customers. I want to wash my soul after contact with this energy. I wondered if it was just me, but recently, in the media, a few people have spoken out, voicing similar observations. They moved away before risking an opinion. I am living in the wrong community.
Still, our home in the country is lovely and we do like the people who live on our road, some of the local residents and those who work with Attila, so it isn't as bleak as all that.
Worldly Distractions
Weather
13 °C
Condition: Rain
Pressure: 101.5 kPa
Visibility: 13 km
Temperature: 12.7°C
Dewpoint: 9.6°C
Humidity: 81 %
Wind: SSE 21 km/h
Quote
"It is difficult to get a man to understand something when his job depends on not understanding it."
Upton Sinclair
1878 – 1968
Note
Upton Sinclair
"Upton Beall Sinclair Jr. (September 20, 1878 – November 25, 1968), was an American author and one-time candidate for governor of California who wrote close to one hundred books in many genres. He achieved popularity in the first half of the twentieth century, acquiring particular fame for his classic muckraking novel, The Jungle (1906). It exposed conditions in the U.S. meat packing industry, causing a public uproar that contributed in part to the passage a few months later of the 1906 Pure Food and Drug Act and the Meat Inspection Act.
Time magazine called him "a man with every gift except humor and silence." [not a smarmy bone in his body apparently]…
Sinclair was born in Baltimore, Maryland to Upton Beall Sinclair and Priscilla Harden. His father was a liquor salesman whose alcoholism shadowed his son's childhood. Priscilla Harden Sinclair was a strict Episcopalian who disliked alcohol, tea, and coffee. Sinclair did not get along with her when he became older because of her strict rules and refusal to allow him independence. Sinclair told his son David that around his sixteenth year he decided not to have anything to do with her and stayed away from her for 35 years because a controversy would start if they met. Her lineage was of great affluence. Her parents were very prosperous in Baltimore and her sister married a millionaire. Sinclair had wealthy grandparents with whom he often stayed. This gave him insight into how both the rich and the poor lived during the late nineteenth century. Living in two social settings affected him and greatly influenced his books. Upton Beall Sinclair Sr. was also from a highly respected family in the south, but due to the Civil War and Reconstruction, the family's wealth evaporated and the family became ruined."
Source: http://en.wikipedia.org/wiki/Upton_Sinclair