There is more snow on the way!
When I came home after work today, I turned onto our road from the highway. Then I came to abrupt halt. The snow plough was advancing towards me. The road has become a one lane road, as the snow banks have collapsed in on the road behind the ploughs, narrowing it each time it is ploughed. There was no getting by the snow plough. Obviously he could not back up. That left it up to me to get out of his way. There was no place to go, with six foot high snow banks on either side of me. So I slowly began to back up towards the highway. He still could not get by me when I reached the highway, so I had to back up onto the highway to let him by. I was risking my life to do this. There was zero visibility as to oncoming traffic, I could have been backing up into another vehicle travelling at speed. It was horrifying. Thank goodness there was no oncoming traffic!!! As soon as he got his truck past me I moved quickly off the highway.
If I had know he was there I would have driven by our road and turned around about 15 kilometers down the road in a ploughed area. But with the snow banks as high as they are, I could not see the snow plough until I had actually come around the snow bank and turned onto the road.
Today I decided to take a few pictures of the snow at our house. Two weeks ago we had a thaw, which left the roof and the deck clear and dry, and compacted some of the snow that carpeted the ground. I have altered the colours in the pictures to try to display the features of the snow, which blend together into a a great mass of white in photographs, at least the photographs that I take.
I added a yellow tinge to the snow for this picture. We have lots of space to pile this white stuff into, but in the village the banks are about eight feet high in places.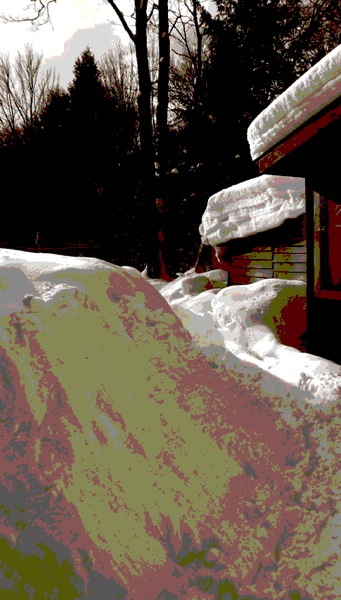 This is our woodshed. In the autumn, when we are stacking wood in this shed, we walk through this opening, which is a bit higher than a normal door.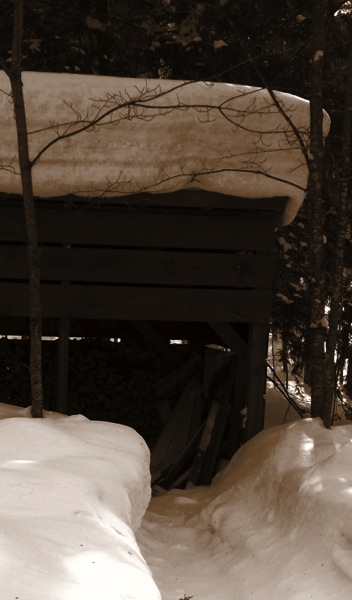 Worldly Distractions
Weather
SNOW SQUALL WATCH IN EFFECT
-14°C
Date: 3:27 PM EST Tuesday 28 January 2014
Condition: Light Snow
Pressure: 102.0 kPa
Visibility: 10 km
Temperature: -14.3°C
Dewpoint: -19.2°C
Humidity: 67%
Wind: SSW 22 gust 34 km/h
Wind Chill: -24
Quote
"Sunshine is delicious, rain is refreshing, wind braces us up, snow is exhilarating; there is really no such thing as bad weather, only different kinds of good weather."
John Ruskin
[I would wager that Mr. Rushkin, who was born in England, never experienced personal responsibility for snow removal.]