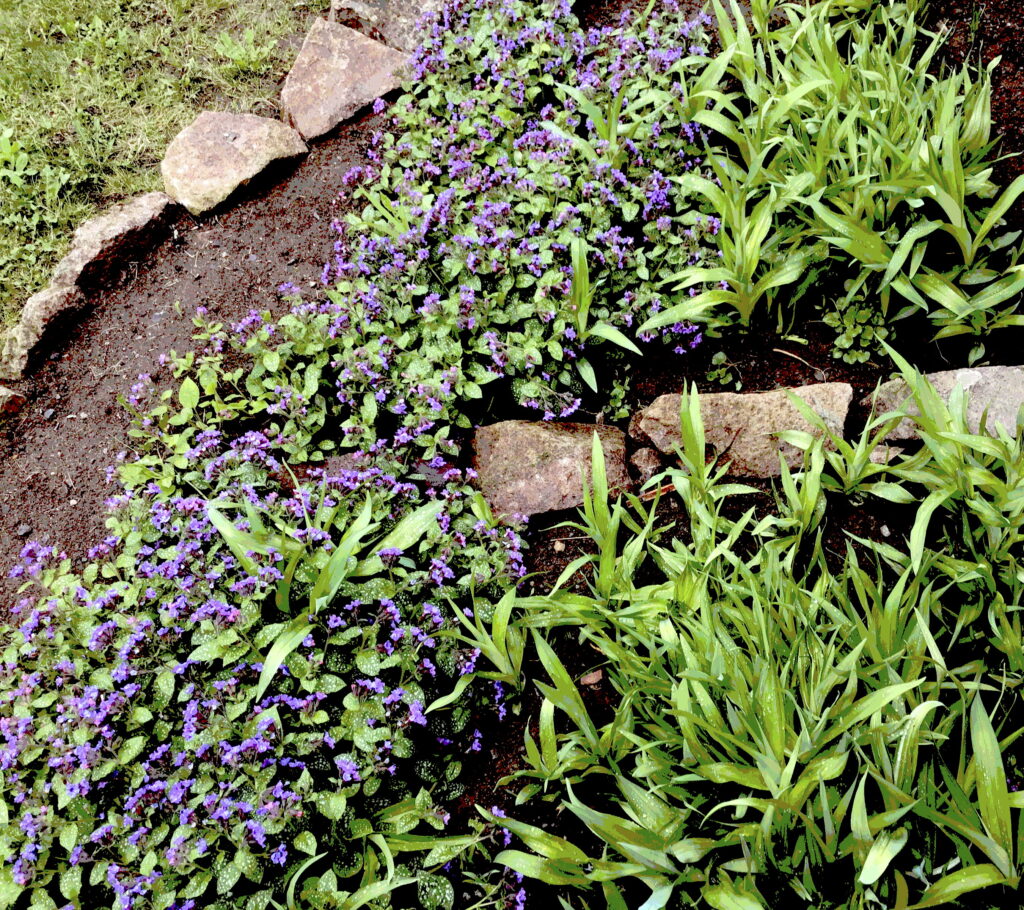 Ah, the last day of April has arrived! April's showers will continue for the coming week, and welcome they will be, even though it will be May. I looked up from the keyboard and out of the window just now, to find a Robin staring at me from his perch on the tree branch. Nature is watching out for me. In elementary school we were taught that "April showers bring may flowers." Often the heartening maxims of childhood visit me,

Earlier in the spring things here were very dry. The whole 500 litres of water in the rain tank was used to water the garden perennials that had come up, and there was even one watering session conducted using the municipal water supply. That changed this week, it has rained every day. The main water tank is full, the secondary water tank is half full, and the little rain barrel filled up, lost its balance and fell over, so that water was lost. It was righted. It is again ready to receive the gifts from the sky.

The temperature remains on the cool side, around 10C during the day, and 4C at night. This is warm enough for me to bundle up and sit on the back porch with my morning cup of coffee. Oh, how I love it! Green growing things are lush, and the bird calls fill the air. Being out of doors is a tonic.

I had been feeling quite relaxed at home, until Attila came home last Monday with the news that there was a case of Covid where he works. That news tipped me over a bit, I teetered, having lost my balance. It has been a rough week. Monday and Tuesday nights I did not sleep much. By Wednesday I was acclimatizing to the possibility of Covid invading our small bubble, and/or being forced into a sudden state of financial chaos. Last night I slept soundly and deeply. My feet are on solid ground again. We have done all we can to protect ourselves, so we just have to take things one day at a time and hope for the best. There have been no more cases reported at Attila's workplace, so unless the company is keeping a nasty secret, it looks like the bullet has been dodged, for now. We are partially vaccinated (first shot only), so that is a relief, but it is not a guarantee. We must remain vigilant.

To get myself back on track I have been watching some of my favourite programs, and enjoying digital jigsaw puzzles. Simple strategies to keep my mind from going into overdrive, which is counter-productive. The program I am currently watching again is Downton Abbey, where the depicted dramas are far from those currently being experienced here. Last year I purchased software that allows me to use my own photographs to create digital jigsaw puzzles. Choosing bright and cheerful colours adds radiance to my days.

The state of emergency here in Ontario is still in place, with its stay-at-home order. I spend most of my days alone here at Mist Cottage. It is quiet and peaceful, if a little on the lonesome side. I was spoiled during the complete lock-down a year ago, when Attila was here at home for weeks, and was such good company. It is so wonderful that he is home on weekends, which provides us with reason to celebrate every Friday night.

With spring bringing a flourish of green, with a garnish of flowers, every day there are natural changes to celebrate. The Garlic stalks grow another inch; the buds on the high bush Cranberry unfurl just a little more; Lungwort blooms abound across the front garden; wild Violets pop up across the yard; the first swallow of the season streaks across the sky; these are the events of my days.

Pandemic Thoughts, Tuesday to Friday, April 27th to 30th

The back yard that backs on to our back yard is always undergoing some kind of renovation. This year it is the construction of a new outdoor fireplace, very fancy. There is a stone mason who has been hired to build it. He was working loudly, and making great progress, until suddenly he didn't show up for the day's work. I wondered why he was missing, as the fireplace was certainly not completed.

Yesterday, Tuesday, we found out why the mason was not visiting the neighbour's house or yard. They have Covid, all three of them, Dad, Mom, and teenage Daughter. We did see an ambulance there taking someone away from their house over the weekend, and wondered about it. Since then we have seen Dad and Daughter in the back yard, so it was Mom who has been hospitalized. Last night when we were sitting out on the porch, we could hear his hacking cough when the thunder was not rumbling. The Dad and Mom are both in their early fifties. They have not been careful through this pandemic, out and about every day, a few parties, lots of company. They got away with that behaviour, until now.

All of our near neighbours have had company since we have been under a stay-at-home order here in Ontario, five families around us, six if we count the neighbours with Covid. It is disheartening, and frightening.

There is a case of Covid where Attila works. There was one case last November, before the variants appeared on the scene, and that didn't spread thank goodness. We are praying the variants don't spread in his workplace. Attila and I have had our first vaccine shots, our second shots are up in the air, nothing booked, and no information on when or if we will get the second shot. Canada does not have enough vaccines in to give people their second shots, but our country has ordered/purchased enough to do the job, it is just not certain when and if they will arrive. So we are better off than we would have been with no vaccine shot, but not completely protected yet. I think Attila is the only employee who has received a first shot of the Covid vaccine. So far, there have been no further reports of positive cases where Attila works, it has been four days, so we have our fingers crossed! Of course, employees would be the last to know, but for gossip. I don't usually approve of gossip, but when it is the only source of information, one has no choice.

Attila is double masking at work now, using an N-95 mask, on his own initiative. It is much harder for him to breath, but Covid would be worse. We hope for the best.

Despite our challenges, we know that many other people around the world are facing their own versions of affliction during this pandemic. I send as much love into the universe as I can, hoping that it flies free, coming to earth where it is most needed.

Stay safe dear friends!
Worldly
Weather
Updated on Wed, Apr 28, 2:25 PM
13°C
FEELS LIKE 11
Light rain
Wind 12 NE km/h
Humidity 91 %
Visibility 9 km
Sunrise 6:03 AM
Wind gust 19 km/h
Pressure 100.9 kPa
Ceiling 500 m
Sunset 8:07 PM
Updated on Fri, Apr 30, 11:15 AM
10 °C
FEELS LIKE 7
Overcast
Potentially DAMAGING winds across southern Ontario. Threat for power outages, too.
Wind 27 W km/h
Humidity 84 %
Visibility 20 km
Sunrise 6:00 AM
Wind gust 41 km/h
Pressure 99.8 kPa
Ceiling 500 m
Sunset 8:10 PM
Quote
"What I dream of is an art of balance."
Henri Matisse
1869 – 1954