Our kitchen came with an instruction manual, simple and effective. Actually, the manual was created by Attila's Mom, and given to us as a Christmas present many years ago. Finally, today, Attila mounted the framed manual on the kitchen wall. He proceeded to tell me to follow the instructions. I did.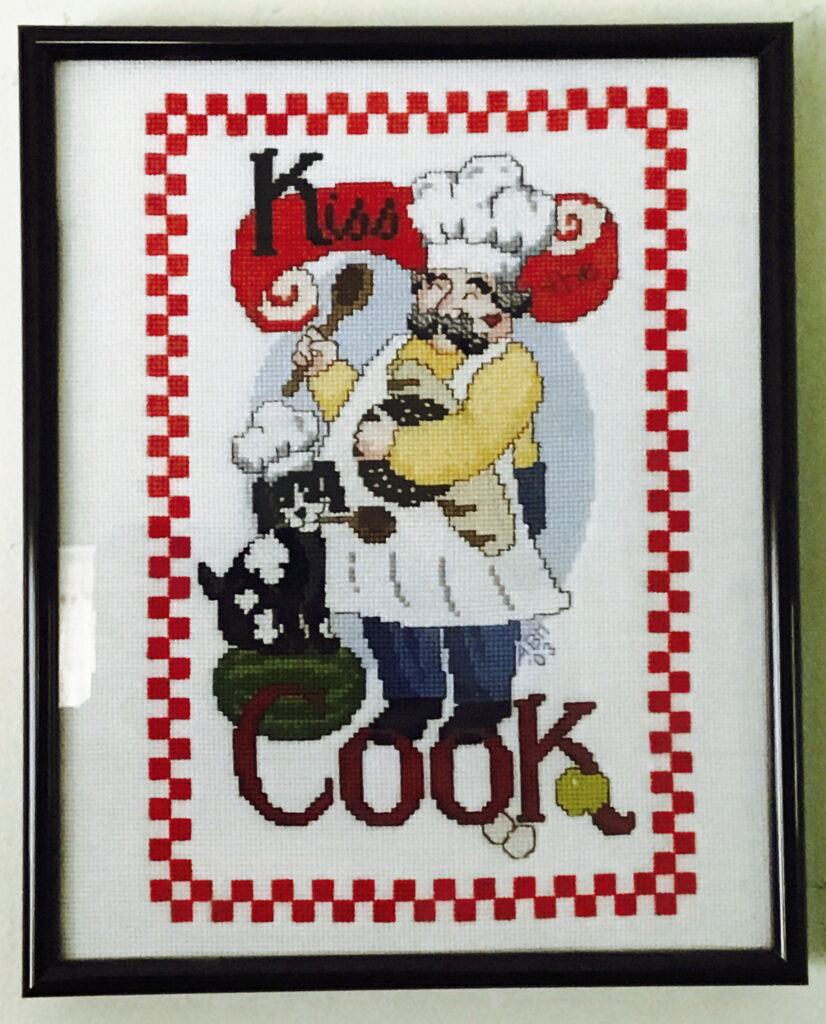 Saturday saw some intermittent sunshine. The clouds thickened into a dome of gray on Saturday night. It seems as if they are not moving, but I know they are traveling fast above us. The temperature has hovered around 10C during the day, and dropped to 2C to 5C night time lows. 10C is warm enough for me to bundle up and sit on the back porch with my morning cup of coffee. The coffee cup keeps my hands warm, and the view and bird song keep my heart warm.

Attila has built the third and last little greenhouse in the backyard. The first two are full of seed started, over 200 of them so far. The recent rain has filled both rain tanks, so that we now have a reserve of 2000 litres of rain water to offer the garden. Of course, the garden doesn't need it right now, as we have had lots of rain. We are ready for any dry spell that develops.

In the little greenhouses, the Kale is the first plant to really take off. It will be ready to transplant into the garden in another week or so, which is a little early perhaps, but Kale is a frost hardy plant, and seems to survive almost anything nature can throw at it. Attila planted hundreds of garlic plants, which have taken off and grow taller each day. They need thinning though, so I have fresh garlic stalks with tiny bulbs to add to my daily cooking.

Meanwhile the Dandelions have begun to bloom all over the yard. I have plenty of Dandelion Jelly left from the spring of 2019, and will not be canning more until my supply gets low. The bees love the Dandelions, so those beautiful yellow blossoms and pollen will not go to waste. The Heliopsis roots have doubled in size since it was planted, so soon Attila will be separating some root balls to plant along the fence line at the back of the property. It will give us a seasonal privacy fence. Granny's Rose has grown twice as high this spring as last. The Clematis has already climbed to the top of the garden fence. The Lilac has a gazillion blossoms on it. The original Lilac was a Mother's Day gift from my daughters, when we lived at the Country House. It did very well there, putting out lots of suckers. Attila transplanted one of the largest suckers to our garden here at Mist Cottage. It is getting taller every season. The Walking Onions and Garlic given to us by my Mom and sister are doing very well so far. The Walking Onions develop some kind of mildew later in the season, so I am watching it closely. I love looking at my family of plants, gazing out the kitchen window. It is a remembrance of love garden.

Today I have a few projects on the go. One is to bake bread for Attila's lunches. That is rising at the moment. Another is to make vegetable broth in the steam juicer. The steam juicer was purchased about two years ago, and it has doubled in price in that time. The present version of the broth is primarily made from carrot peels and tops, and onion ends and skins. This makes quite a tasty broth. The broth is perfect as the liquid for all those Instant Pot casseroles I make, such as today's dinner, Cabbage Roll Casserole.

We order our vitamins from a Canadian company. They send a free sample of products with our orders. The last order included a sample of one tea bag. It was Tetley Super Herbal Tea Boost: Peach, Ginger,& Dandelion with Vitamin B6. I loved it! So I recently sent some to my Mom for Mother's Day, and ordered some for myself at the same time. With a wee bit of stevia for sweetening, it seems like a peach dessert to me. I make a whole large teapot of tea with one bag, over a litre of beverage. I plan on trying it cold as well, mixing it with sparkling water for a refreshing beverage. I hope that works out!

Pandemic Thoughts

One more Covid case in the small area where we live. The neighbour who was taken to hospital with Covid has not returned home, it has been over a week now, I have been sending her healing thoughts. So far as we know there have been no new Covid cases where Attila works. My Mom, sisters, and brother-in-law have all had the first dose of the vaccine. But my youngest brother, who has a chronic disease, cannot travel, has not received his first dose. I consider this negligence on the part of the health authorities. He lives in a Covid hot spot. The thoughts I send for him are that he is embraced by a shield of protection from the virus while he waits. Of my middle brother I have had no word, and think of him often; he is health conscious and canny, so I hope for the best.
Worldly
Weather
Updated on Mon, May 3, 4:05 PM
12 °C
FEELS LIKE 10
Partly cloudy
Wind 23 NE km/h
Humidity 67 %
Visibility 18 km
Sunrise 5:56 AM
Wind gust 34 km/h
Pressure 100.9 kPa
Ceiling 9100 m
Sunset 8:13 PM
Quote
"Genius may have its limitations, but stupidity is not thus handicapped."
Elbert Hubbard
1856 – 1915

This brings to mind political and corporate decision makers.