Thursday, April 28, 2016
It temperature dipped below freezing last night, but bounced back up after the light of dawn. Although this cold weather is not much to my liking, I am grateful not be on the west coast of Scotland right now, where some areas have received three inches of snow, and it has been described as the heaviest snow fall of the winter; on April 28th, imagine that.
Yesterday I watched a YouTube video, "Elizabeth at 90 – A Family Tribute". When returning to get the link to include here, the video was gone, with the message "This video contains content from BBC Worldwide, who has blocked it on copyright grounds." Such a shame really, as we can't get the BBC programming here in Canada, and now I can't share the link. I enjoyed the tribute very much, it showed me a side of Queen Elizabeth I hadn't really seen before, it was chiefly narrated by Prince Charles, in conversation with Queen Elizabeth, and includes comments from many members of the Royal Family.
Friday, April 29, 2016
Today dawned sunny, and slightly colder than yesterday morning. However, the temperature had not fallen below freezing last night, so the temperature rose through morning at a quicker pace.
This morning I was thinking of a story a friend of mine told me about his daughter. When she was quite young they were playing hide and seek. To avoid being found she would cover her eyes and shout, "you can't see me." In her innocence she believed that this tactic worked.
Next door to us live two little boys. They are as different as "chalk and cheese". The older loves to talk, he makes eye contact, smiles a lot, and is affectionate. The younger loves to explore, he asks questions, and will walk through any door that is open, anywhere. When I arrived home in the car last week, after having been out, the older boy ran up to the car door as I emerged, threw his arms around my neck and gave me a big hug. Then off he ran to join his mother and brother, as they headed down the street for their walk. He whispered to his mother, "I have a secret. I hugged her." Then he giggled. Who wouldn't be completely charmed by such a boy.
Today I searched for "Elizabeth at 90 – A Family Tribute", and found that someone else had posted it to YouTube. I guess the BBC is going to have their hands full trying to put the Genie back in the box. Really though, it is such a lovely tribute to the Queen that I feel it should be freely available to the public. As I watched it I realized that what I appreciate about the Queen is the continuity she has provided. My whole life her picture has officiated the classrooms where I was taught, the libraries I visited, and many other public places. One of my Aunts kept a Royal Scrapbook, which I loved to look at when I was young. The Royal Family didn't play an active role in my existence, but the Queen has always been there, actively demonstrating that with privilege and honour came responsibility and consideration.
Projects that needed to be accomplished before our next visit to the Rideau Camp were tackled.
First, there have been various media alerts that tick season has begun. While the Lyme Disease carrying black ticks are not found near Mist Cottage, or our Ancestral Camp, the Rideau Camp is in black tick territory. This means that we need to exercise caution while working, or recreating, at the Rideau Camp. To that end, Attila's coveralls needed to be treated with permethrin, to aid in repelling ticks. This morning, when I carefully applied the permethrin spray to Attila's coveralls, I treated an old pair of pants of mine. That gives me two pairs of pants that will repel ticks, mosquitoes, and black flies. I only have one treated shirt, an old, large man's shirt that I picked up at a used clothing store. A second one is called for, and is on the shopping list for the next visit to the charity shops. In addition, a pair of sharp tweezers for tick removal was added to the first aid kit. Best to be prepared.
Second, the driveway and parking area at the Rideau camp are crushed stone. There are a lot of tall weeds growing up out of the crushed stone. I am going to spray the area of crushed stone with a mixture of epsom salts, vinegar, and Dawn detergent, to get rid of the weeds there.
Here is a photo to warm the cockles of your heart, our very own septic tank at the Rideau Camp. This gem was part of the deal, it came with the camp. Unfortunately it is garbage, it leaks, it is cracked. We won't be stuffing this 5 foot high inheritance into a green garbage bag, throwing a tag on the bag, and putting it on the curb to go out with the trash! It might come in handy during a flood, we could stand on it.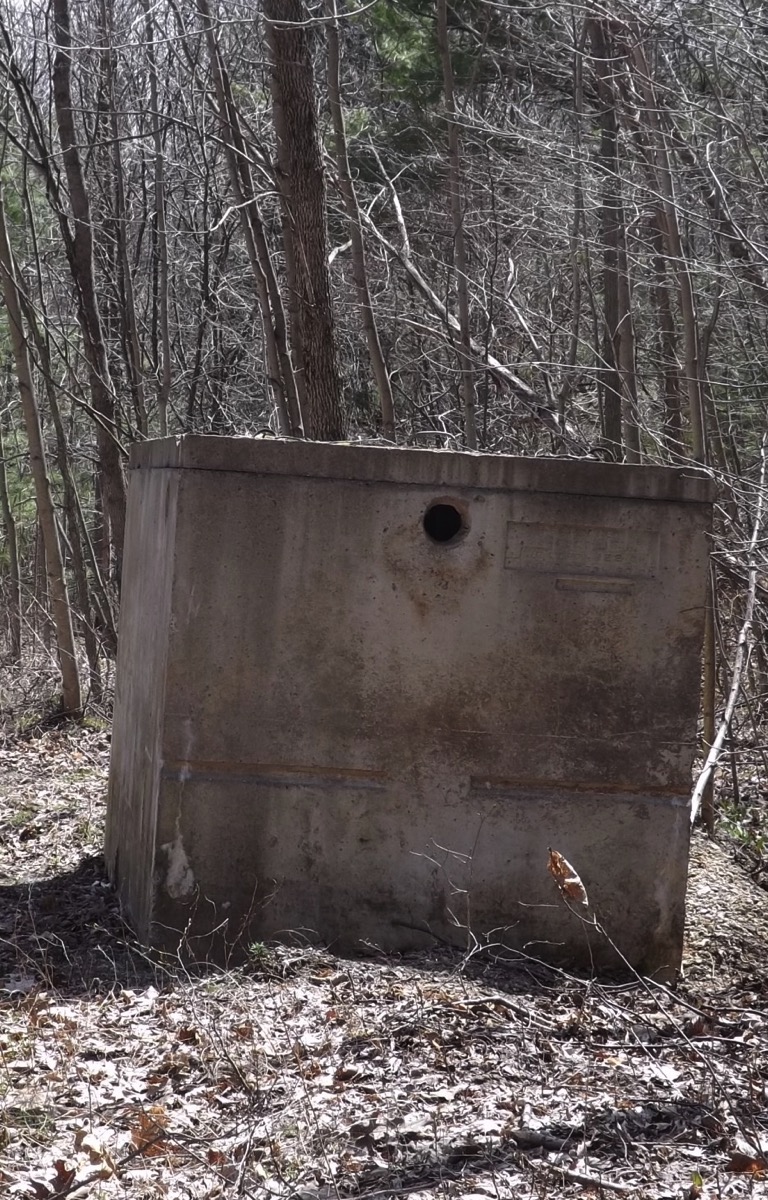 Worldly Distractions
Weather
5°C
Date: 10:00 AM EDT Thursday 28 April 2016
Condition: Mostly Cloudy
Pressure: 102.1 kPa
Tendency: rising
Visibility: 24 km
Temperature: 5.2°C
Dewpoint: -6.4°C
Humidity: 43%
Wind: NNE 17 gust 30 km/h
4°C
Date: 8:00 AM EDT Friday 29 April 2016
Condition: Mostly Cloudy
Pressure: 102.0 kPa
Tendency: rising
Visibility: 24 km
Temperature: 4.4°C
Dewpoint: -7.4°C
Humidity: 42%
Wind: NE 26 gust 37 km/h
Quote
"Anything that has real and lasting value is always a gift from within."
Franz Kafka
1883 – 1924