The New Year is upon us! Wishing everyone health, wealth of the soul, and wisdom in the New Year!
Sunshine! We see this sky, and then within ten minutes one can hardly see the trees for the falling snow. The snow squalls come fast and strong. Then they leave and this beautiful blue sky appears once more.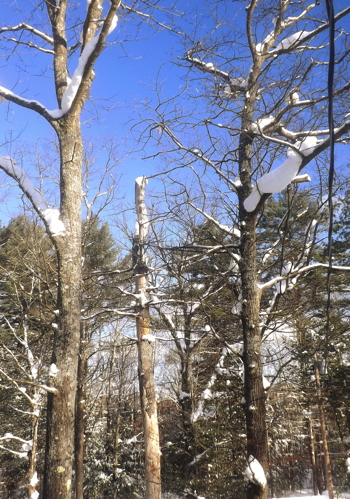 We will celebrate quietly in front of the evening fire. We usually nod off before midnight.
Sunshine, how glorious is the sunshine today. The snow squalls are pretty too, we have had several of those already today; but they add to chore list, and so are not nearly as popular with us as the sunshine.
I have bounced back from my down day. Slept soundly through the night last night, and arose with enthusiasm to get going with my day. When I let myself experience my feelings, when it is time to do so, they are liberated towards a natural balance.
Looking at the old year, I am grateful for all our good fortune. Our loved ones are relatively healthy, that is first and foremost on my list of luck. Attila, Mist, and I have much good fortune. We have our health, comfortable shelter, healthy food, adequate health care, and the ability to lead active lives. My only regret is having paid any mind to negative people and circumstances they created. Having to deal with them is a part of life, but paying them mind is regrettable. Perhaps I will do better with that in 2014!
Worldly Distractions
Weather
-10°C
Date: 3:00 PM EST Tuesday 31 December 2013
Condition: Mostly Cloudy
Pressure: 101.6 kPa
Visibility: 16 km
Temperature: -10.2°C
Dewpoint: -16.5°C
Humidity: 61%
Wind: NW 15 gust 28 km/h
Wind Chill: -17
Quote
"The words 'I am…' are potent words; be careful what you hitch them to. The thing you're claiming has a way of reaching back and claiming you."
A. L. Kitselman