The first day of autumn, yesterday, was warm and sunny, a high of 24C here. Today it is hot and sunny, and humid. Not at all like autumn.
Attila is working on finishing the new storm door, which of course needed a frame built for it. Renovating an old house is full of unusual and interesting adjustments.
Here at Mist Cottage, we are like a couple of squirrels gathering nuts for the winter.
The garden loves this weather, and the harvest continues to be bountiful.
Today Attila harvested:
Cherry Tomatoes,
Beefsteak Tomatoes,
Black Russian Tomatoes,
Roma Tomatoes,
another variety that I haven't poked around to see what the seeds said they were,
Scarlet Runner beans to eat,
Scarlet Runner Beans that had gone to seed for planting next spring
two large Zucchini
a quart of hot peppers, Cayenne, Jalapeno, Serrano, Habanero
a pint of Ground Cherries
one English Cucumber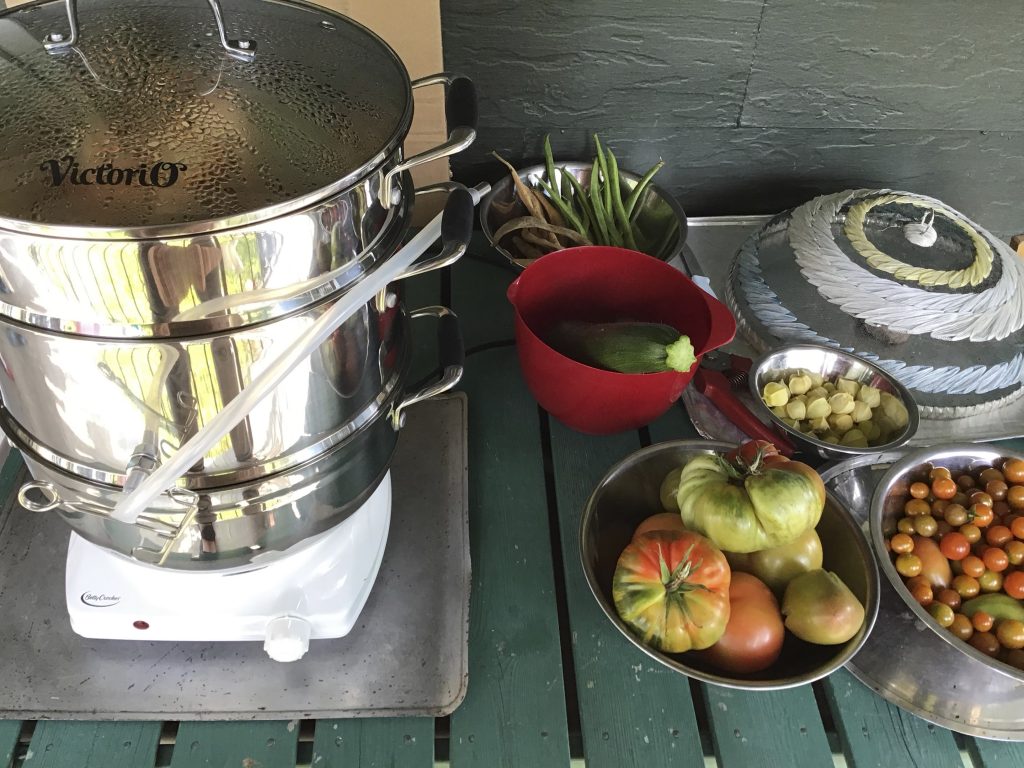 The tomatoes will go into the basement to finish ripening, then will be made into pizza sauce. The only other produce harvested in a quantity suitable for preservation are the zucchini, and I am thinking about what to do with the zucchini!

We went early to the grocery store to pick up a few supplies this morning. Oh dear, the Red Shepherd Peppers looked amazing, so I had to buy a second half bushel, I had roasted and frozen the first half bushel. Once I got it home I washed all of the peppers in a cold water and vinegar bath, then sliced half of them into strips, which I laid on a tray and placed in the freezer. The tray took up the last few available inches in the freezer!

With no more room in the freezer, I had to find some other way to preserve my peppers. I decided on pressure canning them in water, and after quartering them all, removing seeds and stems, I blanched them for three minutes, and drained and packed them into 500-ml canning jars. To each jar I added boiling water and one tablespoon of vinegar, then pressure canned them at 10 lb. for 35 minutes. I canned six jars of Red Shepherd peppers.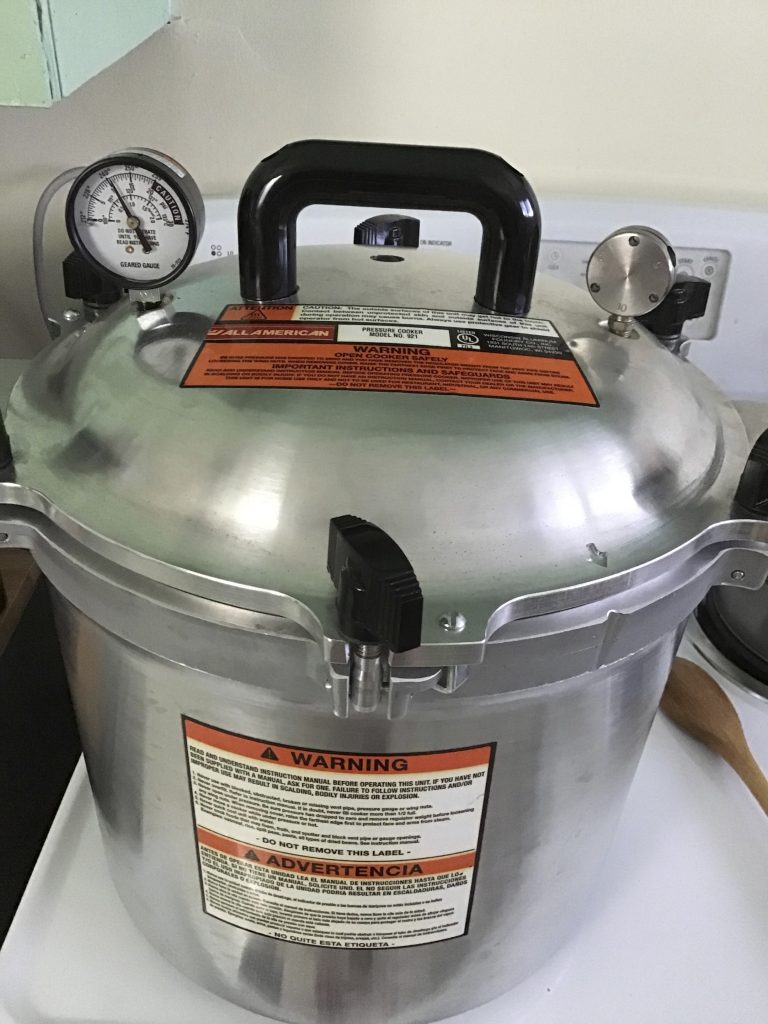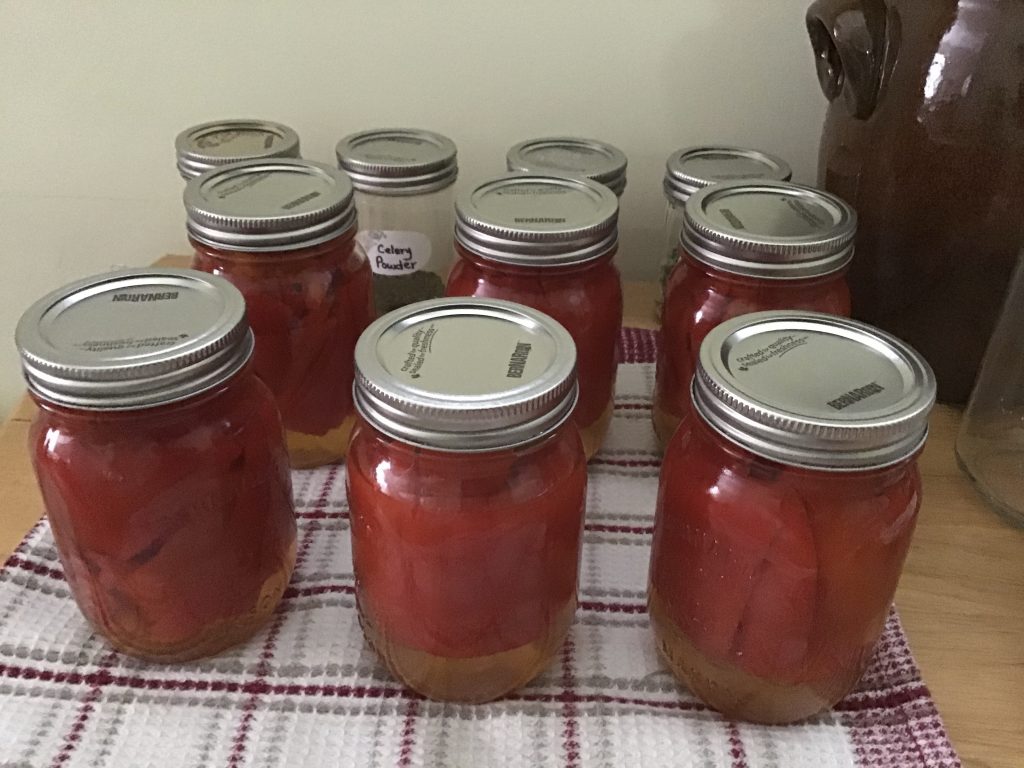 When we prepare all of this bounty for preservation, or right away for our meals, we save the scraps in one quart bags in the freezer. Today, with all of the red pepper scraps, I decided I had enough to justify a steam juicing session. I added the two quarts of pepper scraps, and six quarts of other vegetable scraps, to the the basket in the steam juicer. I set it up outside on the portable electric burner, where it steamed away for a few hours and produced about a quart of vegetable broth. The remaining scraps were cooled and added to the compost.

All of this food preservation going on, and apple season is just getting going! I will be canning apple pie filling and apple sauce when Northern Spy apples are available.

Yesterday though, we decided to take a break from our squirrelly ways. We took a drive out to the camp to check on things there. Everything looked fine, although we could tell someone had been on the property from the tire tracks they left. I guess they were just having a look, nothing had been interfered with.

I was thrilled that there was no sign of mice in Grace the trailer!!! Nothing in the trap, and no droppings anywhere. Wonderful.

We enjoyed the sunshine, the breezes, and the two deer that wandered by, paying little attention to us. I even saw the biggest millipede I have ever seen in my whole life, it must have been three inches long. Attila and I watched it as it made its way across the campfire area, and carried on into the bush.

Attila cut grass, and used a leaf blower to clear the driveway. He also applied spray foam to a few of the small openings we found on the underside of Grace the trailer. We keep trying to keep those critters out!

I burned brush. Since we were last there quite a few small branches had fallen out of the trees, so I gathered those up, and built a camp fire.

For our lunch, we roasted wieners over the coals, and enjoyed hot dogs on homemade bread, topped with garden tomatoes and Vidalia onions. We stayed until Attila began to feel hungry again, then off we into the sunset, home.

We had such a good time!
Worldly
Weather
22°C
Date: 5:00 PM EDT Sunday 22 September 2019
Condition: Mostly Cloudy
Pressure: 101.3 kPa
Tendency: Falling
Temperature: 22.2°C
Dew point: 21.4°C
Humidity: 95%
Wind: S 15 km/h
Humidex: 31
Visibility: 19 km
Quote
"Nothing is particularly hard if you divide it into small jobs."
Henry Ford
1863 – 1947