Well, I honestly thought that by this time of year I would not be so very busy with what is coming in from the garden! Every other day I am making pizza sauce with our tomatoes, blanching green beans for the freezer, and making something with zucchini. We have enough tomato sauce canned now to last us until next years tomato harvest, so I've begun to make pizza sauce with the tomatoes, which I am freezing, because I am including the tomato skins in the sauce.

The no-sodium Zucchini Relish jazzes up so many dishes for me, so that I am happy to have already canned over 24 jars of it. Two more jars of Zucchini Relish were canned this afternoon, and a half jar went into the refrigerator for immediate use. Another thing I tried today with zucchini was Zucchini Brownies, didn't sound the greatest, but they are delicious! Nothing like a little bit of veg in your indulgences.

Today is a renovation day. I know we weren't going to do any renovations this year, except to fix the foundation wall along the garage, which Attila did early in the summer. But the stars aligned perfectly, so I decided to seize the day on this one!

Attila took a vacation day on Friday last. We planned, at my suggestion, a visit to a local art museum. We had the schedule, the parking, and what we would eat, all planned out. Friday came and off we went to the city. On a bit of a whim we stopped by Home Depot, I wanted to look at doors, front entrance doors to be specific.

Now let me just say, at this point in my story, that Attila is not a fan of "going out". He will do it, at my insistence, but were it not for my initiative he would not do it at all, ever.

I looked at doors, chose one that was in stock, and a storm door that was in stock. Our vehicles won't transport anything as large as doors, so my plan was that we could order the doors for delivery, and install them sometime before the snow files. I hoped to talk Attila into this project.

The salesperson suggested that it would be less expensive to rent a van from Home Depot, and take the doors home immediately. Attila lit up like a Christmas Tree! Take the doors home now, spend the weekend installing doors and not have to go the museum, it was a no-brainer for Attila! He watched me carefully, not willing to suggest such a thing, since I had planned the museum outing. But hey, I've been sitting in the living room every winter since 2014, with the wind blowing in through the drafty front door, despite the fact that I always tape it shut. If Attila was willing to install a new energy efficient front door immediately, well, there was "no time like the present".

So we rented the van, brought the doors home, and Attila has spent the rest of the weekend removing the old doors, and installing the new. It is a nightmare project.

The first oh-no moment occurred when we realized that we had purchased 34 inch doors, but the present door was only 32 inches wide. OOPS!!

We panicked at first, another truck rental, another day spent transporting doors, yikes. But Attila insisted he could install the new doors we had purchased. Go for it Attila, I thought. And he did. And it was just our good luck that the old 32 inch door was installed in an opening for a 34 inch door. So the 34 inch door would fit, if Attila took apart all the gerryrigging done for the old door. That took time, and it paid off. The 34 inch door fit perfectly, in the end. Last night Attila got the new door in, with handles and locks, before we went to bed.

Today he is working on fiddly bits with the entry door, mostly with shims, which I had to take two trips to the lumber yard to purchase, one bundle wasn't enough. After having completed the insulation around the door, Attila is now tackling the installation of the new storm door. It is raining off and on, but Attila carries on. What a challenge, he has to add a frame around the door. Everything about Mist Cottage is wonky.

Mist Cottage was built by a builder who used materials removed from other buildings that were being renovated. Most of the materials are quite old, and mismatched. But here is the thing, in those days they used wood, real wood, so even used materials were of high quality.

There is little consistency in the construction of this house. For example, every single interior door is a unique size, and none are a standard size. What this means is that every renovation here is first a journey of discovery, to see what has been done, and then a journey of creativity, finding a way to use modern building supplies to renovate what is worn out.

Mist Cottage is a "house of many colours".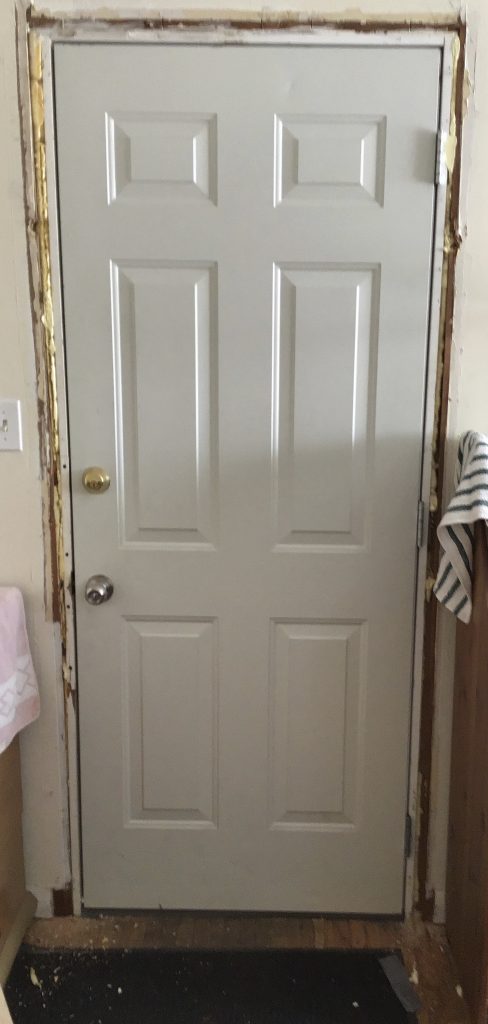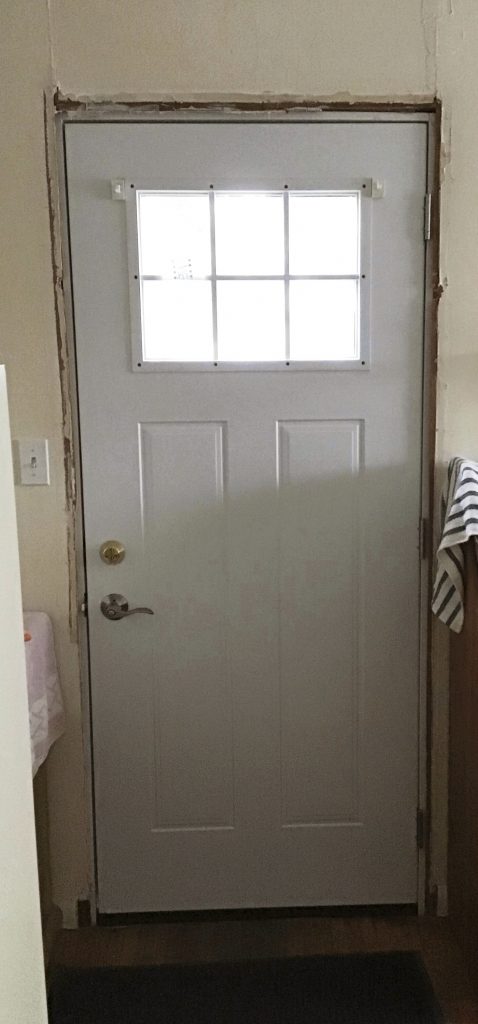 Worldly
Weather
17°C
Date: 2:00 PM EDT Sunday 15 September 2019
Condition: Light Rainshower
Pressure: 102.0 kPa
Tendency: Falling
Temperature: 17.1°C
Dew point: 14.7°C
Humidity: 86%
Wind: W 9 km/h
Visibility: 24 km
Quote
Coat of Many Colors
Dolly Parton
"Back through the years
I go wonderin' once again
Back to the seasons of my youth
I recall a box of rags that someone gave us
And how my momma put the rags to use
There were rags of many colors
Every piece was small
And I didn't have a coat
And it was way down in the fall
Momma sewed the rags together
Sewin' every piece with love
She made my coat of many colors
That I was so proud of
As she sewed, she told a story
From the Bible, she had read
About a coat of many colors
Joseph wore and then she said
Perhaps this coat will bring you
Good luck and happiness
And I just couldn't wait to wear it
And momma blessed it with a kiss
My coat of many colors
That my momma made for me
Made only from rags
But I wore it so proudly
Although we had no money
I was rich as I could be
In my coat of many colors
My momma made for me
So with patches on my britches
And holes in both my shoes
In my coat of many colors
I hurried off to school
Just to find the others laughing
And making fun of me
In my coat of many colors
My momma made for me
And oh, I couldn't understand it
For I felt I was rich
And I told 'em of the love
My momma sewed in every stitch
And I told 'em all the story
Momma told me while she sewed
And how my coat of many colors
Was worth more than all their clothes
But they didn't understand it
And I tried to make them see
That one is only poor
Only if they choose to be
Now I know we had no money
But I was rich as I could be
In my coat of many colors
My momma made for me
Made just for me"