After two days of lovely sunshine, it is raining again. It is a cold, relentless rain, and, gasp, mixed at times with snow. I suppose it is an April Shower, but unlike the cheerful sounding name, there is nothing gentle about it. The temperature has slowly been dropping all day, and will dip below freezing tonight.
Attila worked into the night last night to bring in firewood from the back of the property. I went to bed early, without him. Unfortunately I woke up at about 3 a.m. and could not get back to sleep. After lying in bed for an hour or so, I moved to the couch, where I finally dozed off a few minutes before the alarm went off at 5:30 a.m. Sometimes a change of scene helps. Too little too late this morning.
We are getting by with just one firing a day in the masonry heater. Mist seems happy all the day long, as it is staying cozy and warm in the house. Today she is out-sleeping the rainy day blues.
I am working on the sources for the fourth of eleven GGG Grandaunts and GGG Granduncles. In addition to editing the sources, I keep on finding new primary sources at ancestry.com. Now, in addition to editing, new sources are being created on the fly. This source thing could take years!
We received a delivery of fuel oil late last week, at the little house in the city. The Invoice arrived yesterday. That did not take long. It is paid now, and we are good to go for next winter in the little house. Now all we need to do is get that firewood into the woodshed, here in the country. Attila is hoping to really get going on it before black fly and mosquito seasons start. The rain today is holding up his schedule.
There is some significant flooding in this area. We are not affected yet, directly or indirectly. We are quite close to the water, but luckily the house was built on high ground. There are docks and all kinds of interesting things floating free in the waterways this week.
Today got rained/snowed out, it has been rescheduled for tomorrow.
Ontario Barns April 21, 2013 [Taken at 90 km an hour, through a closed car window.]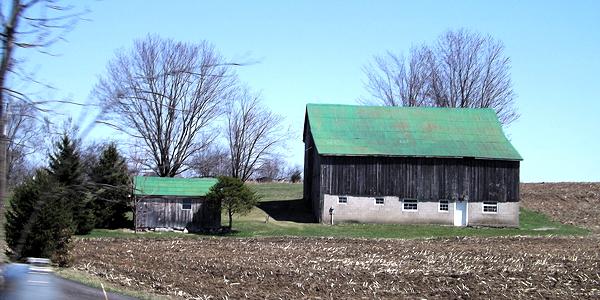 Worldly Distractions
Weather
4°C
Condition: Light Rain
Pressure: 100.4 kPa
Visibility: 16 km
Temperature: 4.3°C
Dewpoint: 3.6°C
Humidity: 95%
Wind: NNW 22 km/h
Quote
"I may not have gone where I intended to go, but I think I have ended up where I needed to be."
Douglas Adams
1952 – 2001