I am looking at a catalogue of women's tops. I like each and every piece that I view. And then it dawned on me. These tops look wonderful on the bean pole bodies, lithe and young, on which they are displayed. What I really want is the bean pole body that goes with the tops, not the tops themselves. As usual, desire has nothing to do with reality. The tops would look hideous on my actual body; they have no respect for unique beauty.
And of course, the catalogue that I am looking at doesn't have an item under $200. So it isn't as if I would ever have purchased any of their merchandise anyway.
Even the Sears catalogue has impossibly bird-boned-bean-poles as models. Not that I think they are unattractive; it is just that they are not representative of the variety. I will not purchase clothing from catalogues, because my beautiful body does not even remotely resemble the bean pole model. The images give no clues as to how the clothes might look on me.
It is difficult to find clothing that flatters un-bean-polish female forms. I am fussy, my clothing has to be comfortable, easy to clean, and durable; attractive comes last on my list, and seldom gets any consideration at all due to lack of availability. During the day at home, I opt for my bib overalls or inexpensive flannel pyjama pants and a T-Shirt. I have to change my clothes, to venture off the property.
Another pet peeve is hairstyles. I cannot believe the hairstyles foisted upon older women at the local salons. I've no interest in wearing the helmet of agism, just because it is the only style that hairdressers seem capable of producing on mature subjects. To add insult to injury, getting one's haircut requires running the gauntlet of a chemical extravaganza. Then there is the gossip that circulates like fumes in salons; icing on the cake. From time to time I consider shaving my head, just to avoid the whole sorry business. So far I've chosen the other option, to let my hair grow, occasionally trimming it myself, as I watch, almost helplessly, in the mirror. Usually once a year I break down and pay someone to cut my hair. Something like death and taxes.
My sister cuts my Mom's hair. The style flatters my Mom's natural beauty (which, I admit, is considerable, making it an easy job) and also captures her buoyant spirit. Sis isn't a hairstylist; what she possesses is respect and appreciation for my Mom. I figure if my sister can manage to create a respectful image, then a hairstylist ought to be able to manage it. I've only ever found one, and he lives in a distant city.
Presenting oneself in public is fraught with misery.
Our remaining snow banks have melted down into pure ice. The snow that was shovelled off the deck during the winter is still about 5 feet high. However, most of the yard is free of snow. Yesterday and today I spent some time out in the sunshine collecting fallen branches from the front yard. I also collected gravel. We have a gravel drive and every winter some of it gets shovelled onto the lawn with the snow. Every spring I wander about with my plastic bucket, gathering gravel as I would Easter Eggs on a hunt.
Attila has begun his annual cleaning of the wood shed, getting it ready for stacking next winter's firewood. We are still burning a fire every morning, to keep the chill out. Hopefully we will soon be able to abandon our masonry heater, until next autumn.
Ontario Barns April 21, 2013 [Taken at 90 km an hour, through a closed car window.]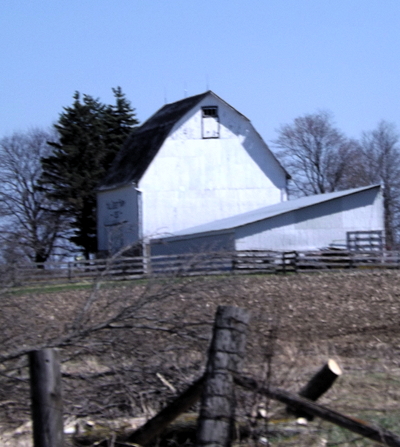 Worldly Distractions
Weather
9°C
Condition: Sunny
Pressure: 102.3 kPa
Visibility: 16 km
Temperature: 8.6°C
Dewpoint: -1.2°C
Humidity: 50%
Wind: SSE 21 gust 39 km/h
Quote
For Attila.
"I prefer by far warmth and softness to mere brilliancy and coldness… some people remind me of sharp dazzling diamonds. Valuable but lifeless and loveless. Others, of the simplest field flowers, with hearts full of dew and with all the tints of celestial beauty reflected in their modest petals."
Anais Nin