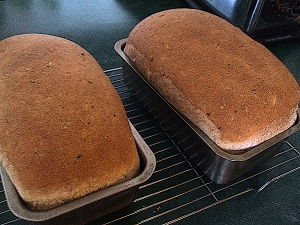 You know your closet reorganization has completely failed when five minutes after you finish you cannot find the clothes you wanted wear!
I will have to search through everything, find the items I want and then reorganize again. I hope I do a better job the second time round! We do not have a lot of storage space, and neither of us can part with our books, old clothes etc. It is challenging to keep on top of it all.
We had snow, a bad storm last Wednesday with tricky driving conditions. Today is the second day of remarkably mild weather and most of the snow has disappeared. The sun is not to be seen. Here it is 7:25 a.m., I've been up for hours and the light is just beginning to bring the trees outside the window into view.

Side by Side, my all time favorite song!!! My Grandparents had a wind up gramophone and an old 78 rpm recording of this song, loved it then, love it now. It was written in 1927, and still rings true.
We talked to Terra last night, she and Lares have a new addition to their family, a dog called Dash. They "rescued" him from the pound, he is a hound mix and very good natured Terra says. We will meet him on our next visit south. Terra and Lares continue to deal with immediate issues in their new house. Their new furnace was installed over the weekend, by Lares who is qualified to do so. They had been heating exclusively with wood, using conventional North American wood stoves, because the existing furnace would not run. Wood heat is a lot of work for people with jobs outside the home. I remember the traditional wood stoves weren't too bad to deal with when one person was home, and on farms everyone worked on the property and so were around to keep things running as they should. Modern off-site employment makes heating with wood a real challenge.
I think when you have a "fixer upper", like our little house in the city, the first years are focused on renovation as opposed to decoration. Renovating a house is far more time consuming and expensive than decorating a house; even more so when you are doing all the work yourself, while holding down full time jobs. Sweat equity is made up of… sweat. Cinderella's fairy godmother is definitely not sprinkling stardust around with her wand to get the work done. Attila and I have found that patience and pacing are important if one is to maintain quality of life while doing our own renovating. We may never get as far as decorating! What's worse I suppose is that we don't care as long as we are "Just traveling along singing our song, Side by side"
Luna and Janus continue with their third renovation. They move frequently and seem to thrive on that kind of change. The home they are currently renovating is really cute, in a thriving city with lots of neighbourhoods full of young families. They have altered the floor plan of the house to change rooms from being cramped and dark to bright, beautiful and functional. If it was me, I wouldn't want to move from such a wonderfully transformed house! Everyone is different though, and they are following their own dreams and plans.
Yesterday was filled with domestic activity here at home in the country house. The two loaves of bread I baked are back to my usual standard, tasty with a good crumb, slices well for sandwiches. This is the third batch since I started baking all our bread again, so it didn't take too long to get back into the swing of things. I also baked a cranberry/apple crisp which I like for breakfast and snacks. Since we purchased a bushel of seconds, Spy apples, it made sense to use some of them for Mincemeat. I love Mincemeat, but cannot eat the commercial brands because they have so many additives in them. I went without for years and years until I discovered how to make my own Mincemeat. It is time consuming, tastes great and is full of good nutrients. It does contain sugar, salt and butter too, but at least these things would be well down on the ingredient list by volume or weight.
Worldly Distractions
Weather
11 °C
Condition:Light Rain
Pressure:101.1 kPa
Visibility:8 km
Temperature:11.4°C
Dewpoint:10.3°C
Humidity:93 %
Wind:S 17 km/h
Quote 
"When you are on your deathbed, what others think of you is a long way from your mind. How wonderful to be able to let go and smile again, long before you are dying."
Source: Bonnie Ware http://www.inspirationandchai.com/Regrets-of-the-Dying.html
Something to consider when overwhelmed by other people's expectations. We are all just doing our best, when others fall short of their best, the kindest thing is to forgive and kindly go about doing things our own way.