Easter weekend was spent working on the yard at the little house in the city. Although there was still a nip in the air, no snow remained, and the ground was no longer spongy. The grass was beginning to green as Attila raked. My task was to collect the pine cones from the drive and the lawn, and a huge paper bag meant for garden waste was filled. It was such a great pleasure to be out of doors.
On Friday morning we visited Terra and Lares, and were treated to a delicious pancake breakfast. Wiggler was in good form, she is perfectly healthy and very active. Runner was feeling a little sad, because he needs to be tied up when outside, due to his penchant for running, away into the distance. Wiggler sticks close to her humans, and Runner enjoys and seeks the joy of wide open spaces.
While we were there a neighbour came with his back hoe to demolish the old chicken coop at the back of their property. The back hoe loaded the debris into Lares trailer, and it was hauled away to landfill. The now open space is in full sun, and will be the main garden this summer. Terra has her seeds ready to go!
Terra and Lares love their new home, which is a frame farmhouse, over 100 years old. The aluminum siding, that had been installed over the original wood cove siding, was in bad shape and needed to be replaced. To that end they have purchased Tyvek and vinyl siding. This week they have begun the project of replacing the siding on their house; this is a big project!
My girl! Terra constructing the scaffolding prior to removing the aluminum siding from their house.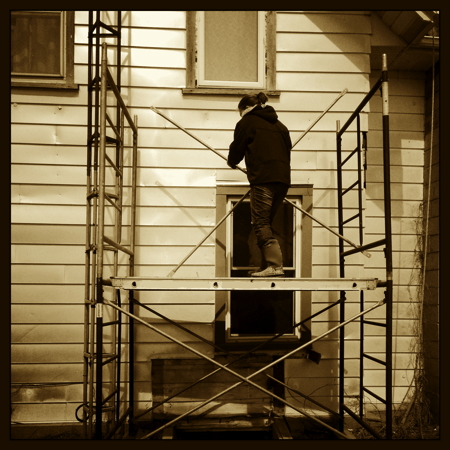 The original cove siding on Terra and Lares century farmhouse. It is in surprisingly good condition; "so far" as Terra says.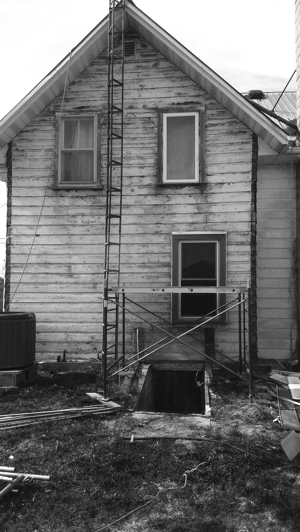 As for the rest of the weekend, it was not stellar. After a winter of repressing our feelings in order to survive, Attila and I had a lot of crankiness held back, ready for release. By the time we had worked it out our systems it was time to go home!
We were cheered that a lot of the snow had melted in our absence from the country house. However, we live in the bush, where the snow still blankets the earth in solid white. We are hoping that this week most of that blanket will melt away, fingers crossed. Because the yard is still snow covered, it is too early to tackle the yard work at the country house.
Attila had cleared some small trees recently, that were encroaching on our yard and our septic system. The brush needed to be dealt with, and the logs sectioned and split for firewood. Attila worked on that project until dark last night, before coming inside to share a meal.
Change is not always a good thing. Bigger is not always better. More is often less. Glitter is seldom gold. Self-preservation and self-centeredness are not one and the same.
What am I getting at?
Although we love the country house itself, we are not happy with its location in terms of human settlement. My sense of loss, in observing the transformation from healthy communities in this part of Ontario, Canada, to a human landscape of competitive grasping individuals bent on hedonistic hubris, is poignant. As another person, who knew these confiscated areas when they were actual communities, has said:
"…the people were modest, unassuming, and very likable, and their homes reflected a more gentle and stable society. Today grotesque stone and brick monster homes are taking over, reflecting the emergence of obscene wealth and intimidating power. My mother really misses the down-to-earth people of her past, and neither of us can relate to the selfish, unfeeling, hyper-aggressive types who have invaded the sleepy little communities that were once so quaint and peaceful."
Worldly Distractions
Weather
5°C
Date: 8:00 AM EDT Monday 21 April 2014
Condition: Light Rain
Pressure: 101.7 kPa
Visibility: 16 km
Temperature: 5.0°C
Dewpoint: 4.3°C
Humidity: 95%
Wind: ESE 4 km/h
Quote
"The poverty on the frontier is shared by all and is not that humiliating poverty that is witnessed where there is class distinction, and, consequently manhood or womanhood is not degraded." Pollard, William Correll, in Life on the Frontier, page 81.