We awoke yesterday morning to a winter wonderland. It snowed heavily all through the day, adding to the five inches of snow received overnight. Everything was white, white, white; and still is.
Snow storm on April 15, at least six inches of snow fell! Ten years ago on this date, there was no snow anywhere on our property, even the deep snowbanks had melted away entirely. We are at least two weeks behind our time this year.
Here is the thing though, we have had our trip to share Christmas with my family. It took almost till Easter to have weather fair enough for a one day travel trip, and so Christmas and Easter celebrations were somewhat combined. Attila calls it Chreaster.
And the snow, well, it is Chreaster after all, one would expect a snow storm, wouldn't one! Sleigh bells ringing, and bunny rabbits laying eggs, we are ticking all the boxes!
And of course it went down to -13C overnight, so we needed two firings in the masonry heater to keep comfortable. It is so much easier though, than the relentless -20C to -30c temperatures we endured all through December, January, February, and March.
We had a lovely visit with family on Sunday, hosted by my youngest sister. A roast beef dinner with all the trimmings was followed by homemade Chelsea rolls and Cherry Cheesecake; you can't say better than that. We travelled to the area the night before and stayed overnight with my middle sister, her husband, and my Mom, and had a lovely visit. This autumn I am aiming at celebrating Christmas with the family in November, in hope that we can find at least one Sunday suitable for travel before Christmas.
Out for a walk with my Mom (left) and my sister (right), heading for the beach on Lake Ontario. It was hard to keep up with these two power walkers!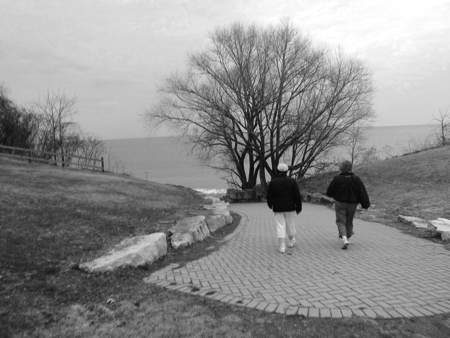 When the temperature is warm enough that we can leave the house overnight without using the electric heat, and driving is viable with clear roads and good visibility, it signals the end of our long, cold, dark winter!
Blue skies are coming our way! This week should bring temperatures above freezing, even at night.
Worldly Distractions
Weather
-13°C
Date: 6:00 AM EDT Wednesday 16 April 2014
Condition: Clear
Pressure: 102.7 kPa
Visibility: 16 km
Temperature: -13.1°C
Dewpoint: -14.0°C
Humidity: 93%
Wind: calm
Quote
"Eccentricity is not, as dull people would have us believe, a form of madness. It is often a kind of innocent pride, and the man of genius and the aristocrat are frequently regarded as eccentrics because genius and aristocrat are entirely unafraid of and uninfluenced by the opinions and vagaries of the crowd."
Edith Sitwell
1887 – 1964
"Being in a room with people who have no imagination is like being in a room without oxygen."
Maggie Turner, who would rather spend time alone than run with the "wrong" crowd of somebodies.