Monday, October 6, 2014
A quiet day has sped by, once again. After chatting with Attila, I enjoyed a cup of coffee and some apple crisp for breakfast. Then I headed down to the basement to turn off the dehumidifier, and flip the breaker off for the hot water heater. The price of hydro goes up at 7:00 a.m., got to beat the meter!
The sunrise was beautiful, it came and was gone again before I knew it. I just went to the sink to rinse my coffee cup, and when I got back to the table the colours were gone, and the sky was grey in the morning light.
I spent quite a bit of time in the morning looking for canning jars. We have used canning jars for canisters, and for food storage, for many years. I found all of the 500 lm canning jars, checked each rim for chips, there were none, moved the contents from each to empty washed and saved jars, from previously purchased food. Then the canning jars were washed and ready for another canning session. New lids were counted out of the package, and matching used rings were set aside for the project.
Not all the ingredients needed were here at the little house in the city, so a shopping trip was in order. Of course, I found some items I could not resist. I bought two hams that would expire tomorrow, and so were half price, to be frozen immediately. I bought two cabbages at 39 cents a pound, locally grown. I bought my tomato juice and allspice for the pork n beans, and returned home.
After eating my lunch, I puttered around on the computer for a little while. I purchased a kitchen timer app from the Apple Store, for 99 cents. It works very well I think.
I caught another mouse, and immediately dealt with it, reset the trap and returned it in tool cupboard. No pictures were taken. That makes two mice that I have caught in the tool cupboard during this visit.
Yesterday I broke down and turned on the heat. In theory, the way the heat pump is configured, the furnace should not turn itself on unless the outdoor temperature is below 10C. Since it is a bit warmer than that outside, the heat pump should provide all of the heat. I set the thermostat to 20C and waited. Soon the house warmed from 17C to 20C. The heat pumps is working well so far! It does not run any more often than the furnace does, and uses electricity to run the compressor and the fans. The next hydro bill will tell the tale!
The afternoon was spent canning another batch of pork n beans. I made several changes, using navy rather than pinto beans, boiling and soaking the beans before they went into the jars, adding onions to the sauce, and allspice. I was a bit short of beans, so I only had eight jars to can.
Pork n Beans without the pork, Batch 2.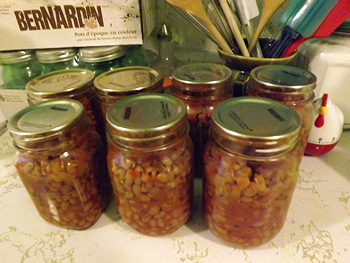 October 7, 2014
One week, I have been at the little house in the city for one week. While I have been away Attila has made great strides in procuring the fire wood we need for winter heat. He isn't quite done, but the snow isn't flying yet! I will plan another lone trip soon, to give him a chance to finish the project. I return home late this week, before the cottagers decide to head north to their seasonal properties.
After Thanksgiving it will be time to cure the masonry heater, to prepare for the heating season. Attila spent last night, until midnight, splitting the hardwood needed for the curing process. All is ready. It falls to me to cure the masonry heater, for it is not a taxing undertaking. That will be five days spent burning small fires at two, three, and four hour intervals.
At this point, with our heating preparations so far along for the coming winter, it would be almost disappointing to sell the house!
Attila and I are spending Thanksgiving, Canadian Thanksgiving is this weekend, with Terra and Lares, Lares' best friend, Lares' Grandmother, and a cacophony of dogs and cats. It should be a cozy and enjoyable weekend!
Breakfast this morning consisted of coffee, water, pork n beans, and sausage. This type of breakfast is a rare event for me, as oatmeal is my usual fare.
Breakfast, an extravagant meal, sausage, pork n beans (in the cup with the spoon sitting in it), and coffee. The giant marigolds are a cheery addition to the morning meal, they are still blooming profusely in the gardens.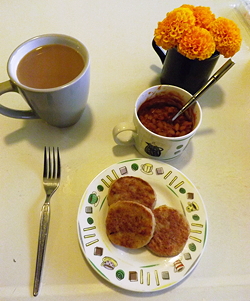 Yesterday's batch of beans were much closer to what I had in mind, but not quite. I am fussy about my beans! They are a little too dry for my taste, not enough sauce in the jar, so the recipe still needs tweaking. It seems to me that if I reduce the quantity of beans per jar, that will increase the quantity of sauce per jar. It is worth a try. For the next batch of beans, the soaked beans will be measured very carefully into the jars, different amounts in differently shaped jars, the quantities recorded, and the results compared. I will get this recipe to work the way I want it to, I will!
Again, I had 100% seals, and no siphoning. I conclude that the siphoning, at least in my case, can be avoided by removing the weight gauge very, very slowly, releasing the pressure by minute increments.
I am considering canning the cabbage I purchased this week, maybe I will, maybe I won't! Cabbage keeps almost forever in the refrigerator, we might eat it all before I get around to canning it.
I headed out to Terra's place for a visit today. We chatted, peeled apples that she had picked herself, to make her apple crisps, which she intended to freeze. We discovered that the oatmeal that she used for baking the apple crisps were processed in a facility where my allergen was being used. We discovered the oatmeal I bought for her has no such issue, so she is making another apple crisp for Thanksgiving dinner, one that I can eat. We had a snack, Terra had a sandwich, but all of the bread she had contained my allergen, so I decided to have a bowl of oatmeal, which is when I discovered the allergen in the oatmeal issue. Luckily I had purchased additional oatmeal for her, and I read labels so it was allergen free, so I got my bowl of oatmeal after all. We went out to her garden, and I collected all of the tomatoes she will not harvest, almost all of them are split, and have a bit of rot here and there. I picked them all, including the green ones, and the beets that Terra said they don't want. Three bags full of tomatoes and beets! Bounty that would have been left to rot in the garden without me!
The rest of the afternoon was spent peeling and chopping tomatoes, and cleaning beets. The tomatoes were put on the range to boil down before freezing, and the beets will be cooked in a pressure cooker tomorrow, before going into the freezer. The beet greens were not very nice, but I did manage to find enough healthy looking greens for one meal, and cooked them for my supper. There were enough green tomatoes to fill a cardboard tray, which I placed near a window, where it will receive direct sunlight.
I also perused our garden and picked all of the tomatoes that had ripened over the last few days. I came away with about six quarts of tomatoes from our garden.
It was a busy day, and I was very tired by the time I had all of those vegetables either cooked, frozen, or temporarily refrigerated. Tomorrow I will finish the job!
Worldly Distractions
Weather
7°C
Date: 8:00 AM EDT Monday 6 October 2014
Condition: Light Rain
Pressure: 100.6 kPa
Visibility: 16 km
Temperature: 7.4°C
Dewpoint: 7.1°C
Humidity: 98%
Wind: SE 11 km/h
15°C
Date: 8:00 AM EDT Tuesday 7 October 2014
Condition: Light Rainshower
Pressure: 100.9 kPa
Tendency: rising
Visibility: 16 km
Temperature: 14.9°C
Dewpoint: 12.4°C
Humidity: 85%
Wind: SW 26 km/h
Quote
"Time is the coin of your life. It is the only coin you have, and only you can determine how it will be spent. Be careful lest you let other people spend it for you."
Carl Sandburg
1878 – 1967