Today's forecast at the country house, that would be October 10, 2014:
"Partly cloudy. 60 percent chance of rain showers changing to 60 percent chance of wet flurries before morning. Low plus 1."
Wet flurries, no! Too soon, too early, not yet… oh well.
Hopefully this lot will melt on contact.
I arrived home yesterday at around noon. Attila managed to come home for lunch and we were both very happy to share a meal in each other's company! Attila looked, and felt, exhausted! He was as gaunt as I have ever seen him, which is saying something. The wood is in, we are ready for winter. He did it. It cost him.
He was falling asleep over supper, so I suggested he head to bed early, so at 8:30 p.m. he laid his head down to rest, and did not rise until 6:00 a.m. this morning. He still looks tired, but better, much better. Not only did he get the wood in while I was away, he worked a a lot of overtime.
We have some catching up to do here. It was cold in the house, and Attila did not have time to secure dry kindling or firewood for the little wood stove in the basement, for this morning. So, no heat. It was about 15C in the house, when we wandered into the kitchen to make our morning coffee, which is not comfortable for anything but sleeping under an eiderdown. Mega layers of sweaters and down vests got me through the day! Attila felt bad, but I would have none of that! He needed to rest last night, and surely I can manage a few short days, until he has had time to catch up on his sleep, for him to organize morning fires. Mist retreated to sleep on the eiderdown in front of the wood stove, hoping that it would receive attention in the near future. She was very patient today!
Another project on Attila's list is to install a new hot water heater. When we first moved into this house the hot water heater was broken and needed to be replaced, which we did after six months of living here. The hot water heater we installed just gave up the ghost three days ago. Attila ordered a new one, but it will not arrive until the middle of next week; this is fortunate really because it gives Attila a bit of breathing space between projects. We will manage easily, as living without running hot water is something we have done before, and know how to handle.
I am shocked at how shoddy modern appliances are, truly shocked. They go into landfill sites after a short period of use, and are "built to bust". They are not built to be repaired easily, which is a shame, we would much rather repair what we have, rather than constantly send large and small appliances underground at the landfill. It is not just the hot water tanks I am thinking of either, my GE electric kettle, a wedding present in 1969, works like a charm, while other kettles come and go. We have had to replace four refrigerators in the last 20 years, while my Granny's refrigerator, which was over 65 years old, was still working, when it was stolen last summer. I have needed to purchase three vacuum cleaners over the last 20 years, and non of them work well, while the 1961 Electrolux (now Aerus), that I found at the dump, still works better than anything that I have ever owned.
Technology may be progressing, but it is leaving humans behind in the dust.
Progress is regress these days.
1961 Electrolux Vacuum Cleaner, Made In Canada! These items were found at the dump store. All things at the dump store are supposed to work, that is the rule. The vacuum cleaner works! The vacuum bottle, we discovered, does not, but it was manufactured more recently, so what did we expect! The vacuum bottle won't stay warm for long, and it won't stay cold for long. Attila still uses it for his morning coffee break, as it will hold heat for a few hours. It really should not have been at the dump store.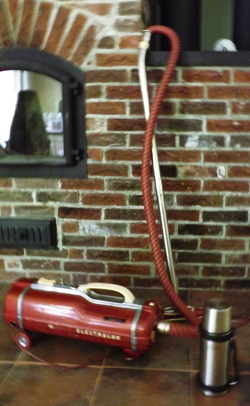 I wonder, what is the oldest working appliance that you own?
Shame on the "make a buck, trash the planet" entrepreneurial crowd.
One of my projects for today was to cook an "all-day" pot roast in the cast iron dutch oven, the "appliance" that keeps on going, a birthday gift from Harriet. That provided Mist and I with a little heat. As well, a load of laundry was washed, another smidgeon of heat. The dryer had to wait until the hydro price drops at 7:00 p.m.
Attila came home from work and went to work immediately to get the little wood stove fired up. It did not take long to take the chill out of the air. Mist is pleased!
The masonry heater needs to be cured, a project for next week. Canadian Thanksgiving is our usual marker for beginning the curing process.
Even though it is cold and cloudy, the seasonal property owners are beginning to arrive for the holiday weekend. Most, perhaps all, of the cottages near us are kept heated during the fall, winter, and spring, ready for that weekend away from it all.
All the leaves have turned colour at the country house, and even on this cloudy, rainy, grey day, there is brightness and cheer wherever the eye falls.
Attila saved a funny letter for me to see! It was a self promotional flyer from one of the candidates running in the upcoming municipal elections. It was addressed only to Attila, and completely ignored me, the other property owner. This guy really knows how to win friends and influence people! Guess what sexist bozo doesn't have prayer getting my or Attila's vote next week!

Actually, we would never have voted for him anyway, because he is a seasonal-gone-full-time resident, who in my opinion aims to build his fantasy world, based on his "corporate management" expertise, seeking in his retirement to impose what I feel is an inappropriate corporate mind set, on a community of people. Corporations are about generating profit, they are not about people. Our local government is about leading people, or at least that is what it claims.
Worldly Distractions
Weather
9°C
Date: 4:24 PM EDT Friday 10 October 2014
Condition: Light Rain
Pressure: 101.9 kPa
Visibility: 16 km
Temperature: 9.0°C
Dewpoint: 3.2°C
Humidity: 67%
Wind: WSW 15 km/h
Quote
"Freedom of the press is limited to those who own one."
A. J. Liebling
1904 – 1963