Happy Midwinter to everyone! Tomorrow we will be midway between the Winter Solstice and the Spring Equinox. We are celebrating today because we are both off work today.
The festivities are well under way here in the bush.
This morning began with a leisurely cup of coffee in front of a roaring fire. Then breakfast, which consisted of Florida Grapefruit, sent to us by Attila's Dad for Christmas. I enjoyed a blueberry bagel, topped with "better butter" and wildflower organic honey from northern Alberta [my birthday present]. We listened to big band music, while Attila puttered in the kitchen and I removed the Christmas decorations from the tree.
Then out the tree went through the sliding glass door, onto the deck, and over the railing.
Attila's Grandfather ran a general store, just as mine did. His Mom brought him an old desk from the store, because she has moved into a smaller home after the passing of Attila's Stepdad. Today it has been brought into the living area to fill the space vacated by the Christmas Tree. It was a bit of work, the hardware on one of the legs needed minor repair.
Wrapping the decorations and storing them away is always a time consuming task, which was completed by lunchtime. After our hard work we indulged in a fresh salad for lunch.
Then we donned our boots and parkas and headed out to the back yard. The temperature was a balmy -7C, by turns the sun and the clouds shared the sky, and stiff gusts of wind created intermittent snow showers, as the tree branches gave up their bounty of white.
It was time for the ceremonial burning of the Christmas tree. Attila drove it into the snowbank, above where the fire pit rests below the snow. Then it was time to light it up. The tree took the count of three to burst into flame. The whole ceremony took about three minutes.
The Christmas Tree driven into the snowbank above the fire pit. No danger of a forest fire with this much snow surrounding the tree.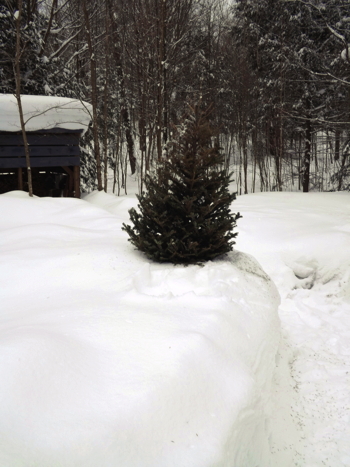 Within the first minute the blaze was impressive, and hot.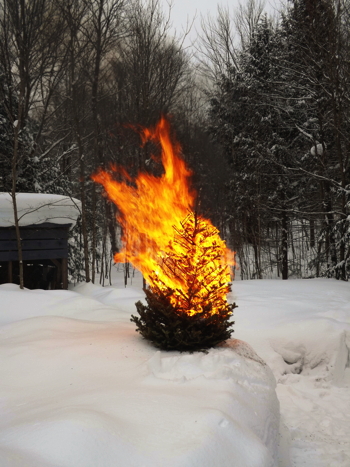 Within three minutes the process was complete. Slowly the remaining blackened branches fell down into the snow. We will store the tree trunk in a snow bank in the back yard, and burn what remains in the fire pit, in the spring.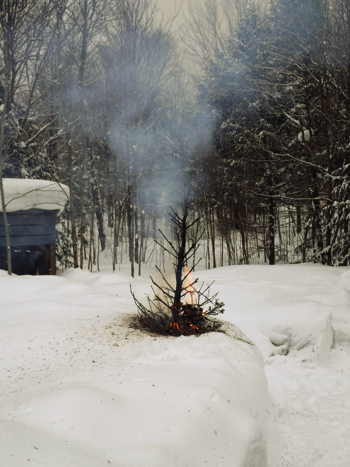 Attila is out working on snow removal, as it snowed yesterday, last night, and from time to time today. Soon it will be time for me to wander into the kitchen and get the homemade pizza started. We plan to enjoy this evening with candles, good food, and good company, just the three of us.
Worldly Distractions
Weather
-7°C
Date: 3:00 PM EST Sunday 2 February 2014
Condition: Light Snow
Pressure: 101.8 kPa
Visibility: 5 km
Temperature: -6.0°C
Dewpoint: -7.9°C
Humidity: 86%
Wind: WNW 15 km/h
Wind Chill: -12
Quote
"I have since learned that although the festival of Imbolc was far less romantic and far more practical to our Celtic ancestors than the initial image portrayed to me by Mrs Darley, it was no less magical, for it marked the beginning of the lambing season which to the Celts meant the difference between survival and extinction."
Source: Mrs Darley's Pagan Whispers: A Celebration of Pagan Festivals, Sacred Days, Spirituality and Traditions of the Year by Carole Carlton