Mist was fine yesterday, the day the Christmas Tree went out the window. She did not seem to notice it was gone. This morning the cold light of reality dawned. Mist has been attempting to lead us over to the spot where the Christmas Tree stood, once she has our attention she will yowl at the top of her lungs. She is not amused. Apparently that tree belonged to her. We had no right to remove it. Mist is in mourning for the Christmas Tree.
To alleviate Mist's distress, I filled a mug with water and placed it under the plant stand that sits close to the former location of the Christmas Tree. Mist immediately found it, and the yowling stopped. Distraction worked, for now at least.
After taking out the tree, we filled the space with Attila's Great Grandfather's "desk". We placed it on our existing filing cabinets, and it makes a perfect work centre. My personal bonus is that it is the correct height for standing to use the laptop. There is an electrical outlet nearby.
This "desk" sat on the store counter in Attila's Great Grandfather's store, which was in Saginaw, Michigan. It has great sentimental value for Attila, and I love it because it is beautiful and functional at the same time.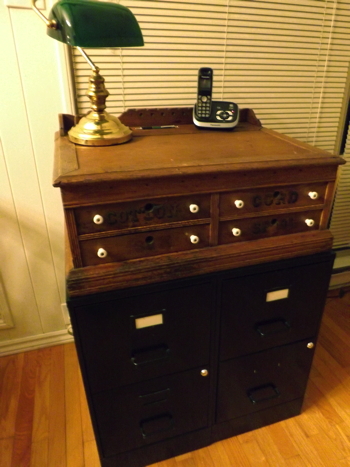 December and January were bitterly cold, and most days required three firings in the masonry heater. As well, frequent firings of the little cast iron wood stove in the basement were required. Yesterday I asked Attila how our firewood supply was lasting. "Two thirds gone," he told me. That did not sound good, we have two months of winter heating left this season. The real shock was seeing exactly what Attila meant by "two thirds gone." Out of the six rows of firewood in the woodshed, one complete row is left, and almost another whole row is dismantled and scattered in the shed. It looks very empty!
We have another wood pile in the yard, covered with copious amounts of snow. There will be some digging and serious snow removal going on in the back yard over the next few weeks!
Worldly Distractions
Weather
-11°C
Date: 6:13 PM EST Monday 3 February 2014
Condition: Cloudy
Pressure: 102.8 kPa
Visibility: 16 km
Temperature: -10.5°C
Dewpoint: -14.2°C
Humidity: 75%
Wind: NW 5 km/h
Wind Chill: -14
Quote
"An idealist is one who, on noticing that a rose smells better than a cabbage, concludes that it will also make better soup."
H. L. Mencken
1880 – 1956