Our clock hangs on the wall, where it can be seen from anywhere in the room. Most of the time it keeps good time. But for the last four months it has proven unreliable. Why? Because when the temperature outside dips below -20C, or there about, the batteries in the clock stop functioning at full capacity, due to the very cold temperature of the wall on which it hangs. This morning the clock was displaying entirely the wrong time. Last night the temperature, instead of dipping to the predicted -20C, fell to -28C. We were not prepared for that extra 8C drop. This morning it has been rather chilly in the house!
My clothing this morning consisted of long thermal underwear, covered by a pair of cotton work pants, a t-shirt, a heavy sweater, a down vest closed right up to my neck, and my apron over all. My hands were slow, like the clock, due to the cold.
This was how the world looked this morning. Note the ice awning, which has been there for several weeks, hanging from the metal roof. Not quite visible, are the small ice particles that have crystallized out of thin air, sparkling as they drift through the still and frozen air. If you look carefully you can see deck boards baring near the house. In this photo there are three deck boards exposed to the sun, by this afternoon we had four! How exciting! I am not stopping to smell the roses, I am stooping to watch the snow melt.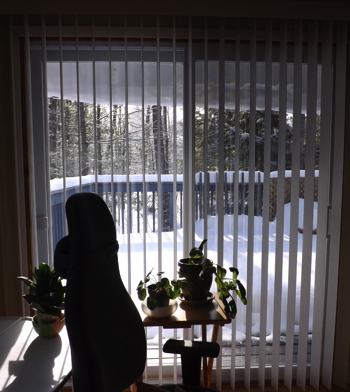 And here it is, 2 p.m., and the temperature has risen to -6C. It feels tropical! The house is warming, I am removing the outer layers of my costume. Mist is no longer sitting in front of the masonry heater waiting for heat, she is curled in her kitty basket bed, softly snoring. And Attila is grinning from ear to ear!
Weather
-19°C
Date: 6:00 AM EST Wednesday 5 March 2014
Condition: Light Snow
Pressure: 102.7 kPa
Visibility: 6 km
Temperature: -18.5°C
Dewpoint: -20.4°C
Humidity: 85%
Wind: calm
-26°C
Date: 5:00 AM EST Thursday 6 March 2014
Condition: Clear
Pressure: 103.8 kPa
Visibility: 16 km
Temperature: -26.3°C
Dewpoint: -29.2°C
Humidity: 77%
Wind: calm
Quote
"One kind word can warm three winter months."
Japanese proverb