I love mornings. It is the very best time of day, in my view. The world is quiet, the blank page of waking hours waiting, unfolding slowly. The light is at its best in the early morning, the bird song is more cheerful, the calm before the storm of traffic

This morning I wandered out onto the porch just past 6:00 a.m. Attila would sleep for hours to come, so it was just the birds, the breeze, and me. The temperature was already just above 20C, and humid, but the breeze carried away discomfort. The day would be hot and humid, but not quite yet. Breakfast was taken on the back porch, as was morning coffee. Then a bit of reading, currently Anil's Ghost by Michael Ondaatje, a paperback purchased used last year. A glorious beginning to the day.

The temptation to work in the garden could not be resisted. Our yard came with a crop of Bindweed, which seems determined to take over the yard if it is ignored. So I raked around the garden beds, which will lift the spreading tendrils of the weed, making it easy to find the central stem and pull the plant out. Some root comes out with it, but not enough to kill the plant. Yesterday and this morning I pulled about a bushel of bindweed from the yard. Early morning was also a good time to check the Brassicas for Cabbage Worms, which are doing a lot of damage lately. Eventually though, it became warmer and I became warmer with the exertion, so the rest of the project was put aside for another time.

Attila joined me when he woke up, and a companionable hour or so was spent enjoying the company, the view, the wildlife, and the breeze. Attila does not sit for long though, so off he went to tend his garden. I however, not being made of such stuff, sat contentedly on the porch, reading, enjoying a cold glass of ACV and water, alternately contemplating life, and reading my book.

The porch does not receive direct sun until mid-afternoon, but it gets warmer as the sun approaches. It was getting warmer and warmer, and I don't handle the heat well at all. But I teased out another hour and a half on the porch by using my cooling scarf. I tend to feel faint with the heat, and breathing becomes more difficult, but the scarf helps me keep a cool head. At first I tied it around my neck, but as the heat and humidity increased, that became less and less effective. Then I had the bright idea to tie it into a ring, and wear it on top of my head like a crown. That worked perfectly. But alas, by mid afternoon the soaring temperature defeated me, and I retreated indoors.

Yesterday was such a busy day, that today I decided to take things easy. Yesterday I baked Pumpkin Squares (Hubbard Squash), Oatcakes, and a homemade Pizza. I also made, and froze, six meals worth of Pesto, using the garden Basil and Garlic. I was going to attempt Pita Bread today, and make Falafels, but decided against a second day of oven baking, it is just too hot, tomorrow I'll be more rested. We eat Falafels with chopped Tomato and Cucumber, and Tahini Sauce. The English Cucumbers are starting in the garden, so it is time to enjoy them for dinner. The Cucumbers are so sweet and crunchy, we have been eating them raw every day.

Well that's me, doing OK in this endless heat wave. There have been so many days in June and July when the temperature has risen to or above 30C, it makes it challenging to enjoy the outdoors. And the weather reports say there are more hot, humid days to come, many more. So, I love mornings.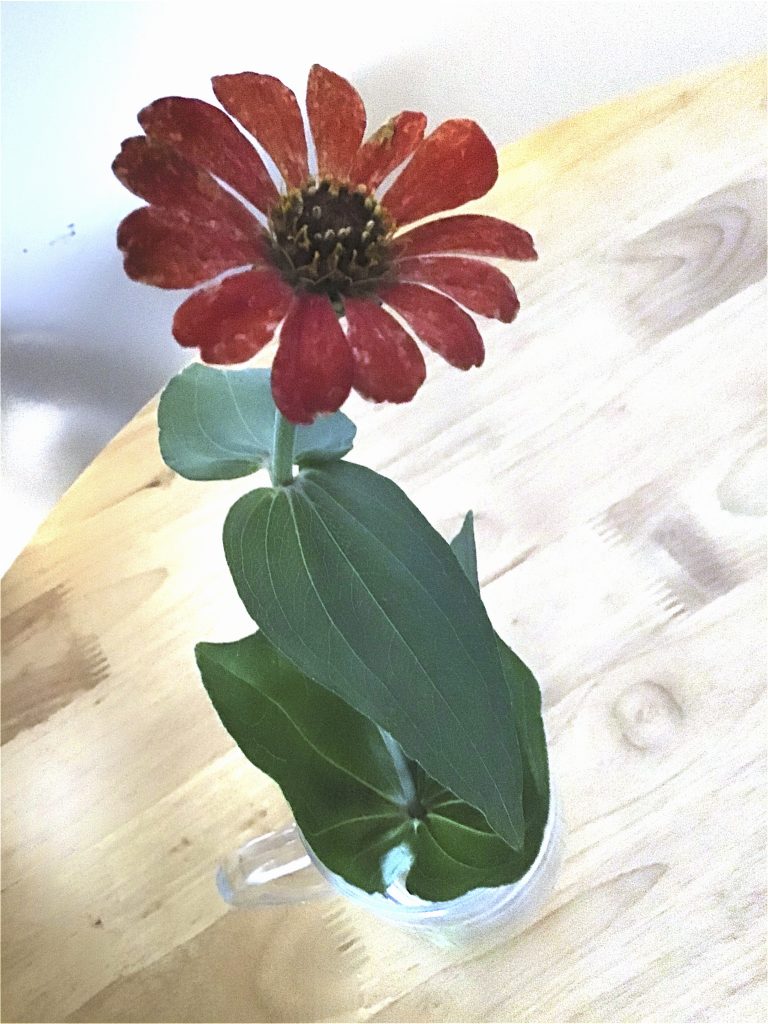 Worldly
Weather
HEAT WARNING
32°C
Date: 3:00 PM EDT Saturday 18 July 2020
Condition: Mostly Cloudy
Pressure: 101.6 kPa
Tendency: Falling
Temperature: 26.9°C
Dew point: 22.3°C
Humidity: 76%
Wind: SSW 24 km/h
Humidex: 39
Visibility: 24 km
Tomorrow: 34C, Humidex of 43C.
Quote
"That best portion of a good man's life,
His little, nameless, unremembered acts of kindness and of love."
]William Wordsworth
1770 – 1850