We had frost again last night and it is predicted again for tonight. Attila was prepared, all of the garden, except the Brussels sprouts, cabbage, and Swiss chard, were covered. Attila was off to work early this morning, so the garden will stay covered until he gets home from work. Since it is sunny today, I am hoping that the coverings, clear plastic, will create a slight greenhouse effect, providing enough heat to ripen more of the tomatoes and peppers.

The tomato harvest is slowing down a bit. Last night another two or three quarts of ripe tomatoes were pureed. This morning I added them to a large stock pot with the previously pureed tomatoes that were stored in the refrigerator. A few ingredients were thrown in, such as fresh onion and garlic, and a mixture of herbs. The tomatoes were simmered over a low heat for a few hours, until they were the perfect consistency for spreading on a pizza. After they cooled in the pot, they were measured into tubs, which were labelled and placed in the freezer. We will soon have enough pizza sauce to make pizza once a week for a year. We enjoy our weekly homemade pizza!

Our homemade pizza is made with dough made from our own freshly ground organic whole wheat flour. The pizza sauce is our own, organic. The toppings however, are store bought; red peppers, hot peppers, mushrooms, pepperoni, Vidalia onions, cheese, herbs. Eventually we would like to grow our own organic red peppers. and ferment our own hot peppers. This year though, our pepper plants only produced enough for our immediate use, pureed pepper sauce, and a few 500-ml jars of fermented peppers. I learned a thing or two about growing peppers though, and am looking forward to trying again next growing season.

On Sunday we sliced up a three pound cabbage to make one quart of sauerkraut. Just a bit too much cabbage for the project, but Attila managed to get it all into the jar. I think the jar might have been overfull, because there is quite a bit of liquid coming out of the pickle pipe, about a third of cup so far. This became problematic because the residue was drying on the pickle pipe opening and preventing it from functioning to release gas. When I went this morning to check on it, the pickle pipe was swollen with the pressure from the gas inside the jar, and when I released it there was a fountain of liquid that squirted all over the place.

I brought the jar of fermenting sauerkraut upstairs from the basement, to keep it in the kitchen where I can keep an eye on it. After releasing the pressure, I rinsed the still sealed jar and pickle pipe under the tap, and gently cleaned the vent on the pickle pipe. Hopefully it will begin again to release the fermentation gases as it was intended.

Lesson learned! Do not fill the fermentation jar too full! It needs at least an inch, probably more, of headspace.

Observation about sauerkraut fermentation: the house is going to smell like dirty socks! Luckily the human nose, at least my human nose, becomes inured to mildly objectionable odours after a few hours. I certainly hope that the odour does not collect in my hair and clothing though! How would I know.

We have our apples. On Monday Attila took a run to an apple farm on his way home from work, and purchase a bushel of apples, seconds. My preferred cooking apple is the Northern Spy, so we were very lucky to find them, and to find them as seconds was a big bonus. The price was $25 for the bushel.

Now the work begins. This year I've decided to make a small batch of Mincemeat and a lot of Applesauce to can. As well, starting today, I will be baking with apples every few days. Today it will be Apple Oatmeal Squares, and a batch of Apple Muffins. I'll even do a small Apple Crisp in a mug for my lunch today, yum!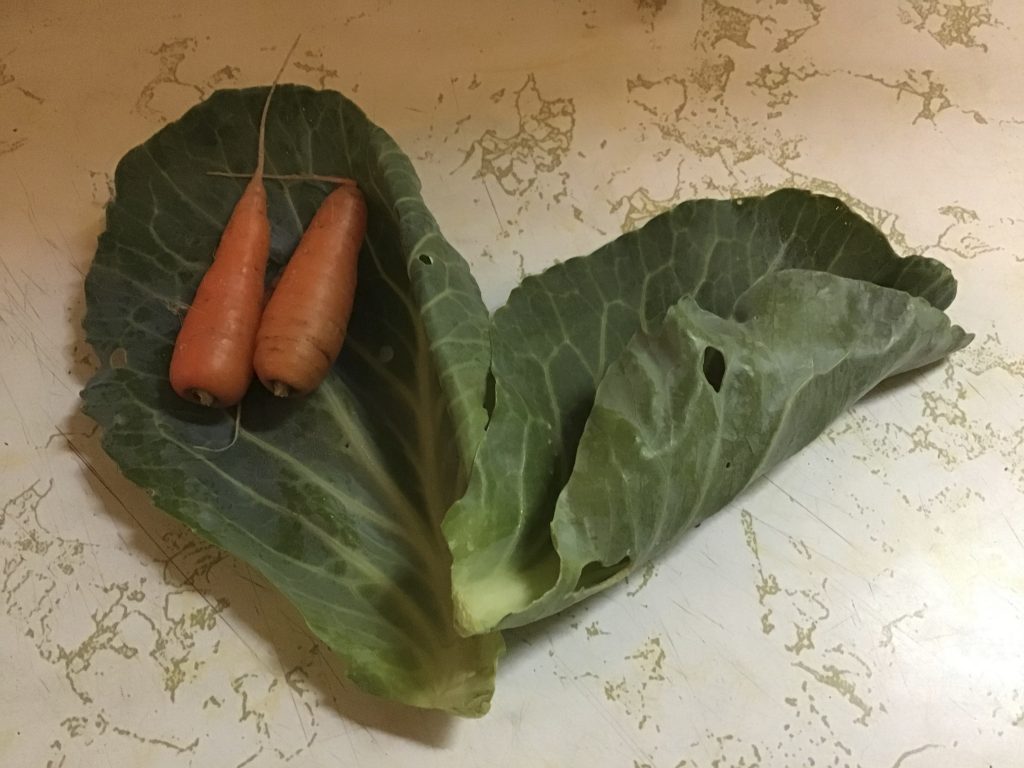 The volume of produce coming out of the garden is declining. This is our entire carrot harvest, and as you can see, not everything in the garden yielded a large harvest. The carrots are about two inches long. Back to the drawing board on carrot planting for next year's garden. The Brussels Sprout leaves are edible, and I hadn't tried eating them before. After sauteing them for breakfast, I found they neither added nor detracted from the taste of the dish, so I would say they are mild flavoured, and good for stir fry meals, soups, and stews. I might even try fermenting them!

These were the basic ingredients for my breakfast this morning. I finely chopped the carrots and the broccoli leaves, then sauteed them in olive oil, with chopped onion and garlic. I seasoned it with 1/4 teaspoon of Roasted Garlic and Red Pepper herb mix, then broke an egg into it and when the egg was ready, breakfast!
Worldly
Weather
10°C
Date: 10:00 AM EDT Wednesday 9 October 2019
Condition: Mostly Cloudy
Pressure: 103.0 kPa
Tendency: Rising
Temperature: 9.8°C
Dew point: 6.8°C
Humidity: 82%
Wind: ENE 18 km/h
Visibility: 24 km
Quote
"People need to be reminded more often than they need to be instructed."
Samuel Johnson
1709 – 1784