Snow Squalls for the Vernal Equinox 2013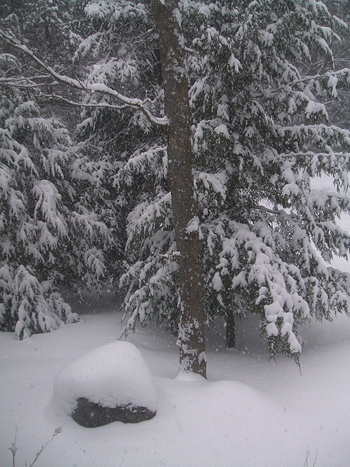 Today the sun shines directly on the equator. But it is not shining here. It isn't shining anywhere in Canada today, from what I am reading on the weather media.
It is the first day of "spring". We don't mention that word here though. Today is called the "Equinox" at our house.
It has been snowing, snowing, snowing. Attila has been shovelling, shovelling, shovelling.
Yesterday the roads were very slippery with the snow. Today they are probably about the same, but I am not venturing forth to find out. Unless of course I suddenly get called in to work. That usually occurs early in the morning though, so it is becoming less likely as the day wears on.
It is supposed to snow like this for the rest of the week.
Still, we are slowly marching through March; more like trudging I feel.
Our finances are in a bit of an uproar. We live pretty close to the "line", so any added luxury is going to have to be compensated for by giving up something else. In March we have have had to purchase new tires for the car, pay my professional fees, and we travelled to visit with Emmi, Otto and the Grandbabies. On our budget, all of these things are major expenses. So I am back to borrowing from Peter to pay Paul. Attila does not mind this one bit. I, on the other hand, find this deeply stressful, always have. I go to great lengths to avoid this teetering type of financial situation, because I know and accept myself and my foibles.
For me, juggling finances is a lot like telling lies. One has to remember a lot of boring and unattractive information to maintain lies, and to juggle finances. No thank-you!
I had an interesting encounter on Facebook.
I found it very amusing that a stranger told me on Facebook:
"You sound like a Ferrenghi."
This was in response to my statement about the nature of large corporate business strategies:
"Scale of operation and ownership are out of balance."
Does he mean Ferringhi or Ferengi? Assumptions abound on Facebook.
Ferringhi: The name Batu Ferringhi itself attests historically to Penang's brushes with several different foreign powers, including the British, the Dutch and the Portuguese. Some locals believe that the word Ferringhi was derived from a foreign language (perhaps Portuguese) which refers to 'foreigners'.
Source: http://www.virtualmalaysia.com/destination/batu%20ferringhi%20beach.html

Ferengi: The Ferengi /fəˈrɛŋɡi/ are a fictional extraterrestrial race from the Star Trek universe. They first appeared in "The Last Outpost", the fifth episode of Star Trek: The Next Generation in 1987, during which they made first contact with the United Federation of Planets in 2364 on the planet Delphi Ardu, though they had been mentioned in the series' pilot, "Encounter at Farpoint". They and their culture are characterized by a mercantile obsession with profit and trade, and their constant efforts to swindle unwary customers into unfair deals. They are also known for their business acumen and for rampant misogyny, often forcing their women into the sex trade.[1] Notable Ferengi characters include Quark, Rom, Nog, Ishka, Zek, and Brunt, all of whom were featured prominently in Star Trek: Deep Space Nine.
Source: http://en.wikipedia.org/wiki/Ferengi
Hilarious, either way!
The exchange almost sounds like a Canadian parliamentary debate; personal adjectives being tossed about freely.
In my opinion, Facebook is largely useless as a medium for healthy social interaction. Although, it does provide the information that my friends are still alive and thriving. That is good news.
I just sent off a little note to my Mom in Florida. She wrote back saying: "I have ordered better weather for you. Should be starting soon. LOL"
I love my Mom's sense of humour.
Another thing I love about my Mom is that she calls me "kid" and means it! I did not always appreciate being called a kid of course, no matter how much affection was involved; but when you are a senior citizen, this is wonderful!
Moving to another topic entirely, Attila and I are running out of viewing material on Netflix. We have watched most of the programs that interest us. Despite the feedback I provide to Netflix, the programs displayed for viewing at login are predominantly violence based. I have to know a film is already there to find it, the selection for browsing is terrible for our viewing preferences.
I keep telling Netflix I am not interested in violence/horror/war, and they keep displaying viewing options that are violence/horror/war based. The other issue we are having is that most of the new offerings are not in English. I do like seeing films from other cultures, in other languages; I do. I also like seeing films in English, my mother tongue, and one of the two official languages in Canada. Netflix is selling this service to Canadians; I think we should have predominantly English and French programs made available. Obviously Netflix does not agree with me.
Thank goodness April is on the way, making home entertainment a lot less appealing. Maybe we will cancel our account with Netflix, as we can't find anything to watch anyway. I am always looking for alternatives. We like a lot of the programs offered by PBS from the USA for its integrity, and BBC from Britain for its sentimentality.
Attila came home for lunch today, he says the roads are clear, despite the continuous heavy snow "squall". I thought squalls came and went, this snow fall just keeps on coming; I would have called it a "storm". Attila will be busy shovelling snow tonight, he will also be borrowing a truck with plough to do the bulk of the heavy stuff.
Wow, our neighbour just ploughed our driveway!!!!! I thought maybe it was Attila, doing the job early, instead of after work. But it was our neighbour. I waved a thank-you through the open blind, at the front window. It was a wonderful thing for a neighbour to do.
And it is still snowing! About another foot has fallen since I took the picture above.
Worldly Distractions
Weather
SNOW SQUALL WARNING IN EFFECT
-4 °C
Condition: Light Snow
Pressure: 100.7 kPa
Visibility: 2 km
Temperature: -3.7°C
Dewpoint: -4.7°C
Humidity: 93 %
Wind: WNW 11 km/h
Wind Chill: -8
Quote
"Reason deceives us often; conscience never."
Rousseau
1712-1778