The morning coffee is still being prepared on the range, with the camping percolator. That old percolator was another yard sale scoop, many, many years ago. It is a stainless steel model, so is virtually indestructible. It is shiny at the top, and black on the bottom, from being used over campfires. It works very well. At first Attila's efforts were less than spectacular, but it only took him a few days to get back in the swing of things. More time consuming than a electric coffee maker, coffee making has become a significant addition to Attila's workday preparations.
Last summer I bumped into a sale on electric coffee makers, a decent brand was on sale for $15.00. I bought one just in case. The just in case is now. The new coffee maker is still in the box, at the little house in the city. All that is needed is to pick it up next time we, or I, visit.
The masonry heater was cured immediately following Canadian Thanksgiving weekend. Today, as I sat quietly checking my email, I had my first nosebleed of the season. Sheesh, I wasn't even doing anything strenuous! This year I am on a vaseline-in-the-nasal-passages campaign, which may or may not help; it was suggested to me by my family doctor. I have always had nosebleeds, since early childhood.
Attila spent the day burning brush from his previous clearing projects, and stacking the newly purchased firewood. He finished both projects by dinner time, we are as ready for winter as we can be!
I spent the day removing everything from my dresser drawers and clothes closet. There are items in there from the 1980s! Some of the clothes will never fit me again. Some of he clothes are just one size too small, so those will be stored in bags with the size written on the bag, in theory they may fit again. Everything has been tried on, and sorted. There is a sizeable stack of clothing to be dropped off at the Salvation Army Store. The place where I donate things has a truly needy clientele, the establishment is totally non-profit, and there are not many items in the place, so I am sure that these items will go to very good homes, where someone will use and appreciate them. The items are in "like new" condition.
There are some items that are are worn or torn or just not suitable in some way for donation. The sound portions of fabric will be salvaged from them. Currently I am planning on making tea towels, hot pads, and curtains from articles that would have been destroyed otherwise.
It has been a mild, wet, and blustery day. That doesn't discourage the wildlife. As Attila and I were sitting at the table this morning, chatting over breakfast, he spied a Red Fox trotting down the road in front of the house. It was a beautiful looking animal, well proportioned, with a beautiful bushy red coat, and a magnificent red tail. Attila told me he saw a flock of Wild Turkeys at the end of our road, when he was coming home from work on Saturday. Also, a fat Blue Jay has been flying around the house all week, landing in the branches just outside the windows, and a Red Squirrel has been leaping branch to branch, and darting up and down tree trunks for the last few weeks.
My Great Granduncle Sandy:

He was born in 1854 in Grey County, Ontario, and moved with his family, as a child of 12 years, to Humphrey Twp, Parry Sound District around 1871. My Great Grandfather was one year old at that time. The family took a boat from Midland, travelling on Georgian Bay, Lake Huron, to Parry Sound District, then travelling inland to settle on the new land grant.

Sandy lived in Parry Sound for the rest of his life. His father, my Great Great Grandfather, took a large land grant, which had a substantial amount of lakefront property in Humphrey. Sandy Plains Road was named after Great Granduncle Sandy.

He married three times, being widowed twice, and fathered 13 children, three of whom died at birth. Sandy passed away in 1935, before I was born.

Fishing was not only a favoured sport in the area since time of first European settlement, it also provided the local population with fresh and healthy food.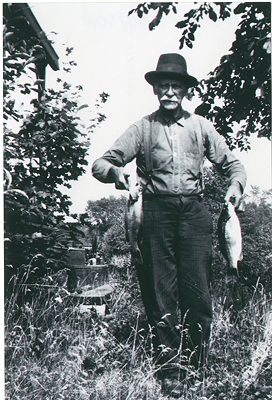 Worldly Distractions
Weather
2°C
Date: 2:35 PM EST Sunday 9 November 2014
Condition: Light Snow
Pressure: 100.8 kPa
Visibility: 11 km
Temperature: 1.5°C
Dewpoint: -0.3°C
Humidity: 88%
Wind: SSE 21 gust 32 km/h
Quote
"You can't deny laughter. When it comes, it plops down in your favorite chair and stays as long as it wants."
Stephen King
1947