We are experiencing another cold snap, last night the temperature dropped to -20C, wind chill -25C, and tonight it is predicted to fall to -21C, wind chill -25C. In reality it has been a little colder than that here at Mist Cottage, as the thermometer outside the kitchen window reads a little higher than than the outdoor temperature, because it is mounted on the wall of the heated house, where some heat is being given off. We are cozy though. The winter thus far has been mild, so that we have used less than a quarter of our winter fuel oil. Last winter we used 3/4 of a tank, so I suppose there is still time for this winter to catch up!

Life is very quiet, which is lovely.

The work on the basement insulation has slowed considerably, Attila's next step is to work on wiring, and that requires shutting off the electricity to the house, to be absolutely safe, so it will be put off until the weather is a little warmer we need our heating system right now. In the meantime, this week he finished the trim and painting on one of the windows in the basement, it is quite cheerful down there now! We plan on painting the floor joists and underside of the floor boards, which form the ceiling in the basement, and that should add quite a bit of cheer down there as well.

Our fermenting projects have yielded mixed results. We still have much to learn. The unripe ground cherries I fermented were very good, I ate a few everyday, and now, alas, they are all gone. I like to have some fermented food each day, so I decided to make Yogurt.

It was quite an ordeal trying to figure out how to do it in the Instant Pot! The manual is useless for my purposes. Almost every recipe I bumped into on the internet was for cold start Yogurt, which is fine, except that it requires the use of ultra-pasteurized milk, which is very costly. I wanted to use regular milk, at regular prices, and finally found a video made by a woman who was using regular milk to make her Yogurt in the Instant Pot.
My first run through any food preservation or preparation project is usually pretty rocky. This Yogurt project was no exception. I first discovered that although I had a Duo Instant Pot, as the woman in the video had, the control buttons on mine work differently than hers. So I opted to begin the process on the stove top, heating 5 cups of 1% milk in a saucepan, over s slow heat, simmering it for 5 minutes. Then I poured it into the Instant Pot, and let it cool to 110F. In a small bowl I added some of the cooled milk to 3 tablespoons of active culture Greek Yogurt, that I had purchased at the grocery store, mixed them together, then added the mixture to the Instant Pot. I stirred that in, put the lid on, leaving the vent open, pressed Yogurt on the controls, and set the timer for 6 hours. Success!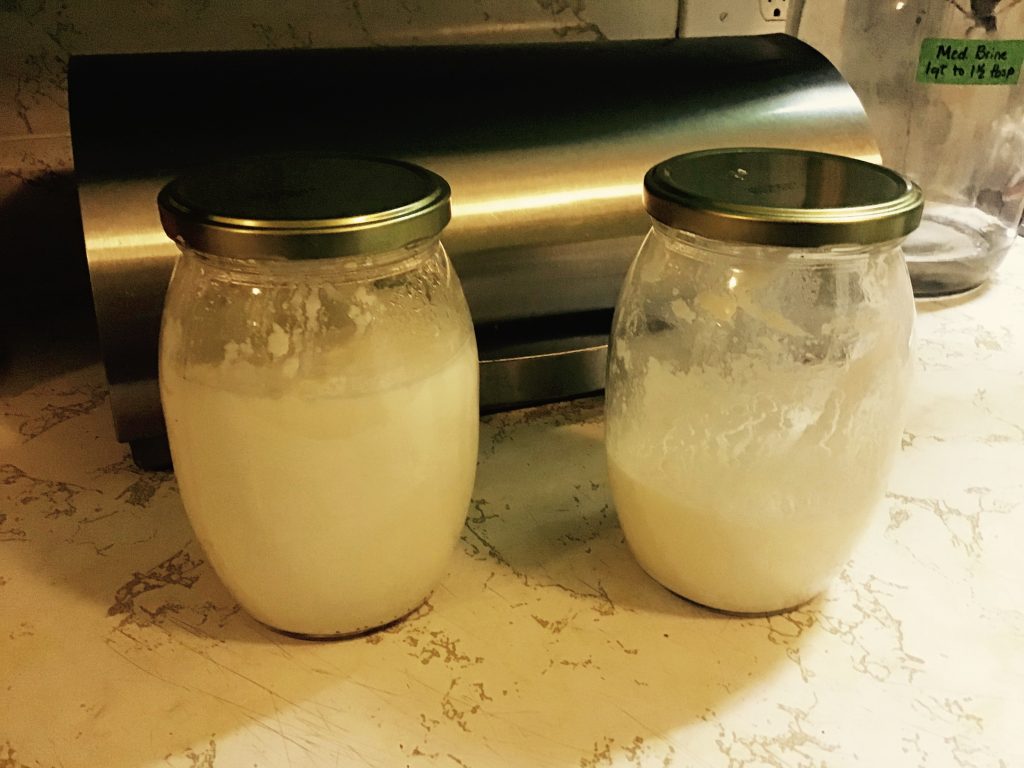 Since my first batch of Yogurt, I have done more research. Apparently, on my Instant Pot, I can adjust the Yogurt button to read boil, which will boil the milk in the Instant Pot. This means I will not have to wash a saucepan next time, a small improvement, but they add up over time, so it is worthwhile.
Let's see, what else is going on around here. Last year I knocked over a table lamp, and broke the glass shade. Finally, the right shade presented itself!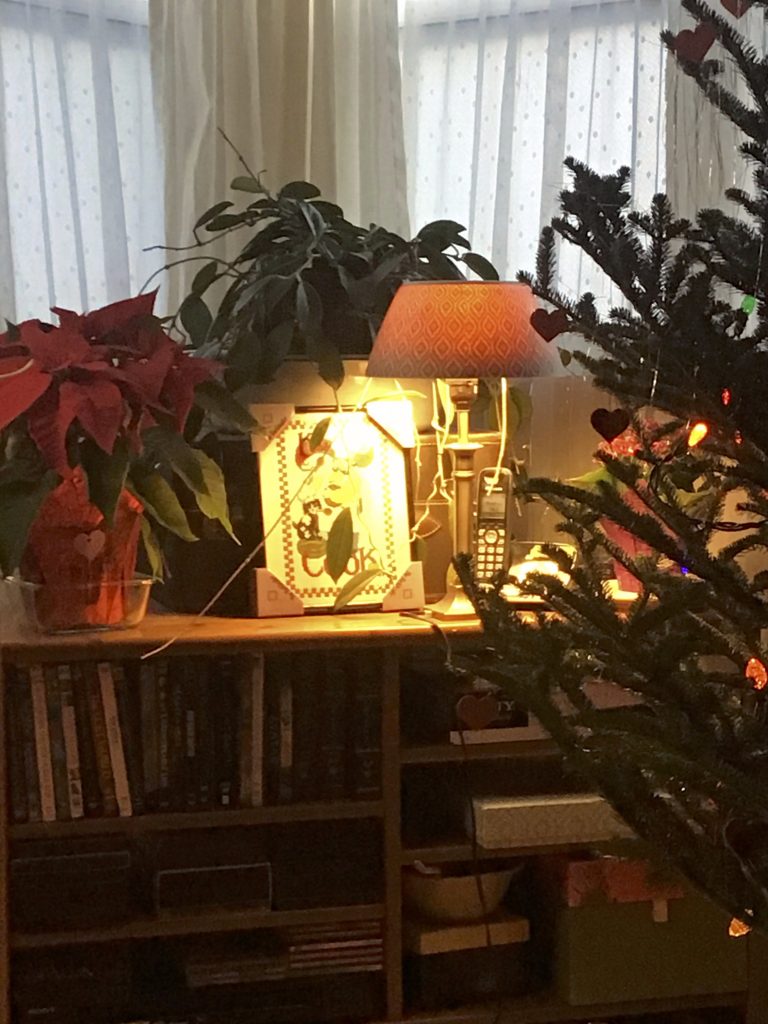 And finally the Christmas Tree project continues. The Christmas ornaments were removed from the tree and stored away in boxes above the basement stairs, where they will wait patiently until next December. The lights and tinsel remain, to provide bright lights and sparkle to the new decorations. The new decorations are small hearts, in honour of the approaching Valentines Day. I was decadent today, and also bought Attila a box of chocolates, which I gave to him, under strict instructions to enjoy them privately, as I should not be eating candy.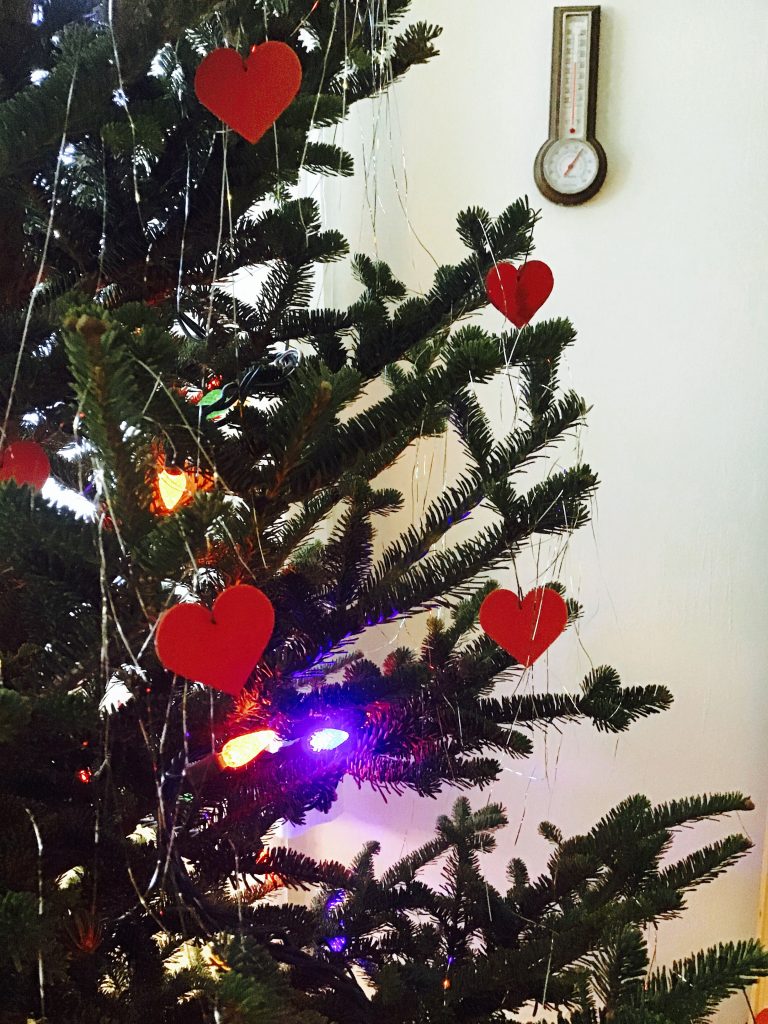 Worldly
Weather
-20°C
Date: 8:00 AM EST Saturday 8 February 2020
Condition: Mainly Sunny
Pressure: 102.1 kPa
Tendency: Rising
Temperature: -19.7°C
Dew point: -23.9°C
Humidity: 69%
Wind: NNW 7 km/h
Wind Chill: -25
Visibility: 24 km
Quote
"Slow down and enjoy life. It's not only the scenery you miss by going too fast – you also miss the sense of where you are going and why."
Eddie Cantor
1892 – 1964