I have just setup FaceTime. I tried to use it after upgrading my Mac to Lion, but it just didn't work when I started the program. Of course, I did not configure the program, nor did I really try. It just was not high on my list of things to do, because I have no one that I'd be talking to over FaceTime. However, while talking to Luna I discovered that she might have FaceTime working on her cell phone. How wonderful it would be to see the grand babies, we haven't seen them since Christmas. They change so quickly when they are so young, and soon enough will come a time when they won't be interested in talking to us at all, as they move into their teen years.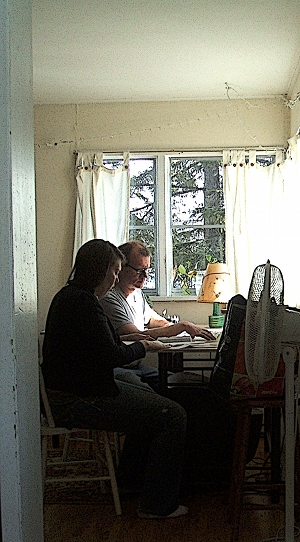 So Saturday morning I configured FaceTime. It was easy enough to setup, the confusion come with all the Apple accounts that I have, a developer account, an Apple Store account and apparently there is another account that I didn't realize I have. So the accounts had to be sorted before setting up FaceTime. All done now. All dressed up and nowhere to go!
It was very cold and very windy Friday night, -19C, and it was chilly in the house Saturday morning. The cold has been vanquished though, as the temperature has risen to 15C during the day today. The house is now warm and toasty. Still, this evening Mist is sitting in front of a roaring fire, gazing in awe and worship at the dancing flames.
Attila worked Saturday morning, I did not. My morning was filled with computer tasks such as setting up FaceTime and paying bills. In regards to paying bills, the mild winter has been kind to us in many ways, and one is that our wood fuel use and heating bills are reasonable. Of course, the electric heat used while we were away in February will be quite expensive; but we factored that into our budget for our unpaid vacation time. The fuel bill for our little house in the city was quite reasonable, due to the warmer weather and keeping the house at 9C most of the winter.
Attila and I are deeply into planning our next "renovation vacation". We tackle the big renovation projects when we have a two week run at things. We are getting quotes to remove the disintegrating front porch on the little house in the city. Where it was attached to the house it has rotted the siding, which is where the chipmunks had gained access to setup a colony inside the house. We have that all boarded up and have evicted the unwelcome residents. Water, however, is not as easy to control as chipmunks. The whole wall of the basement where the porch was attached is soaking wet most of the time. Dampness, mould and mildew are still a problem. Nothing for it but to remove the porch, dig up around the foundation, waterproof the exterior wall, backfill, repair the rotting sill plates and siding and build a new porch.
This is the truly "big ugly" project for this house, the real reason why no one else wanted to buy it. The remaining renovations will be significantly less intrusive on our occupation of the house and our pocketbook.
Today you would have sworn that spring has arrived! Sunny skies, 15C in the shade and a warm breeze. Heavenly!! This kind of day has to be enjoyed as gift from the universe at this time year. Oh yes, winter will be back! But just for today we could forget about it completely!
This afternoon Attila and I attended an "open stage", where we enjoyed hearing live music. We stayed after the performances and I played my bodhran as songs were being shared. It was wonderful to play with people again, it has been over eight years since I've played with anything other than recorded music through my headphones. Although I felt excruciatingly shy and nervous about being heard by others, I pushed through it and carried on. I wasn't great, but then not many fall into my great categorization anyway. By the time the third song came to a close I was feeling the usual lightness of spirit that the drum brings to me. It comes so easily when music is shared.
Worldly Distractions
Weather
-17 °C
Condition: Clear
Pressure: 103.5 kPa
Visibility: 16 km
Temperature: -16.8°C
Dewpoint: -17.7°C
Humidity: 93 %
Wind: 4 km/h
Wind Chill: -20
Quote 
"One event makes another: what we anticipate seldom occurs; what we least expected generally happens; and time can only prove which is most for our advantage."
Benjamin Disraeli
Note
Benjamin Disraeli, 1st Earl of Beaconsfield, KG, PC, FRS, (21 December 1804 – 19 April 1881) was a British Prime Minister, parliamentarian, Conservative statesman and literary figure. He served in government for three decades, twice as Prime Minister of the United Kingdom. Although his father had him baptised to Anglicanism at age 12, he was nonetheless Britain's first and thus far only Prime Minister who was born into a Jewish family—originally from Italy. He played an instrumental role in the creation of the modern Conservative Party after the Corn Laws schism of 1846…
Disraeli turned towards literature after his financial disaster, motivated in part by a desperate need for money, and brought out his first novel, Vivian Grey, in 1826. Disraeli's biographers agree that Vivian Grey was a thinly veiled re-telling of the affair of The Representative, and it proved very popular on its release, although it also caused much offence within the Tory literary world when Disraeli's authorship was discovered. The book, initially anonymous, was purportedly written by a "man of fashion", perhaps Ross M. Brown – someone who moved in high society. Disraeli, then just twenty-three, did not move in high society, and the numerous solecisms present in his otherwise brilliant and daring work made this painfully obvious. Reviewers were sharply critical on these grounds of both the author and the book. Furthermore, John Murray believed that Disraeli had caricatured him and abused his confidence–an accusation denied at the time, and by the official biography, although subsequent biographers (notably Blake) have sided with Murray…
Disraeli's writing is generally interesting, and his books teem with striking thoughts, shrewd maxims, and brilliant phrases which stick in the memory; on the other hand, he is often artificial, extravagant, and turgid. Critic William Kuhn argued that much of his fiction can be read as "the memoirs he never wrote", revealing the inner life of a politician for whom the norms of Victorian public life appeared to represent a social straitjacket – particularly with regard to his allegedly "ambiguous sexuality…
Before he entered parliament, Disraeli was involved with several women, most notably Henrietta, Lady Sykes (the wife of Sir Francis Sykes, 3rd Bt), who served as the model for Henrietta Temple. It was Henrietta who introduced Disraeli to Lord Lyndhurst, with whom she later became romantically involved. As Lord Blake observed: "The true relationship between the three cannot be determined with certainty … there can be no doubt that the affair [figurative usage] damaged Disraeli and that it made its contribution, along with many other episodes, to the understandable aura of distrust which hung around his name for so many years."
In 1839 he settled his private life by marrying Mary Anne Lewis, the rich widow of Wyndham Lewis, Disraeli's erstwhile colleague at Maidstone. Mary Lewis was 12 years his senior, and their union was seen as being based on financial interests, but they came to cherish one another.