Wednesday, May 8, 2013
On the job yesterday, I sat down for 15 minutes, between 8:15 and 5:15. It was a very busy day, and I should have sat out my unpaid lunch hour, and taken my two ten minute breaks, but I didn't. If I had, the work would not have been completed, customers would not have been served. So I did what had to be done to do to run the place by myself for the day. There will be little thanks for it, from the management. I don't care, I feel better when I do a good job. However, were I to be working every day like this, I would hunker down and take my unpaid lunch hour for myself, and my two ten minute breaks. I would have a chance to organize the work flow to that end. But going in to take over for one day, a few times a year, means it is a whole new ball game, every time.
Last night I was so tired I could hardly put two sentences together!
And I was very, very stiff from standing the whole day long. This morning I woke up refreshed and not too stiff at all. Thankfully, this recovery took place without the aid of medication.
Today I have been working on my genealogy sources, and making a bit of headway. I am still working on the first generation to arrive in Canada, in 1820. Right now I am looking at the available information for Bella, one of my GGG Aunts. She was single and living with her father until his death. Then she married, at the age of 48, a widowed man with eleven children. It seems that the relationship did not bloom, as I find her in the census again at the age of 55, married and living alone as the head of her own household, employed as a seamstress. And that is what she continued to do, support herself as a seamstress throughout the ensuing years. I am still looking for a record of her death, and information about where she is buried. That has taken up most of the day today, and I still haven't found any death or burial records. They are probably out there somewhere, obscured by misspellings and poorly transcribed indexes.
My diligence in making my required calls to all those government agencies seems to have paid off. The whole episodic experience was due to a deliberate refusal by my former employer, to abide by the laws of the land. I came home from work yesterday to a recorded message asking me to call the government agency, providing me with an extension to a direct line. I made the call and was thrilled to hear the news, that the issues have been assessed and apparently resolved, and that I am to receive a modest payment due to the adjustments. It is a rare case where honesty is the best policy, rarer than I would like to think. I have been meticulously honest with the three government agencies I have had to deal with over this issue. I kept meticulous records of my former employers actions and statements. I have been slightly euphoric all day, it has been almost a year since this fiasco began. Being a bit superstitious, I hesitate to say the issue is resolved. Just me, dodging the evil eye.
The sky has spent the day gathering clouds, colouring them blacker as the day grows older. I wouldn't be surprised if we get rain this evening. There is a fire ban in the area at present, and the retreating waters of the recent flood, it is an odd combination. We need the rain on the land, but we do not need more water in the lakes and rivers.
Thursday, May 9, 2013
Last evening I was sidetracked, I was focused on not eating. I had to fast from 8:00 p.m. last night, so that I could get a routine blood test this morning. The danger was, and is, that I will forget that I am fasting and grab a glass of orange juice or some other treat I should not have. And that would mean I would have to start all over again with the fasting.
The laboratory is a one hour drive away, and will be crowded when I get there. Everyone who has had to fast for their blood test shows up first thing in the morning, so that the waiting room is sometimes standing room only, and the wait can be long. I have seen seniors, with low blood sugar from fasting, experiencing conflicts over the queue. Getting a blood test is a half day ordeal.
I will take food with me in the car, and something to clean my hands with, before I eat. After I eat and drink some water, I will hunt down a Tim Horton's and savour a rare store-bought cup of coffee. When energy levels are replenished, there will be chores to do. I have a list. Another hour long drive, and then I will be home, sometime in the afternoon!
The day is cloudy, and will be warm, 22C. The birds are singing in the trees, and the newly unfurled leaves are slightly swaying in the breeze. Mist is sleeping in her basket, having had a few sips of her morning milk. The next door dog is barking to get in after his morning consitutional.
I am looking forward to the day.
Spring Morning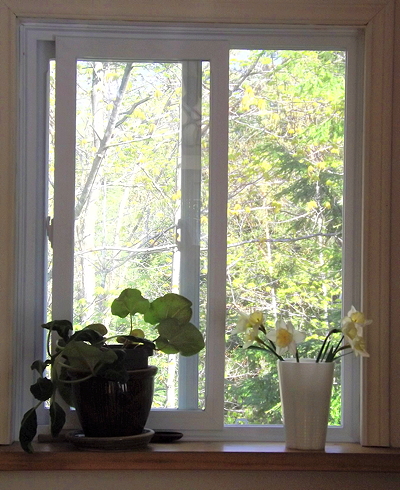 Worldly Distractions
Weather
25C
Condition: Cloudy
Pressure: 101.5 kPa
Visibility: 16 km
Temperature: 23.9°C
Dewpoint: 7.3°C
Humidity: 34%
Wind: SE 8 km/h
Quote
"The optimist proclaims that we live in the best of all possible worlds; and the pessimist fears this is true."
James Branch Cabell
1879 – 1958
Note
"James Branch Cabell (pron.: /ˈkæbəl/; April 14, 1879 – May 5, 1958) was an American author of fantasy fiction and belles lettres. Cabell was well regarded by his contemporaries, including H. L. Mencken and Sinclair Lewis. His works were considered escapist and fit well in the culture of the 1920s, when his works were most popular. For Cabell, veracity was "the one unpardonable sin, not merely against art, but against human welfare…
Cabell was born into an affluent and well-connected Virginian family, and lived most of his life in Richmond. The first Cabell settled in Virginia in 1664; Cabell's paternal great-grandfather, William H. Cabell, was Governor of the Commonwealth from 1805 to 1808. His grandfather, Robert Gamble Cabell was a physician; his father, Robert Gamble Cabell II (1847–1922), had an MD, but practiced as a druggist; his mother, Anne Harris (1859–1915), was the daughter of Lt. Col. James R. Branch, of the Army of the Confederate States of America. Cabell County in West Virginia is named after the Governor. James was the oldest of three boys—his brothers were Robert Gamble Cabell III (1881–1968) and John Lottier Cabell (1883–1946). His parents separated and were later divorced in 1907…
On November 8, 1913, he married Priscilla Bradley Shepherd, a widow with five children by her previous marriage.[2] In 1915 a son, Ballard Hartwell Cabell, was born. Priscilla died in March 1949; Cabell remarried in June 1950 to Margaret Waller Freeman."
Source: http://en.wikipedia.org/wiki/James_Branch_Cabell