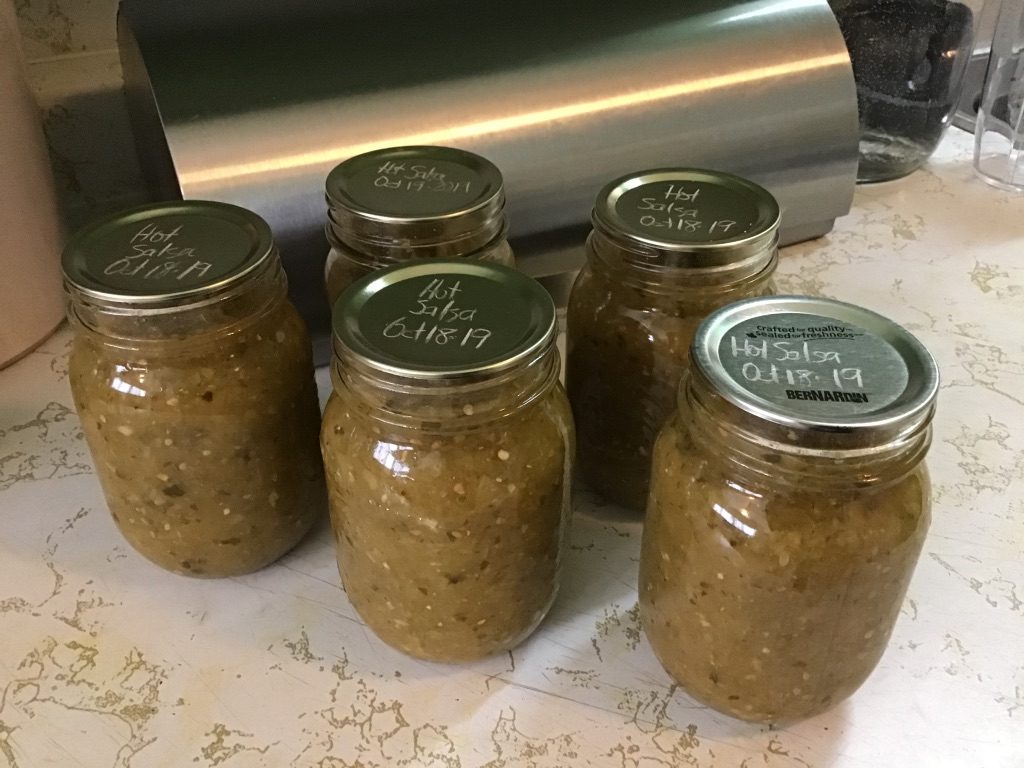 Saturday, October 19, 2019
Early last week I ran into a problem with a piece of software on one of my older Macs. It was a result of an incompatible update, which had auto-updated. I began interacting with tech support for the software company, the issue was escalated to more technical support team. I interacted with them for days, tried all their suggestions, and nothing worked. The old Mac just would not connect to the internet. I feared its functional life was over.
Frustrated with the software tech support, this morning I got out of bed, immediately setup the computer, and started to play around. I kept playing around for over an hour, then I found the issue and fixed it. It was a setting buried deep in the software, which needed only to be toggled off, which let me connect to the internet, which let me update the software to get rid of the issue. It is a wonder the tech support didn't start with that setting when they were troubleshooting with me! I feel very satisfied that I fixed the problem, despite, and not because of, technical support.
Today is an apple day. I am finally sitting down, after being on my feet since 9:00 a.m., it is just after noon now. One half bushel of apples has been peeled, cored, diced, and is now sitting in pots on the stove, on a low heat, turning itself into applesauce. Attila peeled, I cored, sectioned, and diced. I hope we get to the other half bushel today, but I don't hold out much hope. Sixteen quarts of apples are going to take some time to cook into applesauce, and can.
These Northern Spy apples are very dense. Water needs to be added at regular intervals when it is being cooked and made into applesauce. Stirring it is hard work, and it cooks very slowly, so there is a lot of stirring. My arm and wrist are very sore.
The peels and cores are being saved to make apple cider vinegar. Our first batch, made last fall with crab apples, is fantastic. So we are in high hopes that these apple scraps will give us some wonderfully flavoured apple cider vinegar.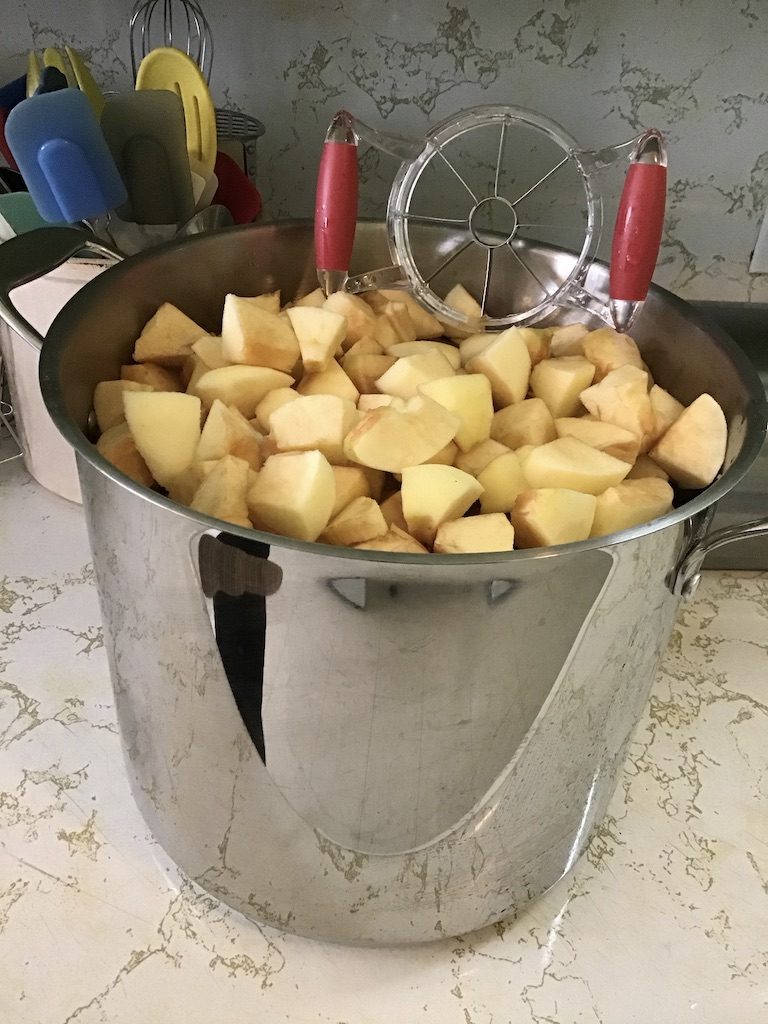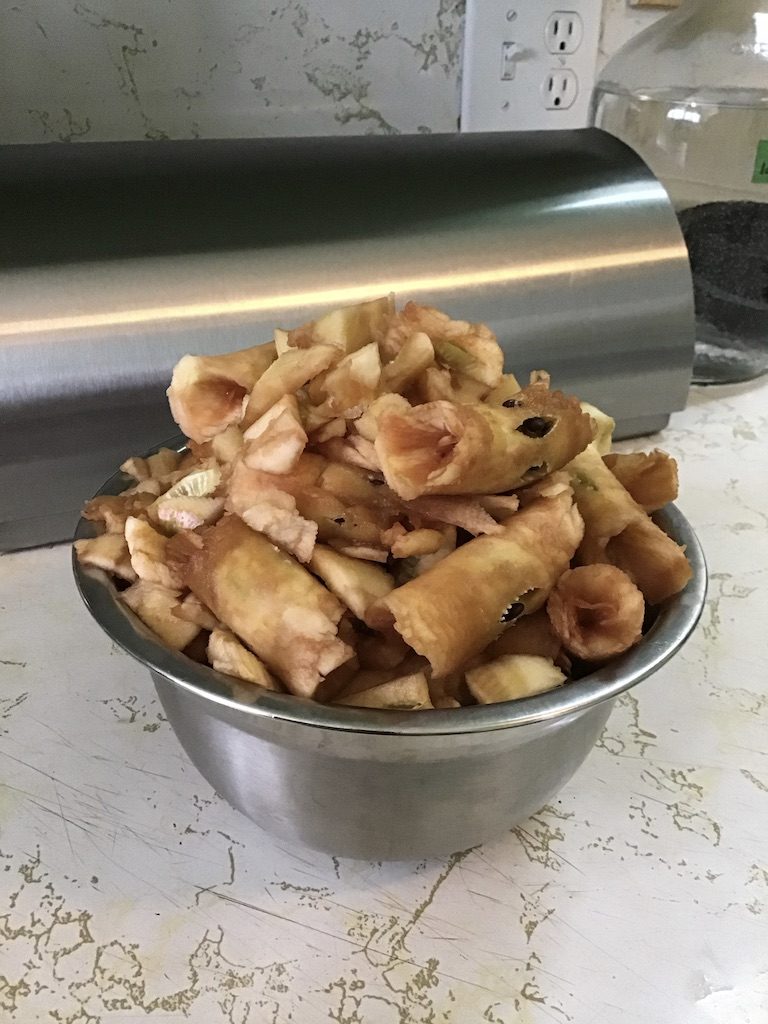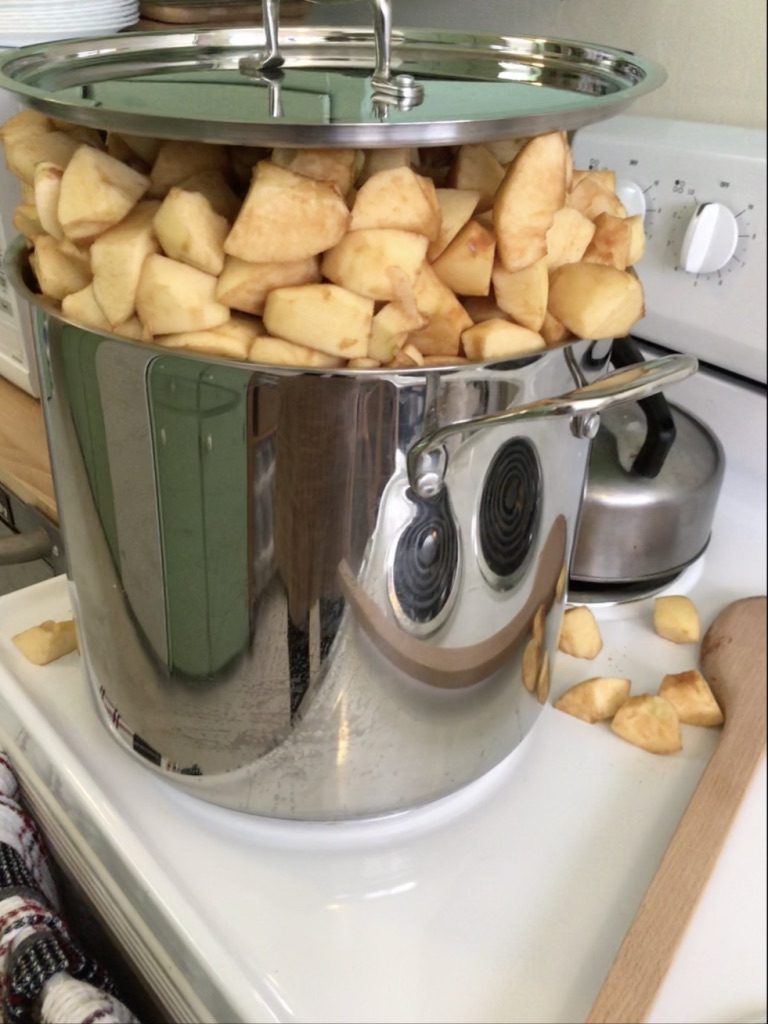 Monday, October 21, 2019

This morning the fog was thick and the air was chill.

It got busy around here after I wrote Saturday's entry. I added the photographs and wrote the captions today.

Sunday Attila peeled all but a dozen or so apples from the second half bushel. I cored, and processed them in the food processor. They took about four hours to cook, using two large stock pots, even though the apple pieces were pea size. And I had to add a little more than 4 litres of water to keep them from becoming too thick to stir. Wow, I don't remember Northern Spys being so difficult to cook. Attila thinks it is due to the very dry summer we have had this year, so there is not much moisture in them, and they are very dense.

I ended up with 5 more quarts of applesauce for the shelf, which were washed, labelled and put away on the basement shelf this morning.

The apple cores, and bits that didn't make into the applesauce pot, were placed in a 5 liter fermenting crock. After covering them with a water/sugar mixture, I added a few tablespoons of active apple cider vinegar. A clean cotton cloth was placed over the crock, which was secured against fruit flies, and other interested parties, with an elastic band. This will be stirred every morning for two weeks. Then the liquid will be strained from the fruit and returned to the crock to turn itself into cider, then vinegar.

My next canning project presented itself to me yesterday. I was about to make dinner, an Instant Pot rice dish with turkey and hot chili, very tasty. But I suddenly realized that all of my vegetable broth was frozen! Oh dear, I had to thaw it slowly in the microwave, adding quite a bit of bother to the meal preparation.

I started making vegetable broth from vegetable scraps in August, when our garden started to deliver a lot of fresh produce. A total of about 10 quarts have been made since then, five of them I have used already for cooking. The other 5 are still in quart jars in the freezer. I was so busy with canning and roasting and drying and fermenting, and the broth was being produced only a quart at a time, that it just seemed more practical to freeze the small quantities vegetable broth.

But frozen vegetable broth does not work well for my style of cooking!

So today I have five quarts of frozen vegetable broth thawing on the counter. Once I can get it out of the jars, I will put it into the 16 quart soup pot, boil it for 10 minutes, then can it in 500-ml jars. Then it will be sitting ready to use on the shelf when I need it, no forethought required. These will be pressure canned.

Attila loved the Fermented Jalapeno Peppers I made for him. They are all gone now. We have a few ferments on the go, green tomatoes, and Brussels Sprout leaves. Attila also has a ferment of his own on the go, hot peppers. Yesterday he started yet another ferment, green cherry tomatoes, with fresh coriander seeds and garlic. Fermenting is easy. But we did have a failure, the second batch of sauerkraut. We will try another batch of Sauerkraut when the fermenting crock is free again, as it is now being used to make Apple Cider Vinegar.

And still there are things to preserve! There are about 20 pounds of tomatoes ripening in the basement. Thankfully all of the tomatoes have been harvested now, no more coming in from the garden. The Swiss Chard was harvested as well, and it will be processed tonight, probably blanched and frozen. BUT Attila says the Swish Chard has not given up, and it is growing like crazy right now, so there might be another harvest. There are some small cabbages that grew from the roots of the earlier harvested cabbage plants. And there are six more Brussels Sprout plants to harvest, Brussels Sprouts and leaves. And beets, lets not forget the beets that are still to be harvested.

Three months of steady food preservation activity. And I have so many conveniences, choppers, shredders, pickle pipes and pucks, a fermenting crock…

I do this because I choose to do it, because it is a hobby with benefits, lots and lots of benefits.

But can you imagine having to do this for a family with many children, on a wood stove… before all this modern technology, because someone HAD to do it, to be on the home front making sure the food supply didn't spoil. This work was a respected part of the art of survival.
Worldly
Weather
11°C
Date: 11:37 AM EDT Monday 21 October 2019
Condition: Mostly Cloudy
Pressure: 102.0 kPa
Tendency: Rising
Temperature: 10.5°C
Dew point: 10.5°C
Humidity: 100%
Wind: NE 13 km/h
Visibility: 16 km
Quote
"Human salvation lies in the hands of the creatively maladjusted."
Martin Luther King Jr.
1929 – 1968