The weather yesterday, and again toady, is chilly, very windy, and very wet. The stiff wind begun to rob Mist Cottage of her comfort. The indoor temperature had been holding steady at 20C, despite single digit temperatures at night, until yesterday. The temperature dropped to 19C by yesterday morning, and was 18C when I arose this morning.

Yesterday I spent the day with four layers of clothing to stay comfortable. Even though I had changed the bedding to flannelette sheets, the cold was uncomfortable during the night. So this morning, when I arose, I turned on the heating system for the first time this autumn. For me, this means autumn has officially begun.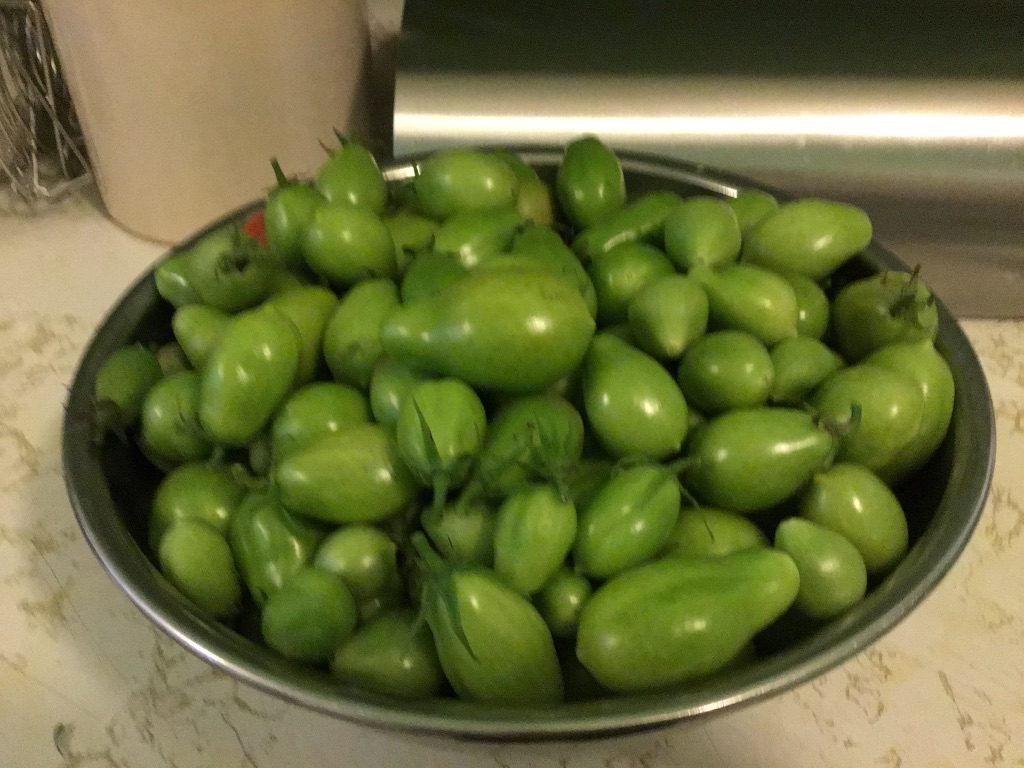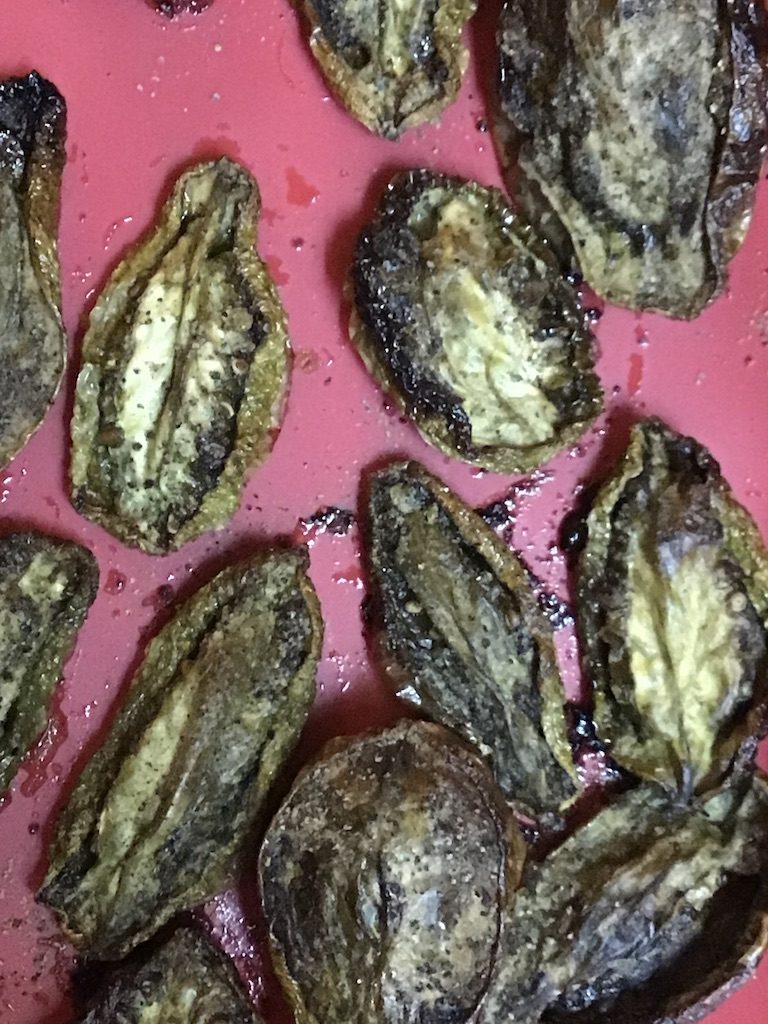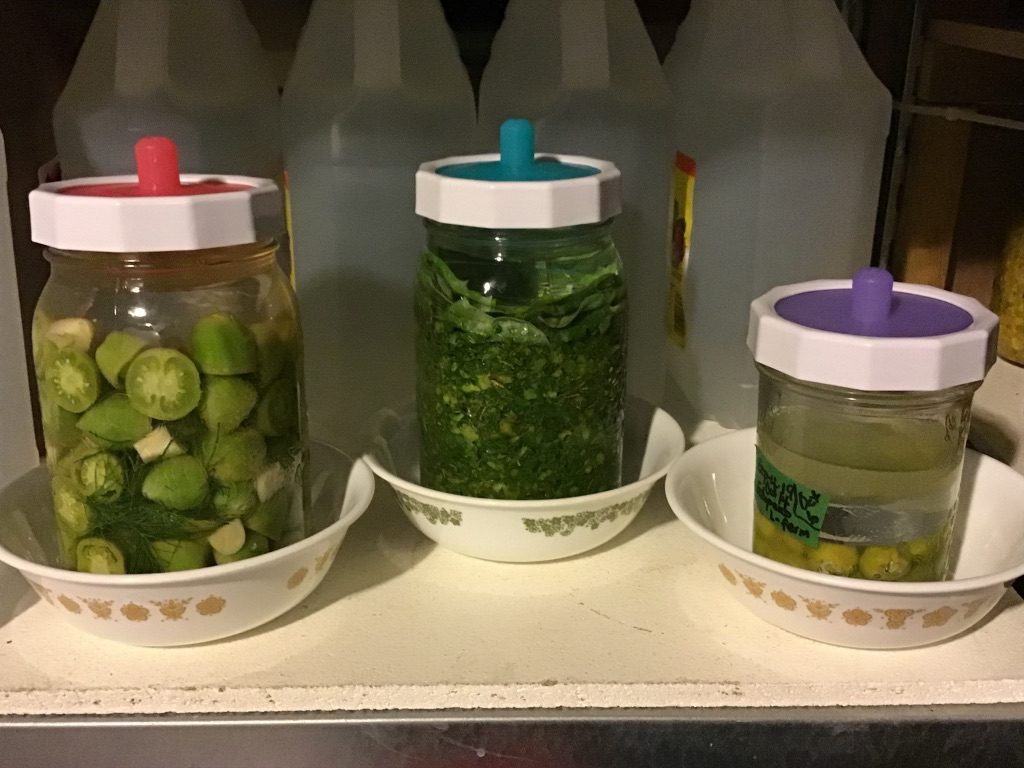 On Wednesday I did some steam canning. When I was done there were 10 jars of Green Tomato Salsa Verde cooling down on the table, all of them sealed.

I had roasted green tomatoes on Monday, but we decided that although they were nice, we would not roast any more of them. They are salty, so no matter how delicious they are, I won't be eating them. And Attila wasn't super keen, certainly not keen enough to warrant all of the oven time involved in preparing them. So roasted green tomatoes are not on my list of preservation methods for green tomatoes.

And the experimental fermenting goes on. We are trying to ferment Green Tomatoes, diced Brussels Sprout leaves, and Habanero peppers. So far so good with these jars, no mold and the pickle pipes seem to be working to release gases.

Yesterday morning I baked a batch of Cranberry Muffins for Attila's lunches, and last night I processed a small batch of ripe tomatoes to be made into pizza sauce.

Also last night Attila brought in another 8 pounds of green tomatoes. And more to come he says. I admit to alarm! My oh my we have tomatoes! It was decided that another batch of Green Tomato Salsa Verde wouldn't go amiss, so that is what I will be up to today.

Our weekend is reserved for preserving our bushel of Northern Spy apples.

And then, and then, well then just maybe harvest season will be over for this year.

I don't know how many Beets, Brussels Sprouts, Swiss Chard, or Cabbage will be harvested. Not too much I hope, and I never dreamed I would hope such a thing.

Really my eyes are beginning to cross with all of this bounty. And I have an appliance that will shred and chop the produce. What hard work people did to feed large families, without even electricity! Of course, children worked along with the adults in rural populations (most people in history), survival was a family affair.
Worldly
Weather
7°C
Date: 8:00 AM EDT Friday 18 October 2019
Condition: Cloudy
Pressure: 101.2 kPa
Tendency: Rising
Temperature: 6.7°C
Dew point: 2.6°C
Humidity: 75%
Wind: WNW 12 km/h
Visibility: 24 km
Quote
"Many hands make light work."
This proverb was first recorded in English in the early 1300s in a knightly romance known as Sir Bevis of Hampton.