Wood heat brings the humidity in the house so low that I begin to experience nose bleeds. This is a chronic winter problem, in this house heated exclusively with wood. I have a pan of water sitting by the stovepipe, which I fill with a few cups of water every morning. I run a humidifier for several hours every morning to increase the humidity. The Christmas Tree must be watered every day, sometimes twice a day, to prevent it from drying out.
It has been cold, -25C last night. Even though Attila worked hard to get the interior temperature up to almost 23C last night, by morning it was down to 17C, and nippy near the exterior walls. It is hard work keeping the house warm when it gets this cold, particularly because there is a light wind blowing. On top of that the snow removal is getting ahead of Attila, who has been "slowing down" a bit, after working all day in the frigid outdoors. He goes to bed early and sleeps deeply.
We had a week of snow and storm, then one day of sunshine, now it is storming again. Snow is forecast for all of next week. Uncle!
Our one day of sunshine! I rotated my chair so that I was facing the window and the view. It clouded over next morning and the chair is back in its usual position, facing the masonry heater.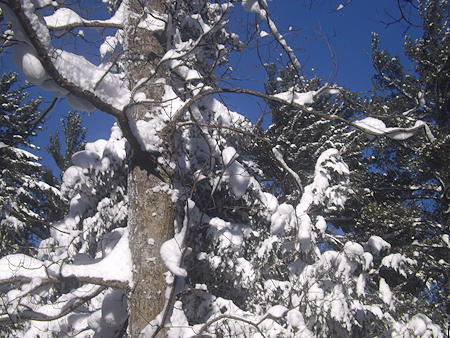 I am contemplating small changes in my environment. Living in the bush, curtains for privacy are redundant. The north facing windows in the living area have never had window treatments. During the day those windows frame the beautiful natural environment. At night the windows are black, fathomless holes in the walls, radiating an icy chill during the winter.
There are no retail outlets near here to buy reasonably priced hardware, or much of anything else for that matter. So, looking at what I already have in the cupboard, two previously unused Christmas tea towels offered a solution. They are white, with red Christmas Trees printed on them. Without the hardware to hang them as curtains, I resorted to tape. They are taped to the bottom half of the windows. We can still see the landscape through the uncovered glass above them. Not your Better Homes and Gardens solution, but one improvises, and makes do with what one has. I found them jarring at first, but they have grown on me, and now add a cozy feel to the kitchen. Attila likes them, which is important because the kitchen is basically his domain.
The kitchen "Christmas Curtains".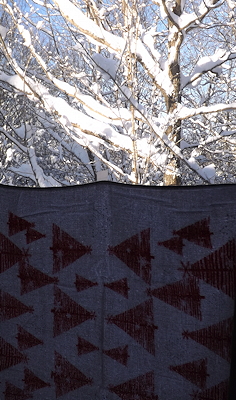 Window treatments are my decorating stumbling block. I just do not like most of what is sold in the stores, mostly due to functionality considerations. For instance, why are there not blinds that show black on one side and white on the other, so that in the summer the white side can be displayed to the hot sun to reflect heat, and the in the winter the black side can be displayed to the sun to collect heat. That isn't rocket science, so why are there no products of this nature available? I guess because I am a marketplace of one; most consumers seem to be focused on visual considerations.
The last time we purchased supplies, with the exception of fresh milk, was on December 2nd, when we were visiting the little house in the city, twelve days ago. I hope to get out before Christmas, as I haven't bought Attila's Christmas present yet! More storms on the way though!
A friend on Facebook suggested an activity, to "list of 10 books that have affected you". I read these books between the age of six and 16, a ten year stretch of avid reading. Here goes:
Pilgrims Progress, John Bunyan, my very first borrowed library book, Grade 3, which affirmed for me that indeed, adults are insane. Nothing I have since observed has offered proof otherwise.
Poems, Robert Service, read aloud by Mother as bedtime stories.
Poems, Henry Wadsworth Longfellow, recited by Mother as bedtime stories.
Dick and Jane, William S. Gray and Zerna Sharp, comprised my first mandatory reading list.
What Katy Did, Sarah Chauncey Woolsey
Nurses Who Led The Way, Adele de Leeuw, a gift from our school teacher aunt.
The Chronicles of Narnia, C.S. Lewis
Wuthering Heights, Emily Bronte
A Tale of Two Cities, Charles Dickens
The Lord of the Rings Trilogy, R.R. Tolkien
Feel free to add your list to the comments!
Worldly Distractions
Weather
-23°C:
6:00 AM EST Saturday 14 December 2013
Condition: Mostly Cloudy
Pressure: 103.4 kPa
Visibility: 16 km
Temperature: -23.1°C
Dewpoint: -26.1°C
Humidity: 77%
Wind: E 8 km/h
Wind Chill: -30
Quote
"…I have you fast in my fortress
And will not let you depart,
But put you down in the dungeon
In the round-tower of my heart.
And there will I keep you forever,
Yes, forever and a day,
Till the walls shall crumble to ruin,
And moulder in dust away! "
The Children's Hour
Henry Wadsworth Longfellow