Sunday, December 28, 2014
I have decided to call a phenomena in my life WeMe.
During December Attila and I were able to spend a lot of time with one another. It was wonderful. The month of December flew by. We lived within each other's sphere of energy, connected in so many ways.
This morning the connectedness altered, Attila and Mist drove away into the north, leaving… me. Suddenly I wasn't operating in a we environment, but a me environment.
WeMe is a disorienting experience. The initial sadness and sense of loss is difficult. It mellows out though, particularly after Attila and I begin our routine communication by telephone and FaceTime.
After Attila and Mist drove off, I had a good long cry, then I got to work. I started cleaning the house from top to bottom. I cleaned out a closet, washed the floors, chased down all the balls of fluffy cat hair in the corners, and moved the furniture.
And so it begins, the big winter of me. Attila has no more vacation time, and will be working six days a week in the north. Overnight visits in the winter are not feasible. He will have at least two two-day breaks between now and April, and we are hoping the weather will be fine for travel on those rare events, so that he may visit the little house in the city. This arrangement is not what we had planned, it is just what evolved, as our best laid plans took on a life of their own. Life is like that, mostly just coping with the forces of "nature".
We just spoke on FaceTime. The weather at the country house was mild and sunny when Attila arrived. By the time we spoke, around 8:00 p.m., there was a storm blowing in, and already over 1 1/2 inches of snow had fallen. I miss Attila, but I am not sorry to miss that snow!
Monday, December 29, 2014
After chatting with Attila over our morning coffee, via FaceTime, I ate a breakfast of cinnamon oatmeal with dates. Over the course of December my diet descended into decadence, forsaking my morning oatmeal for pancakes and bacon, and commercial cereals of various kinds. Now it is time to revert to my regular and healthier diet, which consists of homemade oatmeal for breakfast, a lunch that includes vegetables, a light supper, and a "treat" of fruit juice and soda during the evening. I drink a lot of water over the course of the day. This is all kind of boring I suppose, but food is dangerous stuff for people with anaphylaxis, and having dependable food is far more important to me than variety. Routine menus free me from stress, fear, and time consuming planning.
Attila awoke this morning to a world of white, I opened the drapes to a black, brown and grey landscape, with a skiff of snow here and there. Fortunately the snow at the country house was scant enough that shovelling was not required, making Attila's morning a lot less stressful.
Over the past ten years, during the winter, Attila would build a morning fire and head out for work, leaving me to close the dampers at the end of the burn in the masonry heater. This year, for the first time, I am not there. The upshot is that Attila must rise at 3:00 a.m., begin the firing in the masonry heater, then head back to bed until 6:00 a.m., when he must rise again to close the damper, and prepare to go to work. This will require some adjustments in his sleeping patterns.
Here at the little house the Heat Pump continues to provide almost all the heat for the house. We have had the heat on, at 10C when we are not here, and at 20C when we are here, which I have been almost all of December. I turn the thermostat down to 16C before retiring for the night, as this is my preferred sleeping temperature. The fuel in the oil tank is at the same level as it was in October, so we have used very little fuel oil, perhaps none. Thus far, I am unable to detect if and when the oil furnace is engaged.
Looking at the long range weather forecast for the little house in the city, I can see that the overnight temperatures will be falling below -7C with some regularity. The Heat Pump will not attempt to heat the house when the exterior temperature is below -7C. So it looks like the oil furnace will be put to work for the month of January, at least during the night. We are still waiting to see what the next hydro bill looks like, as it will reflect a period when the heat was turned on over the entire billing cycle.
I have been sitting here thinking how fortunate is was that we experienced our intense winds on Christmas Eve and Christmas Day. The wind ripped several shingles off the roof. So, on Christmas Day Attila got out his ladder, grabbed his hammer and set to work. I would be in a bit of pickle if this had occurred while Attila was in the North. I am sure though that Lares would have come to the rescue, in case of emergency. It is difficult to admit to myself, but my days of climbing up on the roof are over, otherwise I could fix it myself.
It was a sunny, breezy, cool, and beautiful day. I managed to get out for a walk. I developed a blister on my heel during a walk last week, and the blister is still sore, not completely healed. A cloth bandaid helped protect the wound, but I needed to pace my steps carefully and slowly. After my walk I had a light snack, before taking Tank for a drive downtown. I had to buy postage to mail some forms, which I accomplished. Parking Tank is an intimidating procedure. Luckily I found a perfect spot about two blocks from the Post Office, one where I could drive into the parking spot, and drive out again, without having to back up, or risk practising backing up, near other vehicles.
The rest of the day was spent taking care of administrative tasks online, gathering ingredients for making Chili, which I plan on cooking tomorrow.
The sunshine today has been a real mood lifter.
Bottles. Attila collected these bottles, spoon, and the tin can at our camp. Vintage 1890s to the 1940s, these bottles, spoon, and tin can might have been used in the day-to-day life of my Granny and Grandpa, or their neighbours, people they knew, people who shopped at their store, picked up the mail at their Post Office. The railroad tie nail (spike) is from the J. R. Booth's Ottawa, Arnprior and Parry Sound Railway, or OA&PS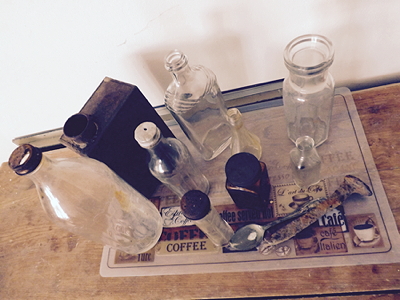 Worldly Distractions
Weather
1°C
Date: 9:00 PM EST Sunday 28 December 2014
Condition: Cloudy
Pressure: 101.8 kPa
Tendency: rising
Visibility: 24 km
Temperature: 0.8°C
Dewpoint: -4.3°C
Humidity: 69%
Wind: W 13 km/h
-3°C
Date: 7:00 AM EST Monday 29 December 2014
Condition: Cloudy
Pressure: 102.3 kPa
Tendency: rising
Visibility: 24 km
Temperature: -3.1°C
Dewpoint: -8.8°C
Humidity: 65%
Wind: NNW 10 km/h
Wind Chill: -7
Quote
"I have seen flowers come in stony places
And kind things done by men with ugly faces
And the gold cup won by the worst horse at the races,
So I trust too."
John Masefield
1878 – 1967