Attila and I visited the little house in the city this past weekend. It was two whole days off work for Attila! Sort of. It was a long drive there and back. We made a few stops, to eat, to purchase fuel, to drink coffee. Attila needed coffee to keep him awake, as he had worked for eight hours straight on Friday, arrived home, packed the car, and then drove for five hours. He was exhausted when we arrived at the little house in the city, close to midnight.
As we drove down the street Friday night, approaching the little house, we were shocked at the state of our yard. It was a hayfield! We had not been able to visit for five weeks. Terra cut the grass after two weeks, then three weeks passed with the grass uncut, until we arrived. There had been plenty of rain all spring, and the flora had flourished.
First thing Saturday morning Attila began the task of cutting the lawn. I was sent to purchase groceries, as we had not been grocery shopping for five weeks. When I arrived back, Attila was still making the first pass on the lawn. He had to cut it twice, as the first pass was inadequate to the job. Then the cut grass had to be raked and carried to the compost. Attila was tired when he finished the job!
Is it a hayfield, or is it our lawn. Unfortunately, it is our lawn! The first pass with the mower took most of it, but the results were not visually appealing. So, Attila cut it twice!
In the afternoon we headed for a plant sale, that I had found advertised in Kijiji. The young man was selling heritage tomato and pepper plants, and a few other vegetable plants as well. We bought lots and lots of different varieties of tomatoes, red peppers, hot peppers, and cucumbers. We bought so much that Attila spent all day Sunday expanding our vegetable garden to accommodate our purchases.
Saturday evening Terra and Lares arrived while we were out shopping. They called us to let us know they were at our house, and when we arrived they had set out a Father's Day / Birthday present for Attila. Lares brought steaks, which he cooked to perfection on the BBQ. We had a happy visit!
While Attila worked on the vegetable garden Sunday morning, I was sent to the store once again. This time I picked up a bag of sheep manure for our rhubarb, marigolds, and portulaca. After arriving home I spent the rest of my day preparing flower beds in the front yard, and planting the marigolds and portulaca.
The vegetable garden. Somehow, it seems much smaller in the photo than it did in real life! The tall vegetation represents perennials from last year, including our rhubarb. The rest, the brown dirt portion, is the freshly tilled portion of the garden, and it is planted with tomatoes, peppers, and cucumbers.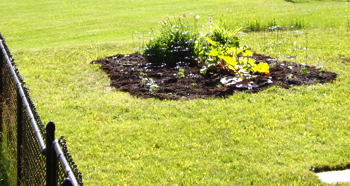 It was almost 7:00 p.m. when we finally completed the gardening, got ourselves cleaned up, the car packed, and were ready for the journey home. The yard looked wonderful, as we drove away.
It was another long drive! We had to wait for long trains at train crossings, ambled in long lines of traffic, behind slow drivers travelling well below the speed limit, and were diverted from our route due to a fatal accident on the highway that occurred several hours beforehand. We arrived home around 11:30 p.m., tired and happy to have arrived safely.
Luna and the Grandbabies had left a message for Attila, for Father's Day and his birthday, which was a lovely greeting after a long day.
Mist was miffed. She would not be mollified, and followed me about for the first fifteen minutes after my arrival home. She loudly protested our absence. For a deaf cat, Mist can be very, very loud. At first nothing would give her comfort, not fresh milk, not petting. She finally settled down when we sat on the sofa with her, petting her and softly whistle blowing into her ears. Then she curled up and went to sleep.
Monday was stormy. Attila said the weather alternated between hot and humid, and sudden burst of cold fog. The mosquitoes were ferocious. I had an appointment in town. When I got into the car a dozen or so mosquitoes nipped in behind me. They are a big distraction while driving, particularly when they bite. So I spent about fifteen minutes bumping around in the car, climbing over seats, reaching into the back, and managed to kill all of them. Sheesh!
Yesterday brought welcome news! Our Access Permit for the camp has been approved. Now the contractor can go ahead and put in the driveway. I contacted him immediately with the details from the township. He is fitting the job in with other work in the area, so his timetable is not fixed. The job will get done when it gets done.
An unusual turn of events at my workplace has resulted in a few hours of work every day, for the next five days. Today was exactly as I had expected it would be. Only four days to go!
As the saying goes, "not my circus, not my monkey."
My plans for the rest of the day include working on my genealogy, which has been a lot of fun lately. Through the Internet I have been chatting with a 5th cousin, and a 4th cousin once removed. Their notes on our ancestors are almost identical to mine, no new information, but fun to chat. Because my research is extensive, I know where they fit into the family tree, but they do not know where I fit. Since I have over 3,800 relatives in my family tree, this is not surprising. That number includes ancestors long dead.
Worldly Distractions
Weather
21°C
Date: 9:00 AM EDT Tuesday 17 June 2014
Condition: Sunny
Pressure: 101.6 kPa
Visibility: 16 km
Temperature: 21.3°C
Dewpoint: 15.9°C
Humidity: 71%
Wind: SSE 15 km/h
Humidex: 26
Quote
"Many persons have a wrong idea of what constitutes true happiness. It is not attained through self-gratification but through fidelity to a worthy purpose."
Helen Keller
1880 – 1968