Sunday, March 22, 2015
Here we are, approaching the last week of March! I can't tell you just how excited I am! Attila says there is little sign of spring at the country house, but I KNOW it is coming soon! Here at the little house in the city the snow is melting fast. Every day I look out and admire a few new tufts of brown grass, a puddle by a snowbank, and the mini-flood on the south side of our driveway. The mini-flood is there because, when the town repaved the road they graded it so that all the water that runs down the street runs into our driveway, and settles there. Every day the puddle fills with melt water, and every evening after the sun goes down it shrinks away, as the water soaks into the bordering grasses.
It is nippy and windy out of doors. I bundled right up to go for my walk this morning. The sun was shining bright, so that although my face was cold due to the wind, I felt invigorated by the the time I got back to the house. I don't go far, but I always congratulate myself on the fact that I do go at all!
I have needed new running shoes for a very long time. My last pair, purchased when Terra was a teenager and was still living at home, wore out last summer. The soles literally fell off of the shoes. I tried to glue the soles back on, with no success. I decided that the new pair must be good for walking, since I won't be running.
I noticed there was a sale at Sportchek, a sports store in a nearby city, so off I went to check out the merchandise.
I came away with two wonderful pairs of shoes, because if I bought one, the other was 50% off. The expensive pair are asics "Gel-Tech Walker Neo 4's", and are by far the most comfortable pair of walking shoes I have ever owned. The price tag attested to that.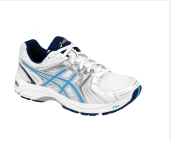 The young man who assisted me in trying on shoes was dismayed when I said, "These shoes may outlive me!" Silly young man, he assumed I was being pessimistic, when quite the opposite was true. He didn't have a curious enough of mind to ask me what I meant, so I let the moment pass. The last pair of running shoes I purchased were cheaply made, and they lasted over thirteen years. The asics are very well made, so I anticipate having them for twenty years. At my age, anticipating a shot at another twenty years is optimism, in my opinion.
The second pair were "skechers GOwalk2's", a slip on sneaker. When I tried on the shoe it felt as if my foot was being gently and lovingly massaged. It was hard to believe, it felt so good. I put the second one on and it felt just as good. I decided I had to have them! The funny thing was that I thought I might like a different colour than the pair I tried on. The young fellow brought the other coloured shoes out, and they would not go onto my foot. It was like Cinderella's ugly stepsisters trying on her glass slipper, that shoe was not going on my foot. It was a shoe that was supposed to differ only in colour, it was the same style, the same size. I liked the pair that fit, so I bought them, deciding that my preferred colour was way below my comfort on my list of priorities.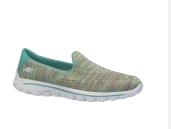 I have been wearing the skechers as slippers around the house, and they are warm and comfy. They make standing to work in the kitchen a lot easier. I have been wearing the asics out for my daily walks, and they are more than I could have hoped for in the way of comfort and support. My knee has not suffered from the walks at all. When I was wearing my old shoes to go out for a walk, my knee was a bit sore by the time I arrived home after my walk. Not so with the asics walking shoes.
I was on a roll of self-indulgence that day. Before I left in Tank to drive to the city, I did a bit of a web search hoping to find a reasonable place to get a haircut. I had cut my own bangs that morning, and I rather botched the job, badly. There was a place that emphasized family hair cuts, and their employees were long-term, so they must be happy! I telephoned ahead to make an appointment, and get directions.
The hairdresser asked when I had last had my hair cut. August 2014! I think that inspired her to cut my hair very, very short. It is between two or three inches long on the top, and everywhere else it is much much shorter. I feel few hair breadths away from the brush cut! It seems quite short to me, but I think this cut will age gracefully. She says she will cut my bangs for free, just to call her. If this works out, I may have found my hairdresser! I have my fingers crossed. The cut was $45, which included the tip, which won't be too horrid if I only need to go twice a year for a cut.
So that was my day of extravagance, running shoes and a hair cut. "Last of the big time spenders", as they used to say euphemistically when I was a kid.
Worldly Distractions
Weather
Little House In The City
-6°C
Date: 5:16 PM EDT Sunday 22 March 2015
Condition: Light Snowshower
Pressure: 102.1 kPa
Tendency: falling
Visibility: 24 km
Temperature: -6.2°C
Dewpoint: -16.9°C
Humidity: 43%
Wind: W 29 gust 40 km/h
Wind Chill: -14
Country House
-8°C
Date: 5:00 PM EDT Sunday 22 March 2015
Condition: Cloudy
Pressure: 102.2 kPa
Visibility: 16 km
Temperature: -8.0°C
Dewpoint: -16.0°C
Humidity: 53%
Wind: WNW 24 gust 39 km/h
Wind Chill: -16
Quote
"Most human beings have an almost infinite capacity for taking things for granted."
Aldous Huxley
1894 – 1963
[This could be good-bad-good-bad-good-bad…. we are what we are.]