It has been a busy day here at Mist Cottage.

Here is what we did today, it is 9:33 p.m., and I am still not done!

Last Weeks Pickles
I made Dill Slice pickles last week, from our English and Pickling Cucumbers. We couldn't wait the seven days recommenced before opening a jar. We opened one jar, and they are fantastic! We had them for lunch, Attila with cheese and crackers, and I had a cheese and pickle sandwich. We finished off the first jar, we opened a second jar. Wow again, these pickles are amazing, a new favourite here. All of our Cucumbers will be preserved in this way.

Groceries
Attila picked up our groceries this morning, which is a lot of washing and drying before they can be put away.

Celery
We bought four heads of celery as they were on sale, fresh Ontario produce, and at their peak.
The leaves were removed, cleaned and placed in the small dehydrator, they are still out there on the back porch, needing my attention before I can go to bed tonight.
The stalks were cleaned, diced, blanched, then spread out on pans and put in the freezer. Tomorrow I will need to package the frozen celery in plastic bags, and process the dehydrated leaves into a powder.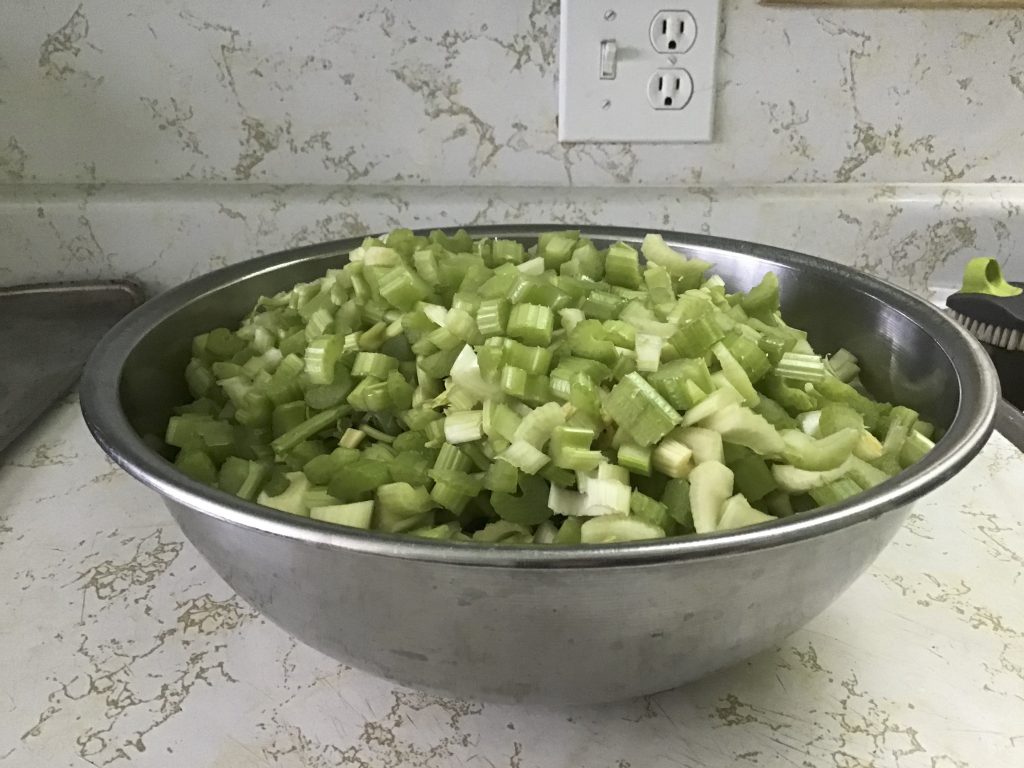 Hot Dog Buns
We decided to have Hot Dogs for supper, but had no buns. The dough was made in the bread machine, then shaped, put to rise, and baked. I hate to bake when the air conditioning is on, but July has been one very long heat wave, so there are no cooler days for baking.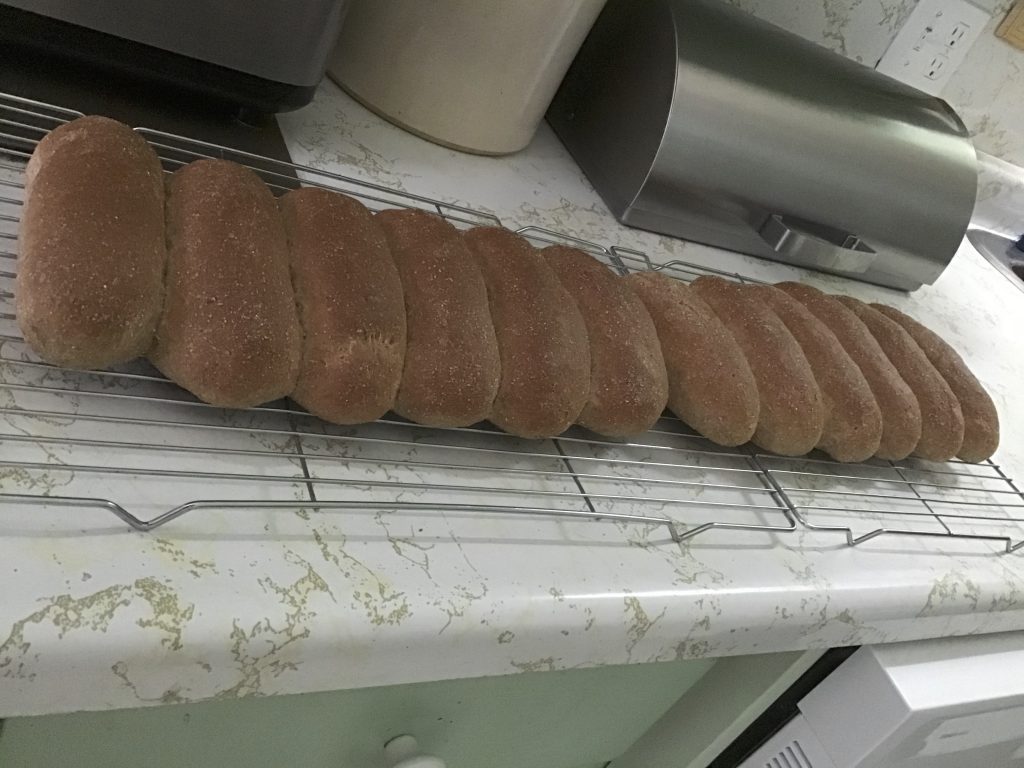 Carrots
The garden carrots were ready to harvest. Attila picked them, cleaned them, and brought them in for me to process. I cut the tops off all the carrots, then stored the carrots in the refrigerator for tomorrow. The tops were cleaned, the leaves removed from the stems, then placed in the bigger dehydrator. The Carrot tops are still dehydrating out on the back porch, and I will need to deal with them before I can go to bed tonight.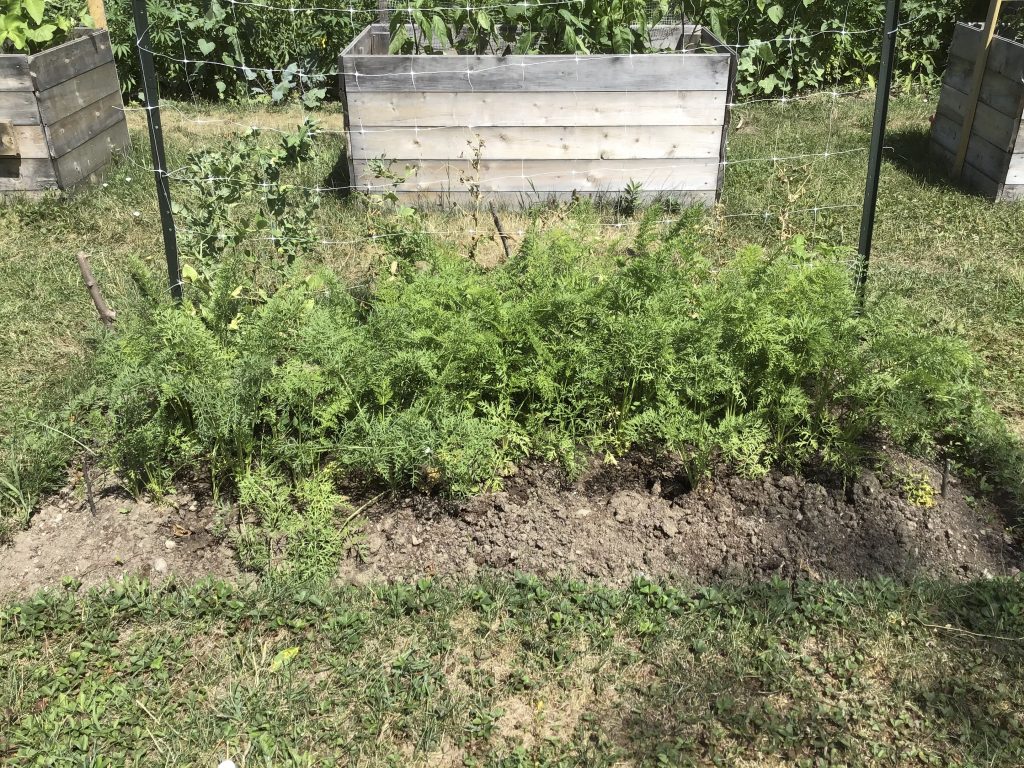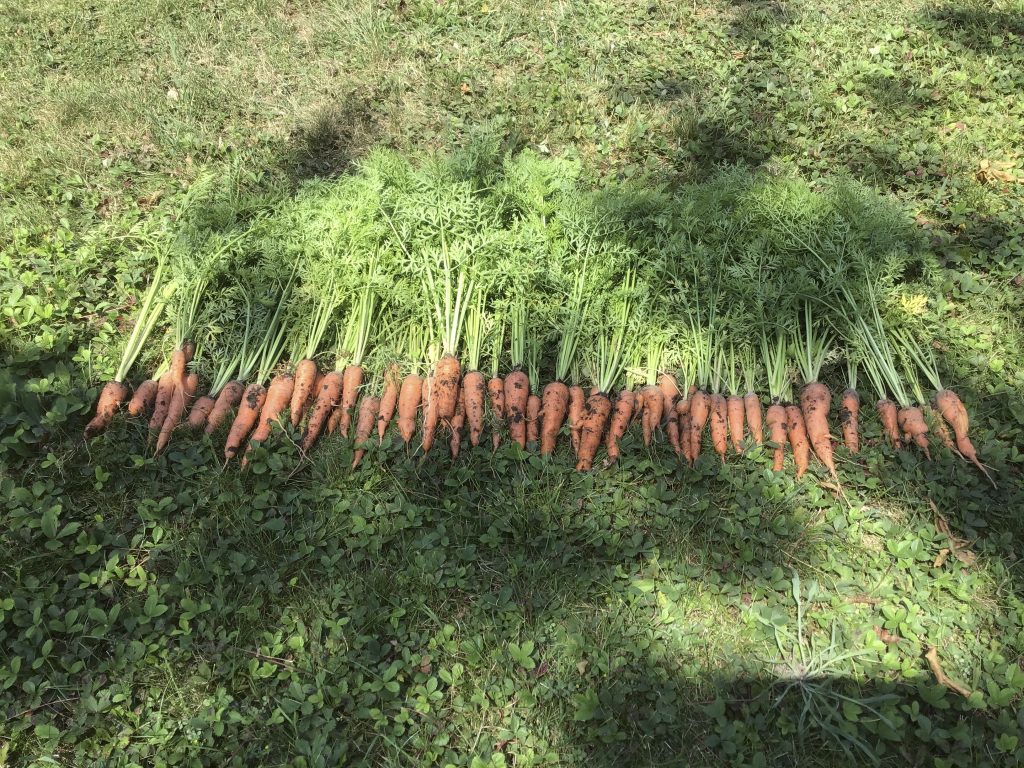 Vegetable Broth
The stems from the Carrots, and a few frozen bags of vegetable scraps were transformed into Vegetable Broth in the Steam Juicer. Four cups of goodness to be frozen for use in casseroles and soups.
Pickles
Attila harvested one pound of English Cucumbers, and three pounds of Pickling Cucumbers this morning. Time to make Dill Slice pickles! I got to use my new Mandolin, it works very well, nice even slices, and it only took about five minutes to slice all four pounds of Cucumbers. I wore my cut-resistant gloves, just in case. The eight jars of Dill Slices are cooling on the counter, and tomorrow they will be ready to wash, label and store away in the basement.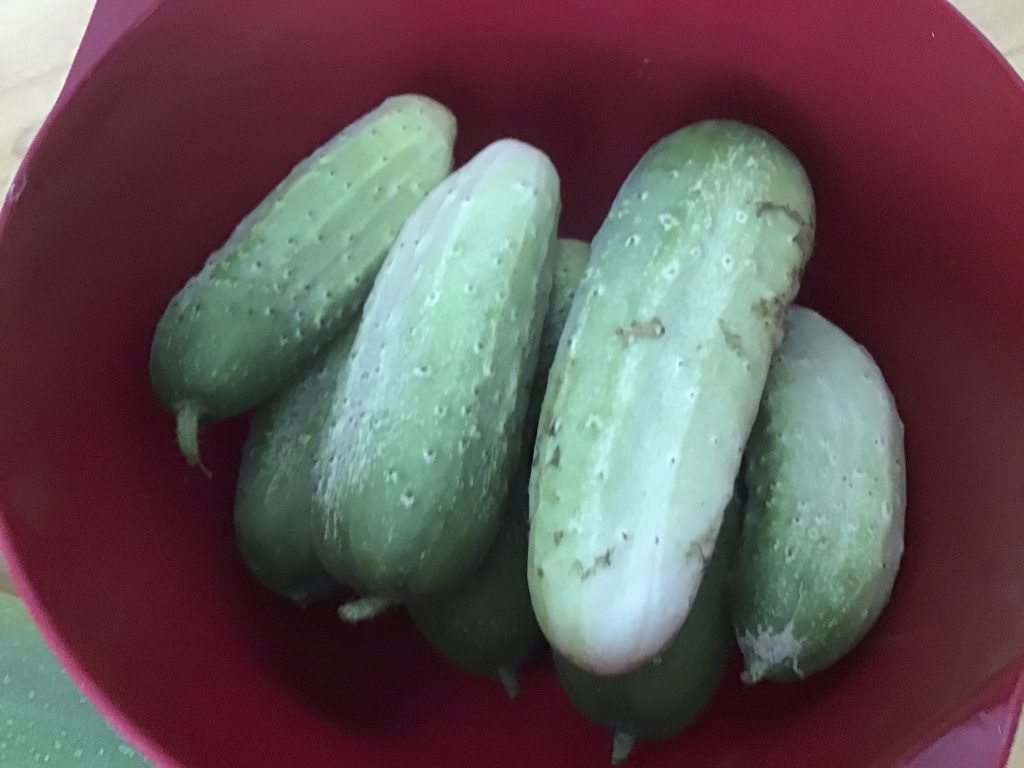 Worldly
Weather
27°C (high of 32C today, it is cooling down now)
Date: 9:00 PM EDT Sunday 26 July 2020
Condition: Partly Cloudy
Pressure: 101.0 kPa
Tendency: Falling
Temperature: 27.1°C
Dew point: 21.2°C
Humidity: 70%
Wind: WSW 27 gust 42 km/h
Humidex: 36 (Humidex of 42C today, it is cooling down now)
Visibility: 24 km
Quote
"And as we let our own light shine, we unconsciously give other people permission to do the same."
Marianne Williamson