Thursday, July 23, 2020 – in the first summer of the Pandemic

The garden is beginning to get bossy.

I have been making my lunch from the produce Attila brings in from the garden every morning, since early June. These sauteed meals have featured Spinach, Beets and Greens, Swiss Chard, Peas, Carrots, and Zucchini from the garden. Chopped onion and garlic are always added to the mixture of the day. Our garden is organic, ten years now with no chemical anything. The price we would have paid for my lunches over the last seven or eight weeks, would have paid for all of the seeds, peat moss, manure, t-bars, netting, and municipal water that was used to get this years garden going. By the time the snow flies, I think the price of the rain tanks and the evestrough will have been covered as well. But really, we could not have purchased this quality of food in our grocery store, it isn't available.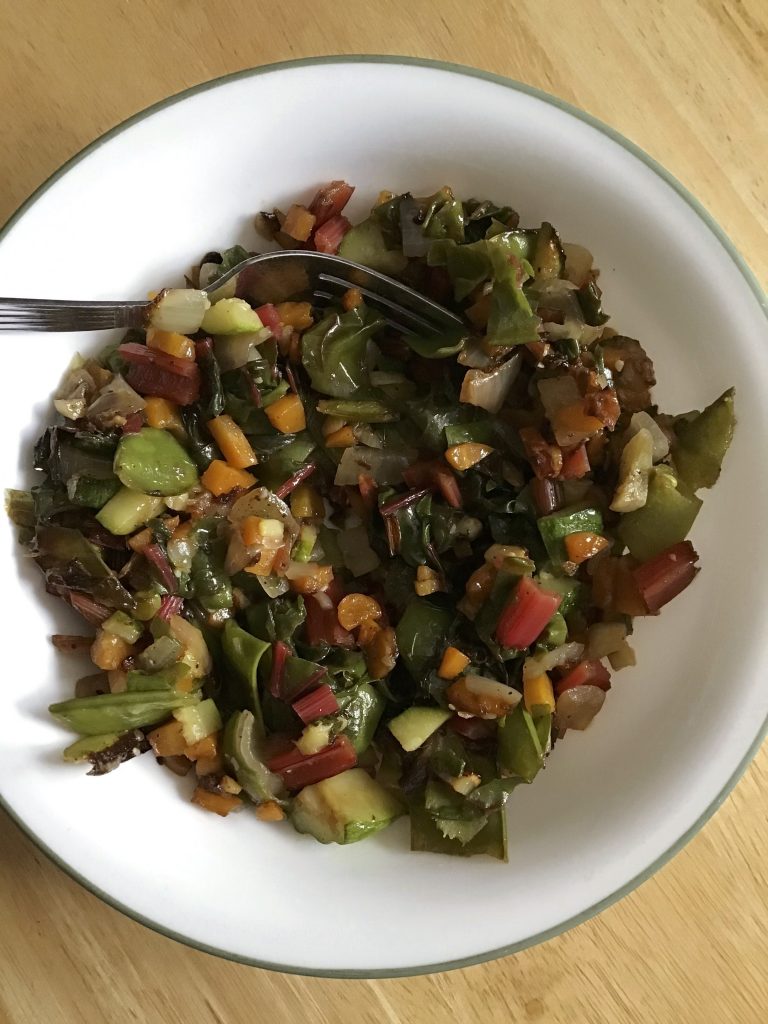 A few days ago there were too many English Cucumbers from the garden to eat! It seemed a perfect opportunity to try Refrigerator Dill Pickles. Two 500-ml jars are now sitting in the refrigerator, waiting until the second week of August to be ready. This is a new recipe around here, not sure how it will be liked, but it is so easy that it is worth a try. The jury is out for now.
Two pounds more English Cucumbers arrived on the kitchen counter yesterday, along with two pounds of Pickling Cucumbers. Attila does not like Sweet Pickles, so this recipes was chosen, Dill Slices. The Pickling Spice was omitted, and each jar received 1/2 teaspoon of Cayenne Pepper Flakes. Half of the Apple Cider Vinegar was replaced with White Vinegar. Apple Cider Vinegar for canning is no longer available where we live, can't get it, so rationing begins. Our own Cayenne Pepper Flakes, Cucumbers, and Dill were used from the garden, the rest of the ingredients were store bought.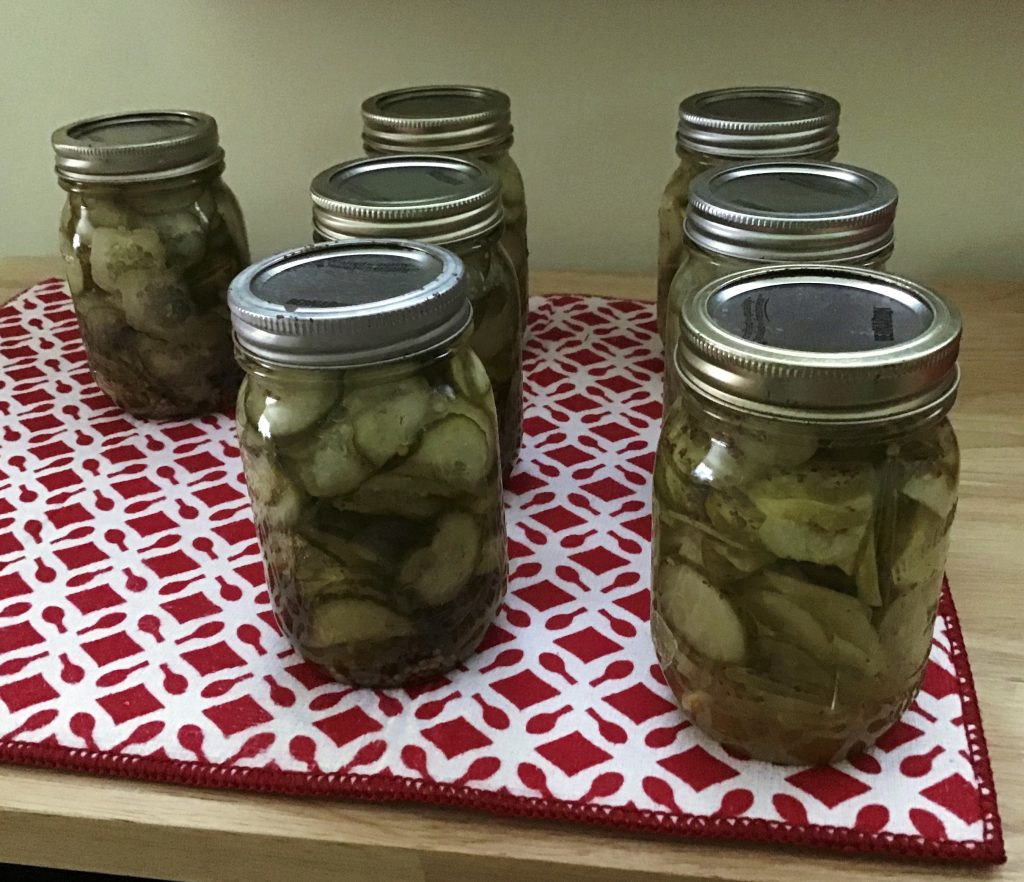 Coming up soon is the Carrot harvest. Dehydration is being considered, as freezer space is at a premium. Since I was unhappy with the way my 1970s vintage Cuisinart sliced the cucumbers yesterday, and the bowl on the appliance has cracked and cannot be replaced, an alternative method for slicing produce for fermenting, canning, and dehydrating is very much needed. Yes, a knife is wonderful and gives great control, but a bushel of produce is an arduous job to slice 1/4 inch thin with a knife. So Attila and I agreed that we would bite the bullet and buy a piece of good kitchen equipment to do the job going forward. I did not want another electric appliance, not being able to keep my Cuisinart going has put me off appliances with built in redundancies. I decided to research mandolins, for manual slicing. We purchased an all stainless steel mandolin, and cut resistant gloves, which will arrive next week. I am hoping the carrots can hold on where they are until the gizmos arrive!

This mandolin is a major purchase for our household, a big, big decision. I was nervous about it, since I knew nothing about mandolins. So I asked for advice on a great little Facebook group of Chefs, Chef Brennan's Cooking and Baking Advice. I figured I'd get the best advice going, these people have experience, and know their stuff!

So here is what is on the way, the Bron Original Stainless Steel Mandolin Slicer, and the NoCry Cut Resistant Gloves with Secure-Grip Microdots and Level 5 Cut Protection. These items will be put to immediate use when they arrive, and will sit out on the counter until November when the snow flies, as they will be in constant use.

I have been feeling very sad about my 1970s Cuisinart, we have been through a lot together, almost 50 years of food preparation and preservation. Everything on it works like new, except the plastic bowl and lid assembly are wearing out, cracking, and will soon disintegrate. I am hoping the new mandolin will fill the huge hole left by the soon-to-be-silent Cuisinart.
Attila is working hard to finish the drywall in the basement, just one more section of wall to go. He thinks he might be done by the weekend. That would be amazing. We could start to organize the basement, and it might be organized in time to easily store all of the canned items that are starting to come out of the kitchen, as produce comes out of the garden.
I sat out on the back porch this morning, in muggy, cow dung air. They are fertilizing farmer's fields again, which smells pretty bad for a few days. And it is a cloudy day to boot. So I cheered myself up by taking some photos of what is blooming in the garden, and posted them yesterday instead of this entry!

Just a passing thought, what if there was a Map of Cows, so that potential home buyers could find low-scented locations for their dream homes?

Friday, July 24, 2020

The morning was cool, the day is warming quickly. I had opened the windows early this morning, every single one of them on the main floor of the house, and I am resisting closing them again. They have been closed for weeks, and it is such a creature comfort to work in the kitchen, accompanied by a fresh breeze.

Yesterday was busy. Two litres of Switchel were made, and all the vegetable scraps in the freezer were turned into broth for the freezer, and scraps for the compost. Today is a little lazier, mostly clean up and tidying up after canning and making broth. In a small kitchen a lot of time is spent moving things here and there out of the way, and carrying equipment up and down the stairs to the basement.

When Attila and I discuss our fantasy house, he always votes for a BIG kitchen, I can certainly see his point of view. My fantasy involves a big screened summer kitchen, for canning and food preservation. But although there are a few annoyances in our little kitchen, we love our little house.

A large rain cloud passed over the house yesterday evening, gifting us with a deluge of rain. Attila and I sat on the back porch, watching, fascinated, delighted, excited… such is life at Mist Cottage.

It filled the 1000 litre rain tank, the 220 litre rain barrel attached to it for overflow, and the large garbage can attached to the rain barrel in case it overflowed. The second 1000 litre rain tank filled to 400 litres of water, it collects water from one side of the shed roof, not a big area, so it has yet to fill completely. It has been a dry summer.

Soon I will have to mill flour again, and I have my eye on the frozen Strawberries and Rhubarb for a canning session making Strawberry Rhubarb Pie Filling. For some reason I keep putting this canning project off, not sure why. I will get to it though.
Worldly
Weather
22°C
Date: 10:00 AM EDT Thursday 23 July 2020
Condition: Mostly Cloudy
Pressure: 101.6 kPa
Tendency: Rising
Temperature: 21.9°C
Dew point: 19.6°C
Humidity: 86%
Wind: NNW 6 km/h
Humidex: 29
Visibility: 24 km
Quote
"I am not one of those who in expressing opinions confine themselves to facts."
Mark Twain
1835 – 1910

Well, I don't admire those who have unsupported opinions. BUT this quote is out of context, here is the whole thing, a different kettle of fish when taken in context: "I am not one of those who in expressing opinions confine themselves to facts. I don't know anything that mars good literature so completely as too much truth. Facts contain a great deal of poetry, but you can't use too many of them without damaging your literature."